Polyend pushes Tracker standalone workstation further with MIDI channel aftertouch and polyphonic aftertouch
/MUSEWIRE – Music News/ — Polyend announced today that the company is proud to push the Tracker standalone workstation further forward with a welcomed functionality-boosting firmware update taking it up to v1.3.0 — also adding the timely introduction of onboard games into an otherwise musical mix, allowing users to take a breather from music-making and refill their creative juices, just in time for Christmas.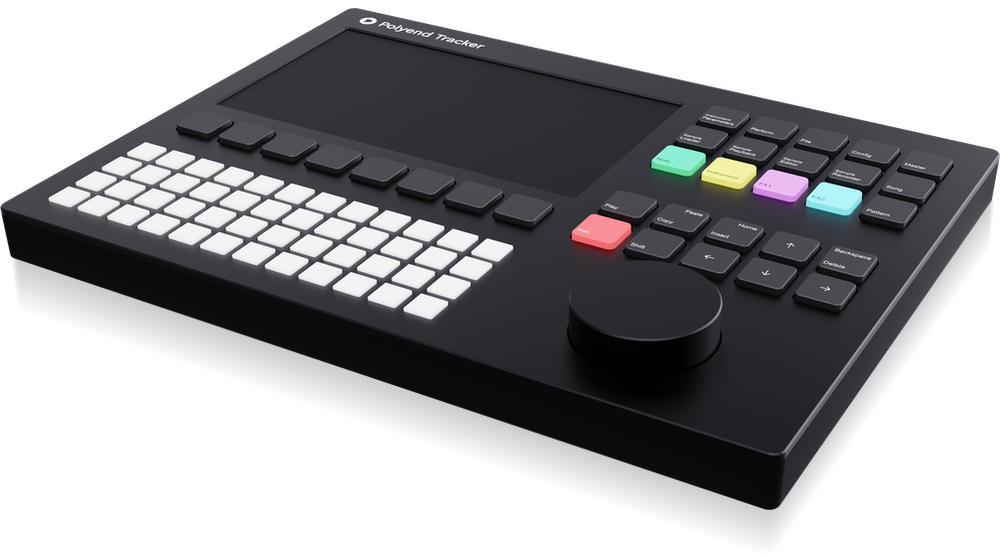 As the world's first hardware tracker, Polyend's Tracker incorporates the quintessential characteristics of a classic software tracker as its vertical timeline, powerful sequencer, and mechanical keyboard combine with an innovative input interface design to make and perform music in a new and intuitive way. When first getting hands-on with Tracker, that interface readily reveals an array of tools that are always at its user's fingertips, further boosted by the following forward-looking functionality of
New in the latest v1.3.0 firmware update: new MIDI CC input, MIDI micro-tuning effects, tuning effects, and MIDI chord functionality; track arm recording; Line In (input) availability during Song playback; longer sample import; low-quality sample import (saving sample pool memory time); unused sample deletion; bass booster, bit-depth, distortion, five-band EQ, new limiter (with gain reduction meter), and stereo enhancer effects; limiter sidechaining functionality; Sample Editor time stretch effects (with beat and note modes); octave transpose; enhanced Pattern editor fill command (with Euclidean fills creation and Density setting with Random fills availability); and a rewriting from scratch rendering mechanism — all of which will surely be welcomed by both existing Tracker owners and those that are new to the trailblazing hardware device designed to help artists forge unique avenues of sonic construction by breaking patterns on a daily basis.
Tracker users can now enjoy playing the onboard games gifted to them by Polyend as part of the latest v1.3.0 firmware update, and allowing them to take a breather from music-making and refill their creative juices, just in time for Christmas!
Current Tracker owners — or those that have been good throughout the year and are hoping to get one this Christmas — should seriously consider taking time to visit Polyend's newly-created What's Up Blog webpage specifically aimed at them (https://polyend.com/whats-up/polyend-tracker-firmware-update-v1-3-0/).
Tracker comes complete with a USB-A power adapter, 2m USB-C cable, 3.5mm to 2x 6.3mm adapter, Minijack to MIDI DIN adapter,16GB MicroSD card, and MicroSD to USB-A adapter, and is available to purchase through Polyend's growing global network of authorised dealers (https://polyend.com/where-to-buy/) at an MSRP of €499.00 EUR/$599.00 USD. Or order online directly from Polyend itself via the dedicated Tracker webpage (https://polyend.com/tracker/), which also includes more in-depth information.
Watch the Tracker v1.3.0 firmware functionality-revealing video from Polyend here:
Located in the Land of a Thousand Lakes in northeastern Poland, Polyend was founded in 2015 by current CEO Piotr Raczyński. As a team of dedicated professionals comprising coders, designers, musicians, and technicians, the company is collectively committed to bringing new technologies to creative musicians by building innovative and unique musical instruments. Polyend pushed boundaries from the outset with its first product, Perc, a set of mechanical beaters that can be controlled via MIDI, allowing anyone to play real drums, percussion instruments (or any other inanimate object) from a DAW, drum machine, or MIDI controller.