Pavlina's Kidz Place: Teen Musician Radio Host, Pavlina Osta, Interviews Over 100 Celebrities
DAYTONA BEACH, Fla. (MuseWire) – It all started in front of a coffee shop in Daytona Beach, Florida, USA. Pavlina Osta, a 10-year old musician, was playing the steel drums and piqued the interest of a local radio show; this quickly led to a show of her own and to the creation of Pavlina Productions. Today, at the age of 13, Pavlina says that she "has the best job in the world." This rising teen radio personality has more than 100 celebrity interviews under her belt. Her roster boasts Ziggy Marley, Big Time Rush, Kat Von D, The Fabulous Thunderbirds, Kevin Jonas, Brian Wilson and many more.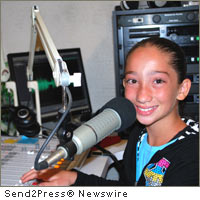 While the majority of her interviews center on music, she has also interviewed sports legends, reality-show winners, television stars and even top politicians.
When Pavlina is not in school, she can be found on location backstage, on tour buses, at blockbuster concerts or swanky hotel lobbies, talking to some of the biggest in the business. When asked if she ever gets nervous interviewing these celebrities, she says, "No. We sit down and talk. Why be nervous?"
Pavlina adds that, "I ask questions that teens want answers to. I ask them who they look up to and why; I ask them how they overcome personal obstacles. It's all done in a fun and casual way."
And, at all times, Pavlina maintains an air of privacy and professionalism; people trust her.
The radio show, Pavlina's Kidz Place, is pre-recorded and airs Saturday mornings at 11:30 a.m. ET on WAPN 91.5 out of Holy Hill, FL; on WAPB 91.7 out of Madison, FL; and Pavlina Radio Worldwide can be heard on mobile devices and five Internet radio stations; the list continues to grow.
To view some celebrity interviews, visit: www.youtube.com/pavlinamusic . To learn more about Pavlina, visit: www.PavlinaProductions.com .
About Pavlina Osta:
When Pavlina is not on the air or attending Florida public school, she can be found at the Orlando Ballet School or the Joffrey Ballet in New York City; she is a top ballet dancer. Wherever her locale, she is equipped with her MP3 recorder and camera. She knows how to get the attention of the tour manager or record representative for photos and video; she's a one-girl show.
Pavlina has been featured in numerous publications such as Tiger Beat; Country Weekly; Backstage Pass Magazine; the Orlando Sentinel; Daytona Beach News Journal; and more. Upcoming features include a spotlight in Equanimity magazine at the end of August; and in Faces magazine, a world culture magazine published by Cobblestone, this upcoming October.
VIDEO: Pavlina interviews The Fabulous Thunderbirds (YouTube):