Paula Cole announces new album release, '7' – a soft and soulful review of a 7 year life cycle
Musical artist, mother, activist, Grammy®-winner Paula Cole has announced her new album, "7" is now available. Featuring Cole's original band members and musical soul mates Jay Bellerose and Kevin Barry, with upright bassist Dennis Crouch complementing the bottom-end, "7" is about the songs, says Cole.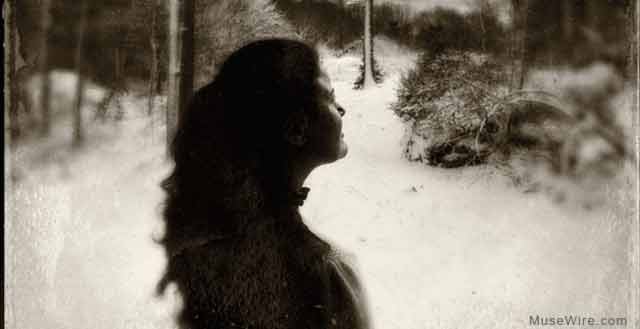 According to Cole, "I'm very proud of it. These are entirely live performances, without overdubs by the band. The only overdubs are my vocals, and my requisite Albert Hitchcock appearance, my clarinet."
I've been a huge fan of her work since first being introduced to her from Peter Gabriel's seminal live tour, "Peter Gabriel's Secret World Live" back in 1994 (which I had on Laserdisc and CD). Cole is an American singer-songwriter from Massachusetts. Her single "Where Have All the Cowboys Gone?" reached the top ten of the Billboard Hot 100 in 1997, and the following year she won a Grammy® Award for Best New Artist. Her other well known song is probably, "I Don't Want To Wait," also from the "This Fire" album.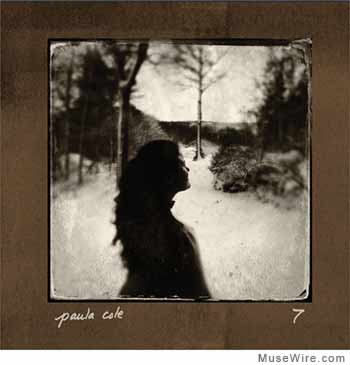 On her website (http://paulacole.com) she describes the new album thusly: "'7' is a collection of songs that came suddenly and urgently. The songs demanded to be written and released, as if my subconscious needed to reach out to me; to tell me what it thought about all I was going through. I recorded this album live, as an acoustic quartet. It sounds like a soft, soulful album made in the 1960's and the songs speak for themselves."
"The cycle of '7' is powerful to me. I believe I've finished a life era of 7 years, and I'm beginning a new one. Intuitively I feel I'm not going to be doing the same thing now. I'm moving into a different time of my life. There are songs here that were crystalized by life events – songs of my past – but there are songs that reflect my future – a glimpse that I'm headed on an unknown road to my unknown fate. All my albums, all my songs are Polaroid snapshots of my life, as intuitively I'm an autobiographical writer. This album represents a bridge to my next chapter, as I finish a cycle of 7 years back on the road, in the music business." (Read more on her thoughts about the new album on her website.)

The new album follows Cole's adventure in self-distribution of her music which began with her prior album, "Raven." Cole's "Raven" marked her departure from the major labels. Taking flight with support from her loyal fan-base, she turned to fan-funding via Kickstarter and achieved 150 percent of her goal.
The new album is available in CD ($14.99), digital format, and HD audio download from the artist's website. Additionally, a limited edition "Artist's Release" of the new album "7" now on sale only via her website includes limited T-shirt, limited, hand-crafted CD and regular release.
Songs on the new album include:
1. We Don't Know (Where We Are Going)
2. New York City
3. Chickadees (And Sipping Tea)
4. Betty-Oh-Beautiful
5. Gloucester Harbor Shore
6. Father
7. You Will Never Know
8. Puncture Wound
9. Salt Of The Sea
10. The Book Of Dorothy
11. Goodnight, Irene.
Special Artist's Run:
The limited edition ("7: Artist's Run") A special "Artist's Release" is being sold as a limited-run of only 200 exclusive CDs and tee shirts in a bundle. Approximate ship time: week of March 23, 2015. (Price $100.)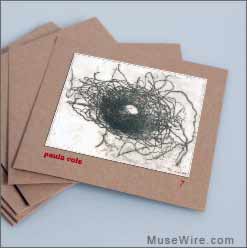 200 copies of Paula's new album "7" are being sold to supportive fans in a heavy-weight, recycled, kraft-paper-stock envelope. The CD envelopes are de-bossed by a Massachusetts-based printer, hand-stamped by Paula and hand-numbered (001-200) by Paula using her mother's vintage number-press. All autographed by Paula. Cover artwork is a nest etching by UK artist Jo Riddell, designed by Monty Lewis for Lewis Arts in Lanesville, Mass., printed by Cricket Press in Manchester, Mass., assembled by hand by Paula and team. After you've uploaded the tunes the CD cover will remain a small work of art for your shelf.
Included is the limited edition T-shirt (sizes men's M-XXL, women's M-L): A Bella + Canvas, made in USA uber-soft tee which will wear and wash wonderfully over time. In heathered gray with UK artist Jo Riddell's black nest-etching-print, and "Paula Cole 7" in red handwriting. 52 percent combed and ring-spun cotton, 48 percent poly. Printed by Kevin Brophy for Big Game Outfitters of Hamilton, Mass.
Learn more about the new album at: http://paulacole.com .
Follow Paula on Facebook at: https://www.facebook.com/paulacolemusic .
TWITTER: @paulacolemusic