One of the Top Guitarists of All Time, Ben Weinman, Has New Course with SOUNDFLY on How to Make a Living in Art Without Making Compromises
NEW YORK /MUSEWIRE – Music News/ — Online music learning platform Soundfly has released a brand new course with Ben Weinman, guitarist, songwriter, and founding member of The Dillinger Escape Plan, on the business of making art without compromising one's values or integrity. The Business of Uncompromising Art is a course like no other, and musicians of all types can find it today in Soundly's digital library of creative music courses.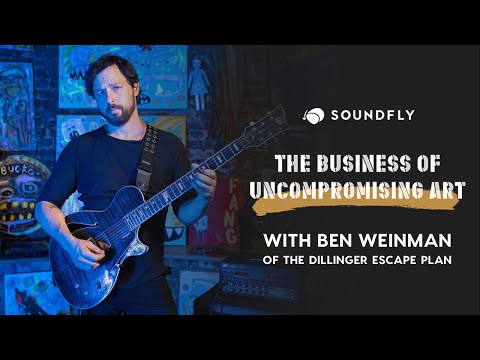 There are a million music business courses out there, but we dare you to find another that teaches you how to blow fire in a fan's face and still get paid for it. In fact, Ben argues that's part of what made his legendary band so successful for so long: authenticity, risk-taking, an obsessive focus on fans, and an unwavering DIY ethos. This comprehensive course – filled with case studies, challenges, stories, advice, and lessons culled from Ben's 20+ year career in music – will change the way independent artists view their mission.
Named one of SPIN's "100 Greatest Guitarists of All Time" and one of "the 20 Most Influential Metal Guitarists of the Modern Era" by VH1, Ben Weinman is a founding member of The Dillinger Escape Plan, a guitarist in Suicidal Tendencies and Giraffe Tongue Orchestra, a songwriter, composer, and manager. Having performed with NIN, System of a Down, Soundgarden, and The Prodigy, written music for HBO, voted for the Rock and Roll Hall of Fame, and consulted for Grammy-winning artists, Ben's crept into every corner of the music industry – and found success in each.
In his course, he'll explain how he took what many called an "unmarketable" band and transformed it into an iconic act and a profitable economic engine with a rabid fanbase – along the way elucidating how to attract a passionate fanbase, deliver honest art, and design creative strategies for making money in an industry plagued by old, tired models. In Ben's own words, you'll learn: "How to stick to your guns, follow your values, create uncompromising art, and then sell that uncompromising art in a way that doesn't suck the life out of you."
The Business of Uncompromising Art features over 35 lessons loaded with invaluable advice and strategic information, and 25 videos, plus graphics, activities, downloadable learning materials, and access to Soundfly's Discord community where students can ask questions and get feedback on their work.
Find it today in Soundfly's suite of premium artist-led online courses at: https://soundfly.com/courses/the-business-of-uncompromising-art
About Soundfly:
Soundfly offers creative courses for curious musicians looking to spark their creativity, expand their skills, and discover new sounds. Students can subscribe to Soundfly's library of in-depth courses taught by some of the most exciting musicians and artists working today, or take their music learning to the next level with Soundfly's custom 1-on-1 mentorship program.
Trailer (YouTube):
Course:
https://soundfly.com/courses/the-business-of-uncompromising-art