New UVI Augmented Piano Virtual Instrument Features 1909 Pleyel Grand Piano
UVI Augmented Piano is a new one-of-a-kind piano workshop including 24 configurations recorded on a 1909 Pleyel Grand Piano. Full 88-key preparations cover the gamut from brushed, finger-plucked and muted preparations to haunting eBow resonances and brilliant metallic sounds by way of tacked hammers.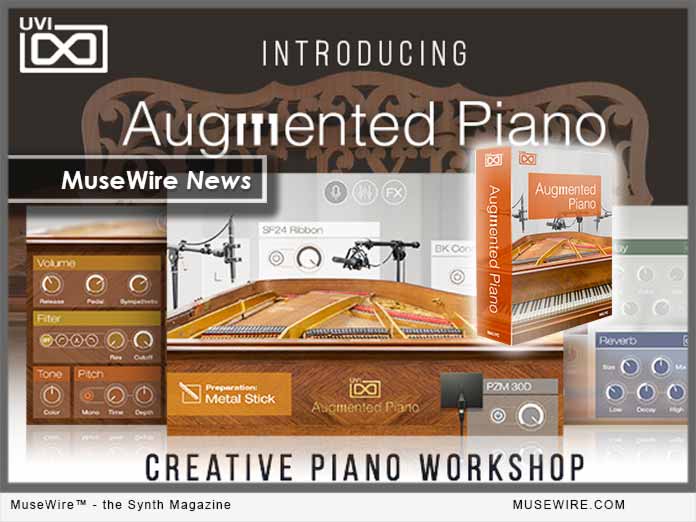 According to UVI, "Augmented Piano provides an inspiring range of sonic territory from beautifully recorded traditional piano to new, eclectic and avant-garde tones ready to breathe life into your compositions by taking the sound of the piano further than it's ever been."
Deep onboard sample controls and numerous effects combined with 3 fully-mixable mic sets, including a pair of condenser mics, a stereo ribbon mic and a floor-mounted PZM mic, provide tremendous flexibility and total control over your pianos sound.
According to UVI, "With Augmented Piano we wanted to go beyond traditional prepared piano sounds and offer something both new and inspiring, providing a way for musicians to easily craft and explore new tones and expressive possibilities with an instrument they already know and love."
Augmented Piano includes 24 preparations: Bow, Brush Slide, Brush Tap, Caps, Coin, eBow, Finger, Finger Muted, Harmonics, Key Noise, Metal Foil, Metal Sticks, Muted, Normal, Pick, Pick Muted, Rubber, Screws, Structural Effects, Tack, Tacked Muted, Una Corda, Wallet, Wood Stick and mixed preparations.
Pricing and Availability:
Augmented Piano is available immediately at the introductory price of $99 / 99€ through March 26th, 2018 (regularly $149 / 149€)
Additional Product Information:
Additional information on Augmented Piano is available at:
https://www.uvi.net/augmented-piano.html
VIDEO (YouTube) – Augmented Piano Trailer:

This version of news first appeared on MuseWire.com – Copr. © 2018 Christopher Simmons.