New Strymon Volante Magnetic Echo Machine effects pedal recreates musicality of tape delay systems
New Strymon Volante Magnetic Echo Machine effects pedal features magnetic drum, tape, and (reel-to-reel) studio echo as a stereo multi-head delay that also offers a looper and vintage reverb. Situated at the center of Volante's control surface are four delay playback heads with individual playback and feedback controls — each head's playback level can be set for full volume, half volume, or off, and each head can be switched in or out of the feedback circuit.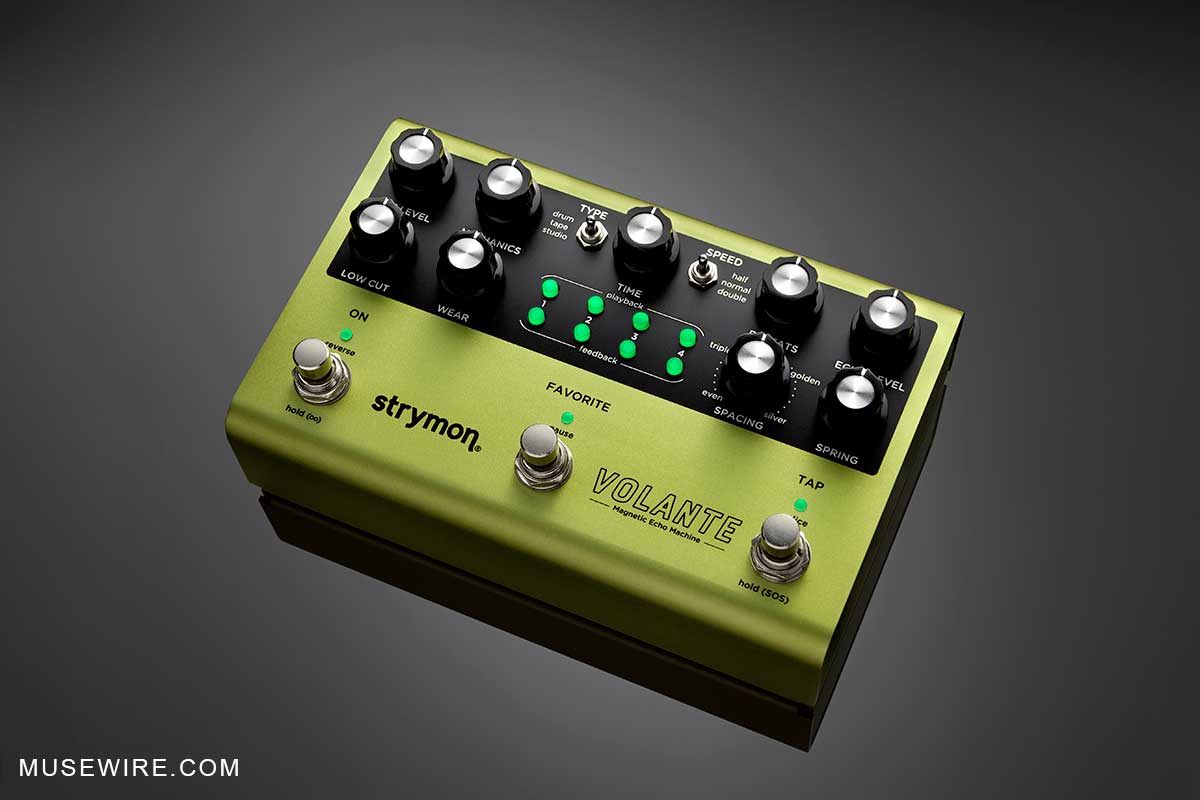 According to the company, Strymon relentlessly studied and faithfully recreated every last magnetic delay system attribute to capture the nuance and complexity of classic tape and drum echo machines — from sought-after natural saturation and soft clipping of magnetic media when driven hard to hands-on, real-time controls for MECHANICS, WEAR, SPACING, and LOW CUT, Volante instantly adds tons of vibe to any user's sound.
Armed with full MIDI control of every parameter, plus 300 preset locations, Volante is designed to be the center of sonic expressiveness for MIDI pedalboards.
Creatively, users can even switch heads into the feedback circuit that are not activated for playback, putting the creation of complex rhythmic patterns, as well as reverb-like atmospheric textures, at anyone's fingertips. Turn up the REC LEVEL knob to increase the gain of Volante's analog class-A JFET input preamp circuit, sending a hot signal with analog warmth to the record head for facilitating any amount of saturation.
Some classic tape echo machines included small integrated spring reverb tanks tuned to limited bandwidth. Strymon skilfully captured this vintage vibe for Volante by creating a spring reverb with a gorgeous, gentle character that stands up to scrutiny on its own while also enhancing delayed signals.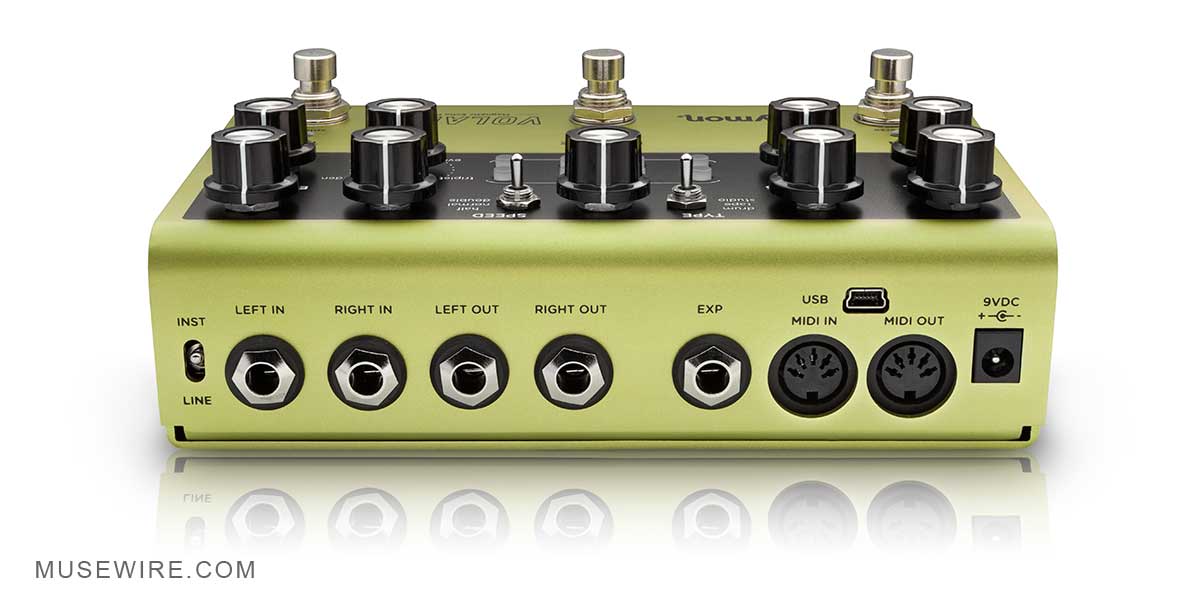 Some vintage multi-head tape echo machines' heads were not evenly spaced, which created interesting sonic interactions when multiple heads were set to repeat. Volante far from disappoints on that score; spacing is continuously variable for the entire travel of the SPACING knob, morphing between the available even, triplet, golden, and silver settings — the latter two ratios respectively realizing dense, non-overlapping echoes and non-overlapping echoes biased toward the quarter note.
Volante's SPEED switch selects the speed of the recording media, allowing users to run any of its three magnetic echo machines at half, normal, or double speed; fidelity is higher at higher speeds, while lower speeds result in warmer repeats and more pronounced effects from mechanical and media irregularities introduced when turning up the MECHANICS knob.
Volante transmits and receives MIDI over 5-pin DIN, USB, and even its EXP (expression) jack. Connecting an expression pedal opens up a whole new level of instantaneous, constant control; set as many knobs as desired for the heel and toe positions of the connected expression pedal and all settings simultaneously morph through the expression pedal's full range. Remaining, briefly, outside of Volante itself, connecting Strymon's simultaneously-announced MultiSwitch Plus accessory to Volante's EXP jack adds additional footswitchable control; select between three presets, remote control of the SPEED switch, remote transport control, or further foot control while in Sound On Sound mode.
Continuing connectivity advancement, a dedicated INST (instrument)/LINE input level switch ensures that Volante can comfortably work with a variety of input sources — switch to INS when using a guitar level input, LINE when using Volante in the effects loop of a guitar amp or driving it with a hot output from a synth or mixer insert. Indeed, the LINE input is also perfect for using Volante as a send effect or insert effect in the studio.
Seriously flexible, then, the pedalboard sonic expressiveness-enhancing Volante really rewards experimentation, yielding rich, hypnotic, and often unpredictable results — albeit always highly musical.
Designed and Built in the USA.
PRICING:
Strymon Volante is priced at $399.00 USD either direct from the company or via an authorized dealer. (Shipping soon.)
MORE INFORMATION:
For more in-depth information, including informative video demonstrations, please visit the dedicated Volante webpage here: https://www.strymon.net/volante/
VIDEO (YouTube):


This original news item first posted by Christopher Simmons on Musewire.com – no fee or other consideration was paid or provided in publication of this information. This version of text is Copr. © 2019 Christopher Laird Simmons – all rights reserved.