New IK Multimedia UNO Analog Monophonic Synth Module Now Shipping
IK Multimedia's new analog synth module, the UNO, is now shipping, the company announced today. UNO Synth, IK's first hardware synthesizer is a true analog synthesizer which brings all the warmth, depth and fatness you'd expect from a real analog synth. Ideal for notebook and "bed top" synth musicians.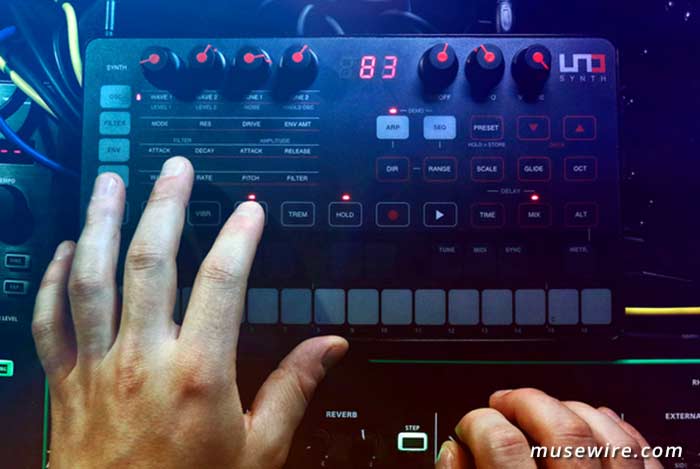 According to the company, beginners and synth professionals alike will be able to use UNO Synth confidently and easily, as it also comes with 100 grab-and-go presets (80 fully rewritable), making it ready to play right out of the box.
UNO Synth is the ultimate portable, monophonic, true analog synthesizer. Like the majority of IK hardware products, UNO Synth is built using a combination of IK's state-of-the-art, automated mounting machines and test systems and fine, renowned Italian craftsmanship. Thanks to its onboard presets and easy-to-play keyboard with selectable scales and arpeggiator, UNO Synth is the perfect gateway into the synthesizer world.
Great sounding true-analog audio path
Beneath its miniature exterior, UNO Synth packs a powerful, fat and rich-sounding synthesis engine with a full analog audio path on par with professional synthesizers costing much more.
All-analog audio path with 2 VCOs, noise generator, resonant multimode VCF and VCA
2 independent VCOs with Saw, Triangle, Pulse waveforms with continuously variable shape including PWM of the square wave plus a separate white noise generator
A 2-pole OTA-based analog resonant sweepable multimode filter with LPF, HPF and BPF
Custom-designed, dual-stage overdrive that provides filter input overdrive for classic synth saturation tone, from subtle warming to aggressive distortion
LFO with Sine, Triangle, Square, Up Saw, Down Saw, Random and Sample-and-Hold to modulate Pitch, Filter, Amp and continuous oscillator wave shapes including PWM
The built-in delay effect, synchronized with UNO Synth tempo settings, further expands its sonic palette and the type of sounds it can generate, adding depth to repeating arpeggio or sequence patterns as filter and oscillator parameters are modulated and adjusted on the fly.
And thanks to its precision controlled self-tuning circuit, UNO Synth will always be ready for any performance, avoiding the hassle of manual tuning.
Shipping now (July 19, 2018), with a street price in the U.S. of just $199.
LEARN MORE AT: http://www.ikmultimedia.com/products/unosynth/
OFFICIAL OVERVIEW VIDEO (YouTube):