New Dubreq Stylophone GEN R-8 with touch keyboard is an evolved portable pro analog synth
The new for 2019 Stylophone GEN R-8 is a dual VCO British made boutique synthesizer with a fully analog signal path and a touch keyboard that you can play with your finger. The GEN R-8 also works as a MIDI controller keyboard (with Local ON/OFF) where the CV/Gate outputs on the sequencer doubles as keyboard CV/Gate when the sequencer is not running.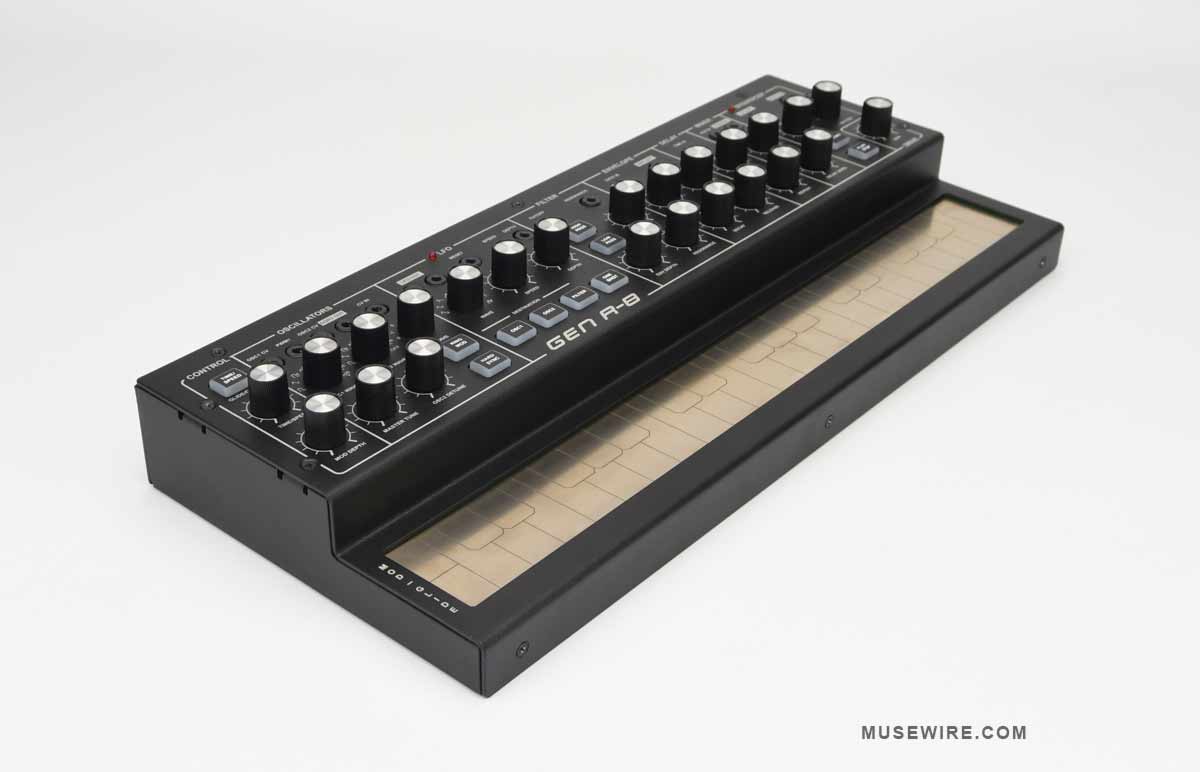 The VCOs have "divide-down analog" sub-oscillators (one octave down) and subsub oscillators (two octaves down) that all can be switched on at the same time for a total of six oscillators sounding at once.
The filter is a proprietary British design 12 dB state variable filter with Low Pass, High Pass, Band Pass and Wide Notch modes. An eight waveform LFO with dual outputs can be patched to all of the GEN R-8s CV inputs or external CV inputs on other instruments.
There's a patch panel with 19 3.5mm jack CV/Gate and audio patch points which makes it integrate nicely with Eurorack systems.


The traditional ADSR envelope has been augmented with a short hold stage at the Attack/Decay peak for a punchier sound. An analog style Delay (based on the Princeton pt2399 chip) is nice and grungy and can be modulated with the Time CV input.
The 3-octave touch keyboard has two additional performance keys for momentary engagement of Glide and Modulation, and it's all enclosed in a heavy duty black powder coated steel casing.
PRICING:
Price: £299 / $349 / €329 – Availability: Late February 2019
MORE INFORMATION:
Learn more: https://dubreq.com/genr8/
VIDEO DEMO – official (YouTube):


This original news item first posted by Christopher Simmons on Musewire.com – no fee or other consideration was paid or provided in publication of this information. This version of text is Copr. © 2019 Christopher Laird Simmons – all rights reserved.