NEON DRIVE Expansion for MASCHINE with 80s-inspired sounds announced by Native Instruments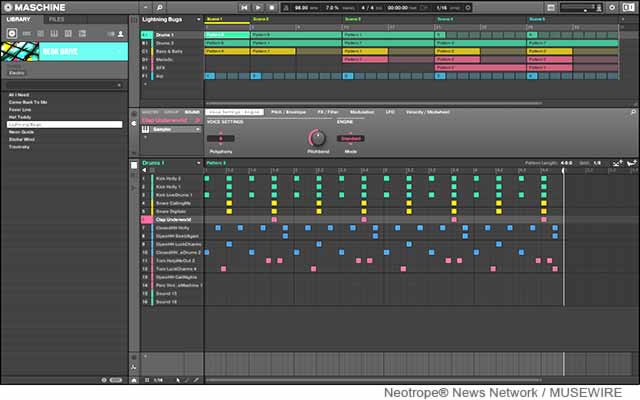 Native Instruments today introduced NEON DRIVE – a new MASCHINE Expansion providing a "collection of tailored 80s-inspired sounds for producers working in contemporary pop, electronic, and R&B styles," according to the company.
A genre debut for Native Instruments, NEON DRIVE is available now at the NI Online Shop and runs in the MASCHINE 2 software on MASCHINE STUDIO, MASCHINE, or MASCHINE MIKRO. A compact version for iMASCHINE is also available via the in-app store.
NEON DRIVE features a library of sounds drawing heavily on production techniques, instrumentation, and melodic construction native to 80s synth pop. This MASCHINE Expansion includes lush chord and pad sounds, emotive melodies and retro-inspired drums. Exclusive new presets for NI's wildly popular MASSIVE synth, the organic REAKTOR PRISM, and the MASCHINE 2 Drum Synths are also included for deep sound design. With a broad range of sounds for all synth-pop-inspired music, NEON DRIVE allows producers to focus on creating the strong, catchy melodies with the sound of NI's acclaimed synthesis expertise.
A compact version of NEON DRIVE is also available as an iMASCHINE Expansion, for creating beats on the go. Tracks can be exported to MASCHINE STUDIO, MASCHINE, and MASCHINE MIKRO for completion.
NEON DRIVE is available now at the NI Online Shop for $49 / 49 € / £44 / ¥ 5,680 / AU$ 79 and runs in the MASCHINE 2 software.
The iMASCHINE expansion is available at the iMASCHINE in-app store
for $0.99 / 0,89 € / £0.69 / ¥ 100 / AU$ 0.99.
Additional information on NEON DRIVE is available at:
www.native-instruments.com/neondrive