Native Instruments TRK-01 REAKTOR instrument offers new approach to creative kick and bass
The newly released TRK-01 REAKTOR instrument from Native Instruments (NI) marries classic mixing techniques with innovative sound design, sequencing, and modulation. It is designed to inspire creative and exciting kick-bass combinations, offering solid, powerful sound whilst also addressing some of the most common problems encountered when mixing kick and bass, such as clashing frequencies.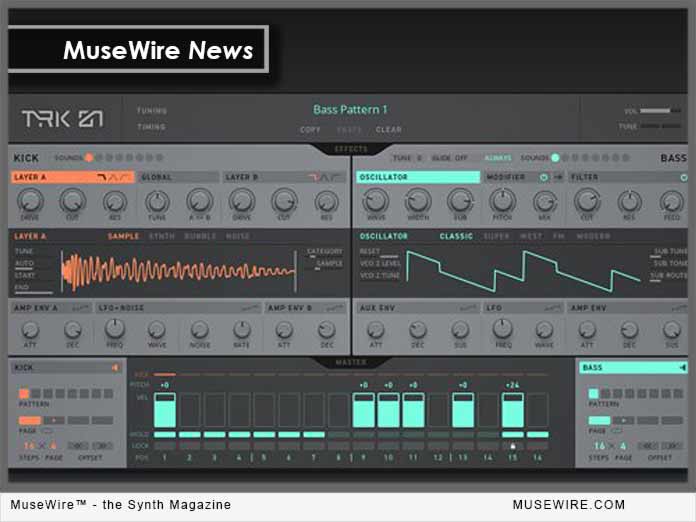 TRK-01's Kick module allows intuitive yet powerful sound design, using a combination of synth and sample-based layers (over 120 are provided but any sample may be loaded). The Bass module offers a choice of five powerful synth engines, covering wave-shaping, FM, analog synth models, and more.
Both Kick and Bass modules feature tailored insert effects, powerful modulators, send effects, and master insert effects, all assigned with smart, simple routing.
Two independent step-sequencers – one each for kick and bass – allow total control over playback and modulation, with powerful Step Lock and Parameter Focus features offering unprecedented levels of instant control – for each step in the sequence, over any parameter in the instrument.
TRK-01 supports live performance with up to eight hot-swappable pattern slots per sequencer and triggerable Sound settings, allowing instant switching between up to eight completely different Kick and Bass module settings.


TRK-01 includes over 200 wide-ranging, genre-focused presets, showcasing the huge range of inventive possibilities from the seemingly simple control set.
Full NKS implementation allows enhanced browsing of these presets, plus intelligent mapping of key controls and fast harnessing of TRK-01's performance triggering features.
REQUIREMENTS AND PRICING:
TRK-01 runs in REAKTOR 6, KOMPLETE KONTROL and the free REAKTOR 6 PLAYER, and is available now at the NI Online Shop for [99€, $99, £89, 12800¥].
Number of presest: 200+
Samples: 120
Synth engines: 5 Bass / 3 Kick
Sound category: Sequenced kick and bass instrument
Download size: 120 MB
Mac OS X 10.11, macOS 10.12 or 10.13 (latest update), i5, 4 GB RAM. Windows 7, Windows 8, or Windows 10 (latest Service Pack), Intel Core i5 or equivalent CPU, 2 GB RAM.
Learn more: https://www.native-instruments.com/en/products/komplete/synths/trk-01/
VIDEO (YOUTUBE):
Native Instruments has collaborated with YouTuber Cuckoo to create a highly original walkthrough of TRK-01: