Native Instruments and LANDR Partner to Offer Mastering for Revolutionary Stems Audio Format
LANDR Audio and Native Instruments today announces a partnership to offer instant mastering for the Stems format. As of January 30th, 2017, Stems mastering will be available directly on LANDR.com. Files created in Native Instruments' free Stem Creator application can be dragged and dropped onto LANDR.com for instant sound optimization. Stems Mastering will be introduced at a cost of $9.99 per master.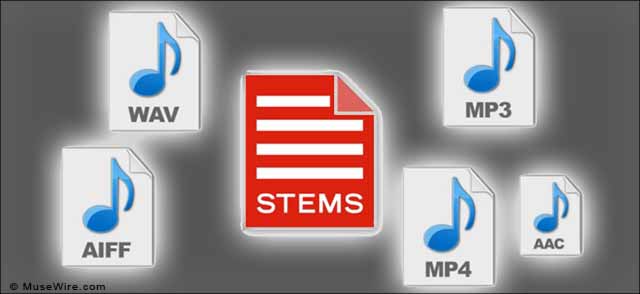 Stems, a new open format created by Native Instruments, provides a completely new way to DJ. Stems allows DJs and producers to create spontaneous edits, remixes, and more, by making the elements of a track available independently.
"As an open multi-track audio format, Stems enhances creative possibilities for DJs, producers, and live performers, and our ambition has always been to make the features available to anyone. LANDR compatibility with Stems is the next step on this journey, offering producers a convenient, affordable solution for mastering with convincing sonic results," says Mate Galic, President and CTO of Native Instruments.
A Stems file contains a track split into four musical elements: a drums stem, a bassline stem, a melody stem, and a vocal stem, for example.
"When mastering Stems files, LANDR masters each different stem so that they can be used on their own, but we still create a multi-track master so that the combination is also mastered to perfection. Then the user can simply deliver these, so that the actual stem file is available for usage and distribution," says Pascal Pilon, CEO of LANDR.
To celebrate the launch of this partnership, various artists will be releasing LANDR-mastered Stems files for purchase on music distribution platforms around the world:
Richie Hawtin, legendary electronic music pioneer, is re-releasing a LANDR-mastered Stems version of his acclaimed 2015 record, From My Mind to Yours, allowing DJs to freely mix and remix the tracks. This is the first Richie Hawtin Stems release to be mastered by LANDR.
"It's no secret that I'm fully behind the approach to encourage individuality in creativity and for artists to play differently. Stems is a new format that mirrors my constant quest for spontaneity to drive the art of performance forwards. I hope that releasing my album From My Mind To Yours in this format inspires others to support the approach and bring even more flexibility to the art of DJing," says Hawtin.
Tiga, DJ, producer and founder of Turbo Recordings, was an early adopter of LANDR mastering and will also be releasing his brand new single Eye Luv U and previous hit Let's Go Dancing in LANDR-mastered Stems format.
"It's very much a DJ way of thinking, the idea of emphasizing an a cappella, a bassline, or dropping out drums at a certain time. And it's easy to get your head around. It's not overwhelming, so it's a good way to perform and break up tracks the way you want them," says Tiga of the Stems format.
Stems is an empowering tool for producers and DJs at all stages of their careers, and offers a totally new revenue stream. Claire, an underground producer from Montreal, is releasing her first Stems format single, Dust til Dawn.
"Labels and producers are going to benefit from the Stems mastering from LANDR, because it's going to make it a lot more easy and quick for them to get quality mastering done. This will likely create an increase in demand, because now DJs will be able to access this new form, and it will just make artists kind of explode with their creativity," says Claire.
Further product information and press material
Additional information on Stems mastering with LANDR plus one free Stems master is available at:
http://join.landr.com/en/stems/?utm_source=NativeInstruments&utm_medium=partner
More information on Stems is available at:
www.stems-music.com
About LANDR
LANDR is the world's first automated audio mastering service. LANDR's features provide a simple workflow for creating, commenting and iterating throughout the lifecycle of a song. It's the only music content platform built for the way artists create today — realtime, across a variety of DAWs, devices, and studios.
With drag-and-drop simplicity, LANDR instantly masters tracks, DJ sets, live recordings, and demos, and lets artists share them privately and securely with anyone they want – from clients to collaborators to friends. Some of LANDR's customers and partners include Warner Music Group, Disney Music Group, Atlantic Records, SoundCloud, Native Instruments, Nas, and Bob Weir, founding member of the Grateful Dead.
For more information, please visit: www.landr.com
About Native Instruments
Native Instruments is a leading manufacturer of software and hardware for computer-based music production and DJing. The company's mission is to develop innovative, fully integrated solutions for all professions, styles and genres. The resulting products regularly push technological boundaries and open up new creative horizons for professionals and amateurs alike.
Native Instruments opened up the fascinating world of real-time sound synthesis on standard computers in 1996, and today offers an extensive product range for musicians, producers and DJs. The company currently employs more than 400 people in its six offices in Berlin, Los Angeles, Tokyo, London, Paris, and Shenzhen and works closely with more than 40 international distribution partners to ensure its future growth and success.
For more information, please visit: www.native-instruments.com