NAMM Foundation announces Make Music Winter 2022, a free outdoor musical celebration on the Winter Solstice
BROOKLYN, N.Y. /MUSEWIRE – Music Industry Newswire/ — The Make Music Alliance and NAMM Foundation announces Make Music Winter 2022, a free outdoor musical celebration with exuberant and participatory parades, performances, and events throughout New York, Los Angeles, Chicago, and dozens of U.S. cities, will return next month on the Winter Solstice, Wednesday, December 21.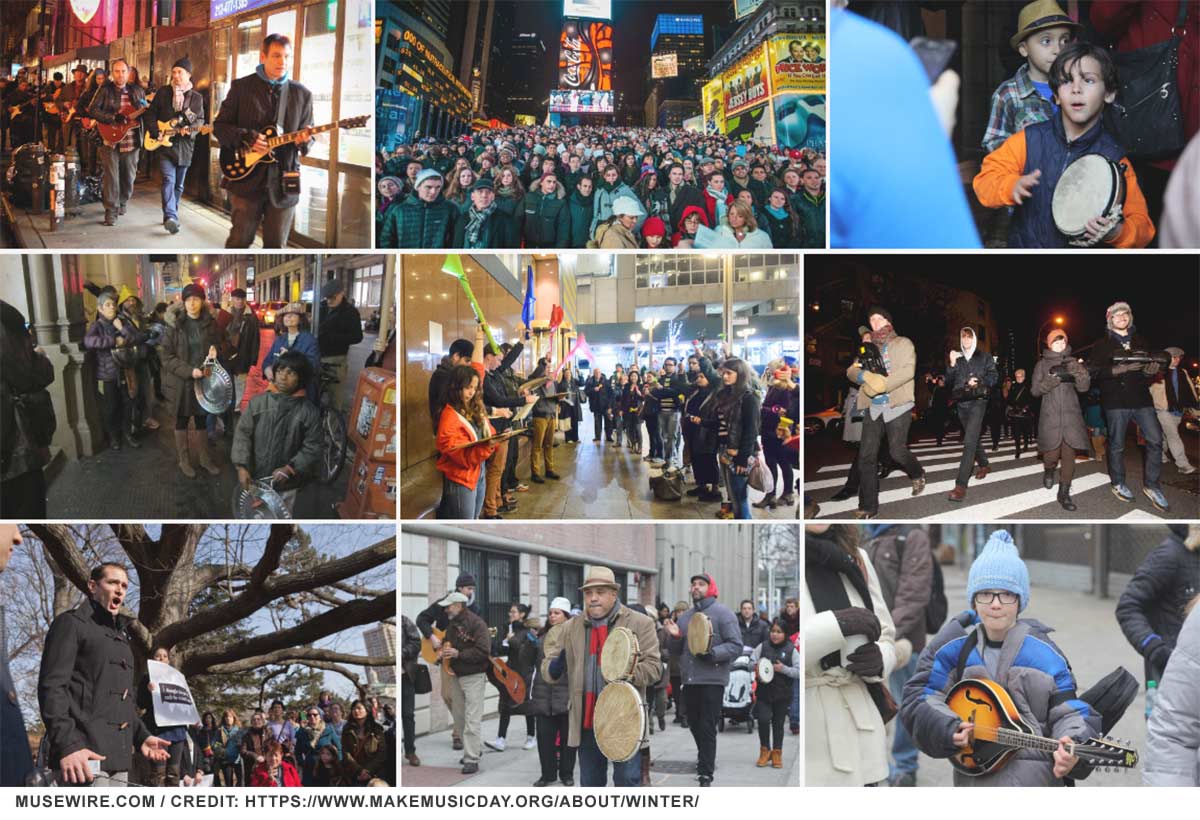 A Not-So-Silent Night
The fifth nationwide Make Music Winter celebration will take place on December 21st! Like Make Music Day on June 21, Make Music Winter is a free, outdoor, participatory musical event that turns audiences into music makers. Since 2011, it has been organized in New York City with over a dozen musical parades each December 21 – the shortest day of the year – and more than 35 cities joined the party in 2021.
This year, join a parade near you, or start up one of your own! It is a wonderful way to celebrate music making and stay warm during the winter.
December 21: Make Music Winter
After years of spontaneous musical merriment on June 21, the spirit of Make Music Day has come to visit on December 21, the winter solstice.
For Make Music Winter, music can pop up anywhere. Rounding the corner, you may see a herd of electric guitarists, a choir of medieval singers, or a percussive Puerto Rican parranda coming down the street. Ingenious musical parades for iPhones, hand bells, bicycles, trombones, and boomboxes have delighted audiences since New York City began celebrating Make Music Winter in 2011.
Whatever your wintertime musical dreams, anything is possible. And all of it is free, joyful, and profoundly participatory.
LEARN MORE: https://www.makemusicday.org/about/winter/
###
This version of news first appeared on Musewire.com and is Copr. © 2022 by Christopher Simmons.