Musician Press Kits get makeover in Jonas Music Services' 2012 'Worst Music Press Kit' Contest
NEW YORK, N.Y. (MuseWire) – Jonas Music Services today announced its first "Worst Press Kit Contest" with one selected winner receiving a custom designed press kit package worth $700. Jonas Music Services' Executive Director, Dr. Ann Lathan Kerzner, explains, "Press Kits are so essential in the marketing success of musicians and bands, but they are often poorly understood by the groups creating them. This competition is a fun way to draw attention to the making of a successful print press kit."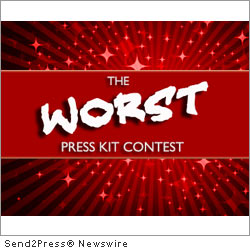 The winner will be awarded a custom designed, tri-fold kit printed on glossy cardstock and coordinating CD face to accompany the kit (CD duplication not included). One round of unlimited revisions and 100 full color kits are included.
Musicians and bands interested in entering the competition should mail their most disastrous printed press kit to Jonas Music Services by February 29, 2012 along with the complete online application form available at: http://jonasmusicservices.com/worstkit.php .
About Jonas Music Services:
Jonas Music Services LLC is an entertainment and arts marketing agency located in NewYork. Founded in 2004, the company serves musicians, entertainers, bands, agents, publicists and entertainment companies world-wide. Marketing and promotion services include websites, electronic press kits, social media solutions, print work, advertising, email promotion, CD design and much more.