A Musical High from Verheyen – studio great Carl Verheyen consistently wows the crowds
When hired guns go solo, the results can be "meh" or "yowza," but studio great Carl Verheyen ("ver-HIGH-un") consistently wows the crowds.
Los Angeles is full of guitar aces for hire and one of the best has a name you can't pronounce. You have heard quite a lot of the work of Carl Verheyen even though you may not be aware of it because so much of his playing is on soundtracks, commercials, TV show themes, jingles, broadcast promos, other people's albums, and anything else you can think of that has a guitar sound on it, including a prominent amusement park ride.
BOOK SERIAL: Ambient Deviant Speedmetal Polka Chapter 23. This is an excerpt from the forthcoming book, "Ambient Deviant Speedmetal Polka: Rock Writing, 1990s to 2010s, Los Angeles" by John Scott G.
Verheyen (the "hey" in the middle of his last name is pronounced "high") is a master of multiple styles, from sleek and subtle to totally rawkin' and all points in between. Day in and day out, he does things with a guitar that consistently give listeners a jolt of energy. It's not just blazing speed, although he certainly can pick at about Mach Three.
It's not just his fine tone, although he cannily mixes crunch, twang, and spacy sounds to keep each tune sounding fresh. It's ultimately a matter of his beautiful melodies and breathtaking solos that place him several notches above the rest of the studio rat pack.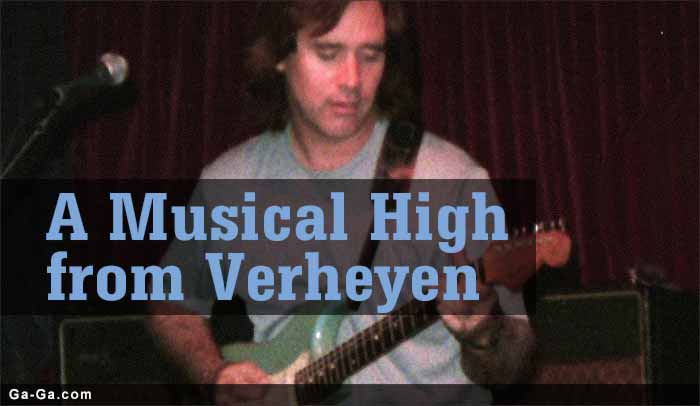 Since he earns his living playing guitar, it's no surprise that he can make notes fly and chords dance. What is striking is that he rarely seems to be showing off but rather uses his amazing talent in service of each song. His voluptuous lead lines are robust and delicious in part because of his use of intervallic scales, something that is complex in theory but ear-pleasing in execution. (For anyone seeking more information on this, there are several instructional DVDs featuring Verheyen discussing and demonstrating the technique.)
On the Job
When Verheyen shows up for a studio gig, the cartage company wheels in two large trunks full of guitars. One of them contains twelve acoustics and the other has, well, I lost count of the number of electrics, but it's a lot.
"You never know what you're going to need at a session," Verheyen says, "so the safe thing to do is bring it all. Of course, eventually somebody asks for something I don't even own, much less have with me, but with my rig I can usually get what they want or at least come very close."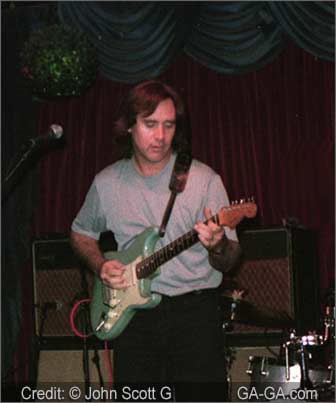 I know what you're thinking: must be nice. Sure, it's cool to own so many axes and it's nifty-keen to be paid to perform on them every day, but the job is not always a matter of just playing around. "Sometimes it's very hard work because the guitar parts on the sheet music are written by someone who is used to writing parts for the keyboard," Verheyen notes. There are chord combinations on the piano that can only be approximated on the guitar. "Other times it can be a chore if the people running the session don't have any respect for the musicians they're employing. But mostly, it's the best job in the world. Well, except for just playing your own music."
Quite often, his work makes a recording come alive, yet no matter how brilliant he may be, his can be an anonymous art; session musicians may not get credited for their work. Sometimes other guitarists' names appear in place of his, which makes it understandable why he enjoys stepping out on his own. "While you can put your talent into any group of notes," he says, "you can't always put your soul into a jingle." So, in addition to touring with the likes of Supertramp, he writes tunes of his own and regularly puts together and leads his own band.
At NAMM
Verheyen's guitar of choice is usually a Fender Stratocaster, or a guitar based on that size and shape, so it was a surprise when we heard he would be performing a concert to promote Parker Guitars at one of the semi-annual conventions staged by NAMM (National Assn. of Music Merchandisers). The Ken Parker-designed axes differ from a vintage Strat in several ways: they're nearly three pounds lighter with a flatter neck radius, bigger frets, and a thinner neck. Right before the show, many guitarists in the audience wondered aloud how Verheyen would fare on a guitar so radically dissimilar from his favorite style and on the opening number he seemed to be battling the instrument as he got used to its lack of heft, but then things settled down and the Carl Verheyen Trio romped through two one-hour sets of sumptuous music.
Songs like "Slingshot" soared. "No Walkin' Blues" tickled everyone's fancy. "Under Saturn's Rings" took the crowd for a wild ride. His compositions are a wonderful wedding of rock-and-pop and blues-and-roll. Plus, on any guitar, Verheyen's playing is exciting, sparkling, and diamond-hard.
Cliff Hugo, on bass, delivers a huge sound, yet his taste is such that everything he plays leaves you with space for the song to breathe. Steve DiStanislao, on drums, was consistently delightful, with his stickwork urging the audience to sway while he propelled his cohorts to new heights of excellence.
At The Mint
In a slightly different configuration of the CVT, Verheyen and bass wizard Hugo worked with the one-man drum orchestra known as Chad Wackerman for a nifty set at the claustrophobic Mint nightclub. Having just returned from a successful European tour, the trio was musically communicating on a high level; they made hips twitch as often as they made jaws drop.
Ask any professional player about Wackerman and you have to stand back to avoid the avalanche of praise. After hearing him perform, I'd have to say that the accolades don't go far enough. There is power galore in his playing but it is infused with a keen sense of the way rhythm shapes emotion.
During seventy-five minutes of glory, Verheyen, Hugo, and Wackerman stormed and caressed the ears of a packed audience, offering up great music that defined its own character while incorporating elements of rock, funk, fusion, and blues. Hearing the musical themes bouncing from one player to the next made me grin so much that my face ached.
At the heart of their presentation were Verheyen's instrumentals, mainly from his "Slingshot" and "Slang Justice" albums. No matter how hard the band rocked (and they certainly busted out the walls numerous times) the melodies kept shining as bright and beautiful as sunlight through polished prisms.
Video of Carl Verheyen Band performing "Constant as the Wind" —
Video of Carl Verheyen Band performing "Maggie's Ladder" —


BOOK SERIAL: Ambient Deviant Speedmetal Polka Chapter 23
Excerpt of book serial "Ambient Deviant Speedmetal Polka: Rock Writing, 1990s to 2010s, Los Angeles" is Copr. © 2013 by John Scott G – all commercial and reprint rights reserved. This version first published on Ga-Ga.com, a publication of Neotrope®. Photo of Carl Verheyen by and © John Scott G – used with permission; story cover illustration by Christopher Laird Simmons.