Music Expo, the conference to inspire music makers returns to Miami in 2018
Music Expo, the conference to inspire music makers, announced today its second Miami edition to be held March 24, 2018 at SAE Institute. Hosted in association with Sound On Sound Magazine, the all-day conference will feature production and mixing workshops, music business panels, product demos as well as a beat battle.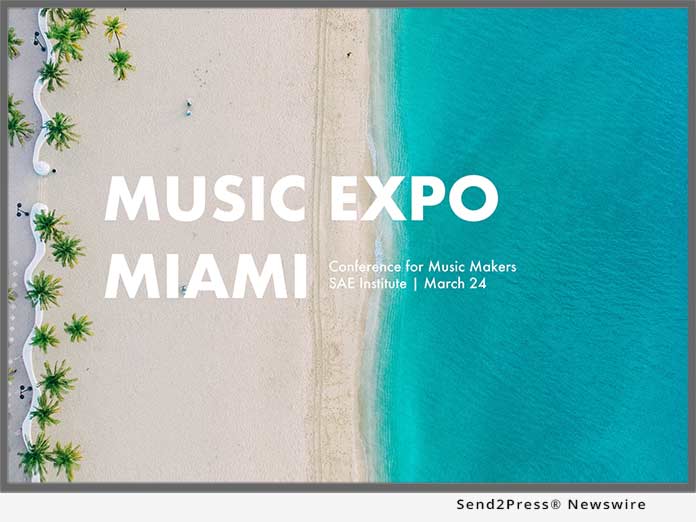 "We are a platform to facilitate dialog between music makers through events, social, competition and now in-studio masterclasses to anyone – from professional to aspiring – interested in the art of making music. While we grow, we are making our best efforts to keep the easygoing vibe that our attendees love," says Loïc Maestracci, Founder and Executive producer of Music Expo.
Confirmed speakers include:
Gary Noble, Grammy-Award Mix Engineer & Producer (Faith Evans, Anthony Hamilton, Nas, Amy Winehouse)
Lu Diaz, Mixing Engineer & Producer (DJ Khaled, Pitbull, Daddy Yankee)
Derek Garcia, Producer & Mixing Engineer (DJ Khaled, Rick Ross, Jamie Foxx)
Maria Elisa Ayerbe, Recording, Mixing and Post Production Audio Engineer (Ricky Martin, Marc Anthony, JLo)
Guillo Lefeld, Music Producer & Audio Engineer
James Joubran, Musical Producer
ill Factor, Producer (Matisyahu, Justin Timberlake, Kelly Rowland, Jason Derulo)
Natalia Ramirez, Vocal Engineer (Ricky Martin, Jennifer Lopez)
Felipe Tichauer, Mastering Engineer (Christina Aguilera, Mew, Rod Stewart, CEU)
Richard Diaz, Producer & Mixing Engineer.
In addition to Miami, Music Expo will celebrate its fifth year anniversary at SAE Expression College in San Francisco, November 10, and will come back to Boston in June.
Learn more at: https://musicexpo.co/.
Held in San Francisco, Miami, Boston and coming this year to Nashville, Music Expo is a series of annual events full of educational sessions, studio sessions, discussion and product demos bringing musicians, engineers, technophiles and tastemakers together. Its mission is to inspire to make music.