Music Computing announces ControlBLADE Gen2 – Ivy Bridge PC or Mac-powered Music Workstations
AUSTIN, Texas (MuseWire) – Music Computing, the maker of advanced computer-based musical instruments announced today its new ControlBLADE Gen2 line of all-in-one music keyboard production stations; powered by either Windows or Mac OS systems. Priced from $1,899, the line represents a new standard in value and performance.
ControlBLADEs are all-in-one music production stations complete with piano keys, drum trigger pads, knobs, sliders, thousands of sound presets and software for live and studio use. They allow users to compose, record, mix, and master songs that are ready for radio or direct Internet distribution.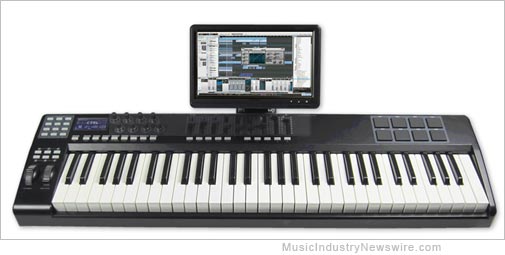 The new Gen2 ControlBLADEs are powered by high-performance computer cores utilizing Intel® Core i-series® third-generation (Ivy Bridge) processors that are perfect for today's demanding musicians and the virtual instruments and software application they use. Options include i5 and i7 quad core versions. The Windows 7 (64-bit) operating system is pre-configured for music production and can run virtually any software application or plug-in. Capable of running over 500 plug-ins at once, sequencing thousands of tracks simultaneously, and storing millions of sound presets, the ControlBLADE packs a serious punch for the money.
ControlBLADEs are also available for Mac OS X, which are powered by the latest Mac® mini from Apple®. Both i5 and i7 processor options are also available as well as a variety of RAM, hard drive, SSD drive, and other upgrades.
"At Music Computing, we strive to bring the latest technologies to our users." Said Victor Wong, CEO, Music Computing. "The release of the new ControlBLADE Gen2 models reinforces that fact and our commitment to being the very best at what we do."
The ControlBLADE is available as 25-Key and 61-Key models. About the same size as a typical keyboard controller and weighing only 22-lbs (61-key) / 13-lbs (25-key)…FULLY LOADED, the ControlBLADE brings true portability to the keyboard production station world.
New with the Gen2 models is the option for the ProTouch™ piano keybed. The new ProTouch keybed brings higher levels of playability and better feel to the ControlBLADE line via high quality semi-weighted keys with after-touch. The optional upgrade is priced at: $199.
ControlBLADEs all come with built-in Wi-Fi standard. This mean the user can be online anywhere there is a hot spot. Send and retrieve files, log into remote servers, collaborate with others, or download new software and sounds directly into the ControlBLADE. Users now have the freedom to create virtually anywhere they like.
Upgrades for Gen1 models to the new Gen2 versions are available. Complete ControlBLADE information and images are available at: http://www.musiccomputing.com .
GEN 1 VIDEO: