Muramasa Audio Electrum is an all-in-one single-screen guitar amp and pedalboard plug-in
PRAGUE, CZECH REPUBLIC /Music Industry Newswire/ — United Plugins has announced "Electrum" — available as an all-in-one single-screen guitar amp and pedalboard plug-in from development partner Muramasa Audio, itself inspired by bygone masterworks of a famous Japanese swordsmith.
According to the company, the benefit in using this new "single screen" plugin is not needing to take a deep dive through muscle memory-taxing menus in search of hidden options. Everything is already accessible on one screen — cue color-coded AMP, AUTOWAH, CABINET, COMPRESSOR, DELAY, DISTORTION, DOUBLER, EQ, GATE, MODULATION, and REVERB components are clearly viewable as part of the plug-in's photorealistic 3D or flat 2D graphics at the convenient click of an appropriate button.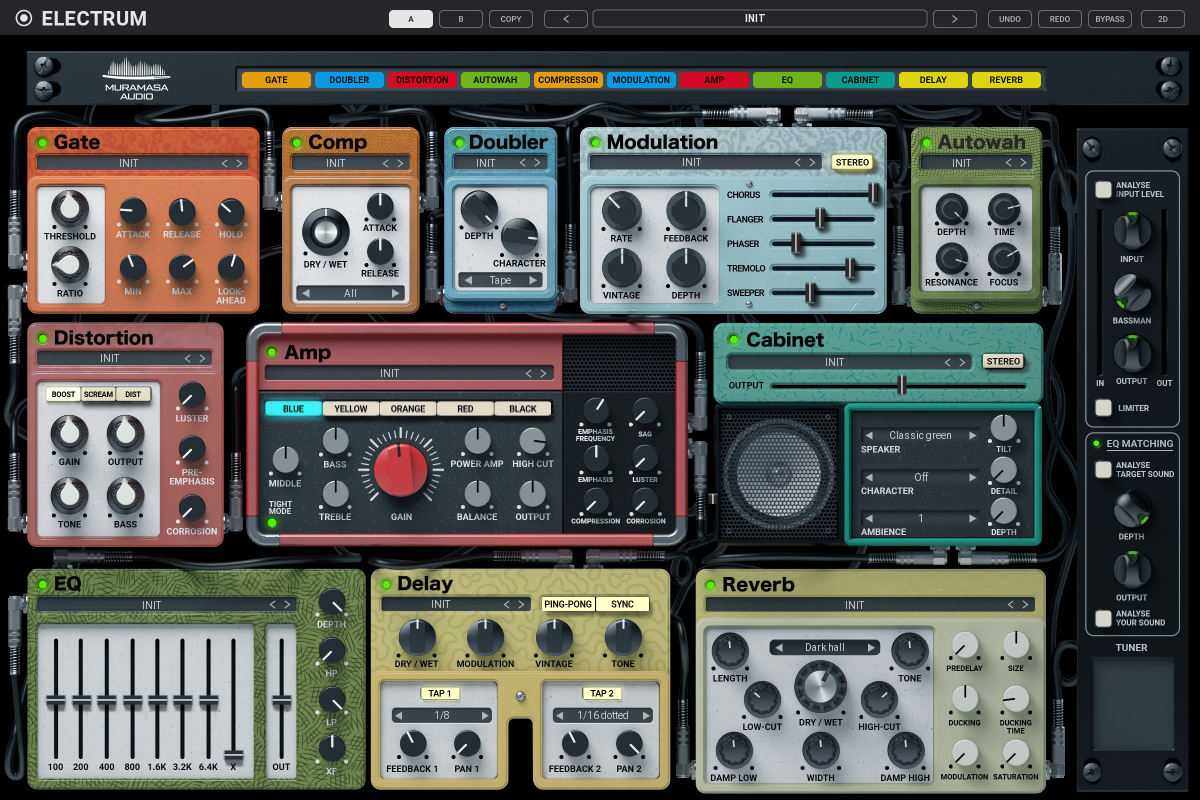 Featuring five versatile amps — BLUE, YELLOW, ORANGE, RED, and BLACK — arranged from lighter touch to most extreme, Electrum's Amp section is at the effect chain's core. Conveniently, all share the same controls, placing familiarity at the heart of a delightful user experience enhanced further with fast workflow.
Electrum's unique Cabinet comes complete with 16 SPEAKER sounds based on classic guitar cabinet loudspeaker measurements, customizable to produce over 300 virtual cabinets. The Doubler section in Electrum is a powerful alternative, producing a thick and wide sound without needing to record the same part twice — easily enable Electrum's Doubler, record once, and move on.
Muramasa Audio's Electrum is available to purchase for a time-limited super-introductory promo price of only €15.00 EUR until July 4, 2021, with another attractive time-limited promo price of €39.00 EUR continuing throughout the summer months until September 5, 2021 — rising thereafter to its regular price of €139.00 EUR — as an AAX-, AU-, VST-, and VST3-compatible plug-in (using internal 64-bit audio processing capable of handling any sample rate) directly from United Plugins here: https://unitedplugins.com/Electrum/
See and hear Electrum in action in United Plugins' illuminating introductory video here:
A 15-day, fully-functional trial version of Electrum for macOS 10.10 and newer and Windows 8/10 can be downloaded for free from here: https://unitedplugins.com/download/
Note that no iLok, dongle, or internet access is required for Electrum activation. (All United Plugins software uses license files for activation and owners can freely use purchased software on all their computers as long as they are the user.)