More Swell! UVI Release METEOR Virtual Instrument for Swells and Impactful Visual Scoring
UVI has announced release of "Meteor," a swell and impact designer for creating rich and immersive cinematic sound effects for film, games, music and more. Meteor includes a comprehensive library of exclusive sounds and recordings that can be near-endlessly combined and edited through a featured and ergonomic user interface.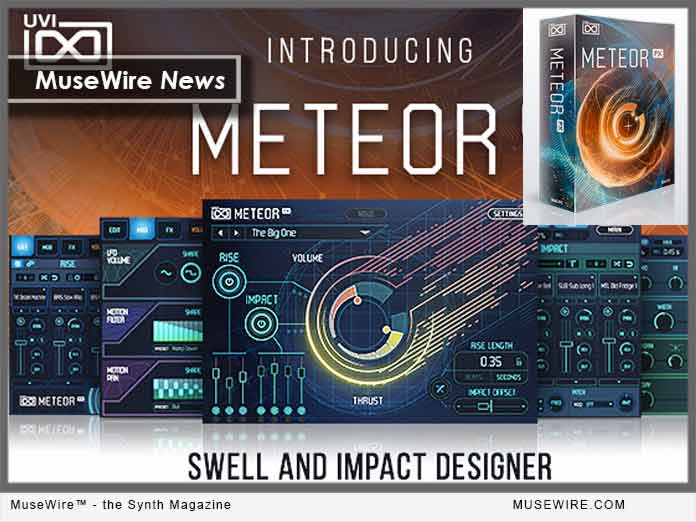 A versatile 7-track design provides fully-featured sections for rise and impact sounds, allowing up to 3 rise and 4 impact tracks each with everything from basic channel controls to offset, high-quality filters, pitch-shifting and IRCAM granular processing.
According to UVI, "The 7-layer architecture is built with 3 tracks dedicated to rise sounds and 4 dedicated to impacts. Each offers both general track controls including volume, pan, bypass, mute, solo and effect sends for reverb and delay, as well as controls specific to the layer type."
Rise tracks each include a customizable velocity curve, volume and pitch modulation, multi-mode distortion and a multi-mode filter. Impact tracks each include time offset, transient and tail length, multi-mode distortion, multi-mode filter, pitch glide and an IRCAM Granular mode. Rise time can be customized, and even locked so that you can easily browse presets or use the randomizer without affecting duration.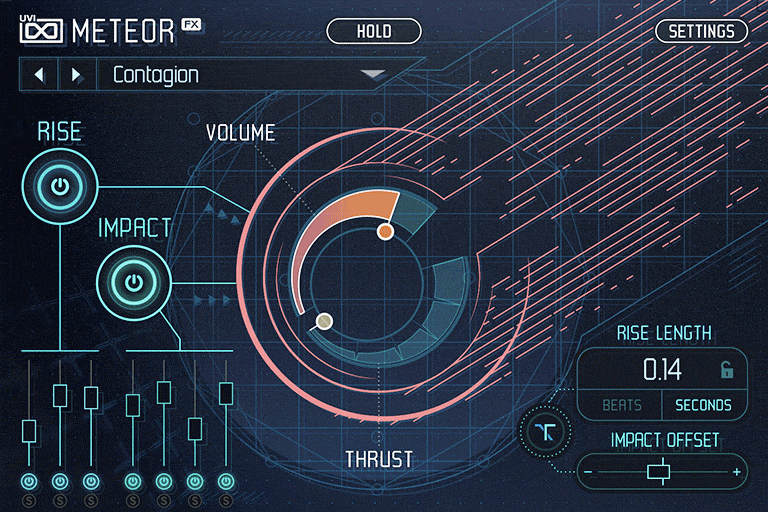 A modulation page allows the creation of movement and variation by way of customizable volume LFO, multi-step filter and multi-step panner with preset shapes. Finally a master EQ, Width and powerful 'Thrust' dynamic effect provide final shaping and polishing of your sound.
Special symphonic orchestra sessions were recorded exclusively for Meteor to provide powerful and emotive musical building blocks with pure highs, detailed mids and an accentuated and deep low-end. These included a string session with 32 cellos and double-bass in a full-stage arrangement, a brass session focused on the deepest tones made up of tubas, bass trombones, french horns, bassoons and contrabassoon, and a percussion session with 4 percussionists capturing all sorts of builds and impacts.
Pricing and Availability:
Meteor is available immediately at an introductory price of $99 / 99€ through February 28th, 2018 (regularly $149 / 149€) from the UVI online shop.
Learn more about it here: https://www.uvi.net/meteor.html
OVERVIEW VIDEO (YouTube):