Moog Music Launches Season 2 of Moog Sound Lab and Partnership with SPIN.com
ASHEVILLE, N.C. (MuseWire) – Moog Music launches Season Two of Moog Sound Lab, a unique performance series giving artists the opportunity to experiment with various forms of synthesis and soundscaping. Season Two marks a partnership with music tastemaker, SPIN.com. SPIN will exclusively present one performance from each session.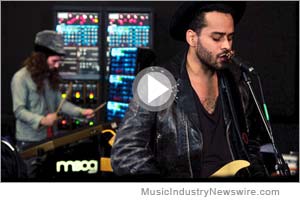 Moog Sound Lab Season Two's debut episode features a distinctive performance by Twin Shadow, who applies synthesis to organically re-invent his breakthrough songs "Castles In The Snow" and "Slow". The on-line series is creatively engineered and filmed at Moog Music's factory in Asheville, North Carolina by Moog's in-house multi-media production team.
Little Dragon, The Antlers, Ra Ra Riot, and Megafaun join Twin Shadow for the second season of Moog Sound Lab. Each band re-imagined two of their songs while experimenting in Moog's gear rich, black box studio space within its working factory. Combining artists' untethered creativity with access to the full catalog of Moog's handcrafted electronic musical instruments, Moog Sound Lab offers viewers a rare view of performances usually reserved for private rehearsals and experimentation that take place regularly at the Moog factory.
Viewers may watch one performance exclusively on SPIN.com and the other at moogsoundlab.com. The episodes will debut on the first and third Mondays of each month. Little Dragon's session will premier December 5th.
Season One of Moog Sound Lab featured Tegan and Sara, Phantogram, OK GO, Junip, Dorit Chrysler, and The Dandy Warhols, which can be viewed at moogsoundlab.com .
About Moog Music:
Supporting creative innovation and freedom of expression for musicians has been the foundational ethos of Moog Music Inc, since Bob Moog created his first modular synthesizer in 1963. Moog synthesizers and other electronic musical instruments are designed and lovingly handcrafted in the Moog factory in downtown Asheville, N.C. Moog and its customers carry on the legacy of Bob Moog, inventor of the Moog synthesizer and Founder of Moog Music Inc. They celebrate this legacy annually with the 3-day music festival, Moogfest in downtown Asheville, NC.