Long Awaited Polyphonic MOOG ONE Analog Synthesizer is Finally a Reality
While you might have heard rumors about a new polyphonic Moog Synthesizer at recent synth shows, it turns out that the rumors were true. It's here, it's real. It's the brand spankin' new MOOG ONE from Moog Music. Briefly, it's a 61-key, 16-voice Programmable, Tri-timbral Analog Synthesizer with 3 Voltage-Controlled Oscillators, 2 Independent Analog Filters, 4 LFOs, 3 Envelope Generators, Arpeggiator, Sequencer, Onboard Effects and Eventide Reverb Suite, and CV I/O.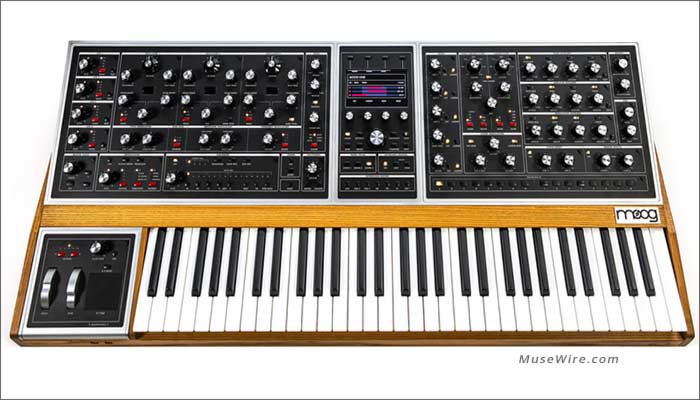 If you have been among the Moog synthesizer faithful or fan for any period of time, you likely know the subject of a brand new polyphonic Moog has been a hot topic since Bob Moog rolled out the first new Voyager synth keyboard in 2002.
UPDATED: Moog Music made the official "official announcement" Oct. 8, 2018, and the product page now live:
https://www.moogmusic.com/news/moog-one-polyphonic-analog-synthesizer
They have also added a Soundcloud page with demos (see below). 🙂
The new synth is expected to be shipped in November 2018, and information and specs were first seen in the new October printed catalog from Sweetwater Sound, which has also published detail specifications.
SPECIFICATIONS:
8- or 16-voice polyphony
3 VCOs per voice with waveshape mixing and OLED displays
Unison mode (up to 48 oscillators on the 16-voice instrument)
2 filters per voice with filter mixing (2 multimode State Variable filters that function as a single filter, and a classic lowpass/highpass Moog Ladder filter)
3 DAHDSR envelopes per voice with user-definable curves
3-part multitimbrality
Separate sequencer and arpeggiator per timbre
Chord memory
Dual-source noise generator with dedicated envelope
Mixer with external audio input
Ring modulation with selectable routing
Oscillator FM and hard sync with selectable routing
4 assignable LFOs
Premium 61-note Fatar TP-8S keybed with velocity and aftertouch
Assignable pressure-sensitive X/Y pad
Digital Effects (Synth and Master Bus)
Eventide reverbs
Selectable glide types
USB and DIN MIDI
Save, categorize, and recall tens of thousands of presets
Create Performance Sets that make up to 64 presets accessible at the push of a button
2 x ¼" stereo headphone outputs
2 pairs of assignable ¼" outputs (supports TRS and TS)
4 x ¼" hardware inserts (TRS)
1 x ¼" external audio input (line-level)
1 XLR + ¼" TRS combo external audio input with trim knob
9 assignable CV/GATE I/O (5-in/4-out)
USB drive support for system and preset backup
LAN port for future expansion
(Bullet-points data courtesy Sweetwater Sound: https://www.sweetwater.com/store/detail/MoogOne16–moog-one-16-voice-analog-synthesizer ).
What is particularly exciting is that the new Moog One can be used as a single instrument, or as a multi-timbral synth, according to the preliminary data (Moog Music does not yet have full specs on their main site, which might be due to their planning a custom break-out standalone site for the new system; but that's a guess on my part!).
Moog One is not only polyphonic; it's tri-timbral (3-part multitimbral) — that is, capable of playing up to three individual Synths simultaneously — split, layered, or zoned across the keyboard — all from within a single preset. With each Synth capable of accessing its own sound parameters, note range, arpeggiator, and sequencer, you can create rich ensemble performances and deeply layered, evolving soundscapes.
Pricing is as you might expect for a new polyphonic analog keyboard (well analog + digital hybrid). Considering the original MemoryMoog can sell for up to $15k in 2018 for a fully sorted unit, the new prices may or may not freak potential buyers out.
The 8-voice keyboard will be around $5999 and the 16-voice unit $7999. Learn more at the Moog Music website: https://www.moogmusic.com/
As a run-up to official launch announcement in October, Moog Music has been running social clips and videos about the Polymoog and other classic Moog keyboards.
VIDEO (YouTube):
The original promotional film (1975) for the Polymoog Synthesizer, featuring Dr. David Luce, Chick Corea, Herbie Hancock, and Michael Boddicker.
NEW SOUNDCLOUD AUDIO DEMOS (Oct. 8, 2018) – OFFICIAL:

Copr. © 2018 Christopher Simmons – this article first appeared on MuseWire.com – all rights reserved.