LAMN Jam '08 Series Starts Tonight in Hollywood: Career Launch Package is Grand Prize
HOLLYWOOD, Calif. — The Los Angeles Music Network presents the URBAN & the ROCK Music Contests launching June 9. Taking its popular "LAMN Jams" to a new level, urban and rock artists are invited to perform original music for a panel of industry experts and receive live critiques. Monthly winners move up to the finale and compete for the Grand Prize. Those selected will perform at Skinny's Lounge located at 4923 Lankershim Boulevard in the NoHo Arts District (N. Hollywood). Performance Dates – Rock: Jun 9, Jul 7, Aug 11 (finale). Urban: Jun 23, Jul 21, Aug 25 (finale). Open to the public – admission is free for all dates.
Career Launch Package
Beyond the personal attention each participant receives, Grand Prize Winners also get a package that includes practical tools and valuable opportunities. These include radio airplay on top L.A. rock station 98.7-FM (for rock winner), option to sign winning songs to music publisher for commercial exploitation in film and TV; personal consultation in performance, songwriting, marketing and business plan development; a professional photo session, A&R and music publisher directories, tour resources and gear.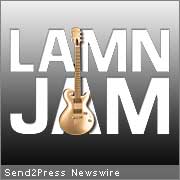 "The winners obviously have talent, a group of industry professionals will provide the rest," says LAMN President Tess Taylor. Full prize package details below.
Top Industry Experts Judge Talent
Confirmed talent judges include senior executives from Power 106-FM, 98.7-FM, Atlantic Records, RBC Records, Interscope Records, Trans World Entertainment, MySpace Records, a multiple Grammy Award-winning producer, SIXX: A.M., Taxi.com, Spaceland Productions, Stones Throw Records, Stampede Management, Angel Diva Music and Red Queen Music (more pending). These experts have been hand-picked because they can do something meaningful for an artist's career if they like what they hear. At past LAMN Jams, performers have had their music put in the hands of hard-to-reach music supervisors for hit television shows (by music publisher Robert Walls), been hired on studio projects (by producer Jan Linder Koda), and gotten production deals (like Jody Whitesides).
Submit Your Music Now
Artists register online at www.lamn.com or call 818-769-6095 now. Submission fee is $25 and performers compete to win prizes at monthly LAMN Jams. Monthly winners move up to compete for the Grand Prize.
2006 LAMN Jam Champ Hits Big Time
Within months after winning the 2006 LAMN Jam, champion Tim Fagan was invited to tour with the Goo Goo Dolls, won the John Mayer Songwriting Contest last year, and is currently on tour with Colbie Callet. LAMN is proud to have recognized Tim's talent early on.
We Love Our Sponsors
LAMN Jam sponsors include Power 106-FM, 98.7-FM, Urban Network, Heroin Diaries / Ovation Guitars, DDrums, Paiste America, Angel Diva Music, Red Queen Music, Justin Winokur Photography, Music Connection Magazine, On / Off Records, Onlinegigs.com, Optic Noise Music Licensing, Send2Press.com (a division of Neotrope), Propellerheads, Skinny's Lounge, Taxi.com, Tunecore.com, Music Business Registries and What Is Indie? with others pending.
[youtube:http://www.youtube.com/watch?v=tSjMb1O4vaA&autoplay=1 300 200]
About LAMN
Now in its 20th year, the Los Angeles Music Network (LAMN), promotes education, career advancement and good will among artists and creatives. LAMN Jams give talented artists a platform to perform their original material for music industry experts. These contests foster artistry and talent development, enable professional introductions and deals that advance artist careers. LAMN is a sister organization of the National Association of Record Industry Professionals (NARIP) which caters to record executives.

ARTISTS APPLY ONLINE NOW!
www.lamn.com

Grand Prize Package for Urban and Rock contest winners (except where specified):
* Electric / Acoustic Heroin Diaries Guitar (made by Ovation) (rock winner). $1,000 value
* Featured on 98.7 FM's "OzoLocal Lounge." The winner will play in Star's performance space, invite friends, and be interviewed by Ozomatli for OzoLocal (rock winner). Priceless!
* Grand Prize Winner has the option to sign winning songs to Red Queen Music Publishing to pitch for commercial exploitation and placements in TV and film. Priceless!
* Release of a single and a B-side through On/Off Records. Includes several hours of marketing and promotion time by On/Off staff (rock winner). $4,000 value.
* 3-year Taxi membership. Taxi is the leading independent A&R resource. $600 value.
* One free album upload (unlimited number of songs on the album), to be sold in unlimited stores of their choice and one (1) free video upload to iTunes from Tunecore, and inclusion on Tunecore compilation. $500 value.
* 2-year subscription from Onlinegigs.com. $240 value.
* One-hour music licensing consultation, marketing assessment, with a half hour of phone follow up from Optic Noise. $375 value.
* One-hour consultation with artist development expert and producer Jan Linder Koda. $110 value.
* Success starts with a good plan. Business plan development with Jan Linder Koda and Tess Taylor. 2006 Winner Tim Fagan made use of this, and within months was on tour with the Goo Goo Dolls, Lifehouse, Colbie Caillat and John Mayer. $1,000 value.
* Three-hour photo shoot (portraits, head shots, band shots) from Justin Winokur Photography. $300 value.
* Reason and Recycle software programs from Propellerheads. $1,390 value.
* Targeted Press Release Service for one (1) press campaign from Send2Press(R), a service of Neotrope. $500 value.
* One annual subscription to RecordXPress database of the A&R or Publisher Registry (valued at $360 each) or the Film & TV Music Business Registry (valued at $460).
All trademarks acknowledged.
[tags]Los Angeles Music Network, LAMN Jam 2008, URBAN and ROCK Music Contests, LAMN President Tess Taylor[/tags]