Korg unveils successor to OASYS, with new KRONOS keyboard workstation
NAMM 2011 Anaheim, Calif. (MuseWire) – The Next-Generation Workstation for Live, Production, and Sound Design: The KRONOS Music Workstation is the single instrument designed for live performing musicians; for artists creating in a studio or computer-based production environment; and for musicians and sound designers seeking the ultimate synthesizer. In creating KRONOS, we have listened to many musicians and have heard their requests. And KRONOS delivers.
Prepare to be Amazed
For nearly half a century, Korg has set the standard for technical innovation, leadership, and superior sound. Korg has created entire categories of musical products, and has produced some of the top-selling synthesizers and keyboard instruments ever; the instruments favoured by musicians around the globe. In 1988, Korg defined the workstation category with the revolutionary M1. Today, in 2011, Korg redefines and reimagines the music workstation, revolutionizing the capabilities of the hardware instrument and exceeding the demands of the modern player: introducing the KRONOS Music Workstation.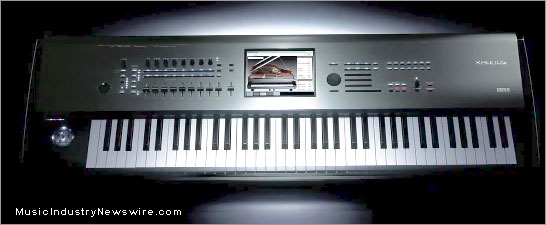 The Game Has Been Changed
KRONOS is more than a new instrument. It is a milestone in synthesis and workstation evolution; one that embodies fresh ideas and breakthrough technologies. KRONOS brings together multiple sound engines working in harmony and new interactive performance features that reflect the way musicians play. Most importantly, KRONOS provides a seemingly inexhaustible supply of breathtaking, spectacular sounds. Prepare to be amazed.
Nine Engines; a Universe of Sound
KRONOS unites nine individual synthesis engines in a single instrument, each providing the finest sound creation techniques available. Together, they represent not only the rich legacy of Korg, but the history of the electronic keyboard industry itself. Get ready for classic sounds from timeless instruments; unique sounds that once startled the world; and new sounds that have only now become possible.
KRONOS Highlights
•Next-generation workstation with enhanced performance features
•9 Sound engines, each offering a unique sound-creation technology (see list below)
•16-part Combis allow all engines to function together in perfect harmony; Dynamic Voice Allocation keeps the polyphony high.
•Available with 61, 73 or 88 keys73 and 88 key models feature Korg's finest RH3 Graded Hammer Action 61 key model borrows the responsive synth action from the Korg M3-61
•Comprehensive interface, based around a new large 8″ TFT TouchView™ display
•Virtual Memory Technology (VMT), aided by a fast SSD (Solid State Disk) provides high polyphony and massive, ultra-long, and unlooped samples; offering unheard of performance from a hardware instrument
•Smooth Sound Transition: this often-requested feature allows held or sustained notes to keep sounding when changing sounds or modes.
•Set List mode: Organize the Programs, Combis, and Songs you need to perform your set in a single, easy-to-select screen – including performance notes!
•Use up to 16 premium-quality effects at once; individual effects rival dedicated units
– 12 Insert effects
– 2 Master effects
– 2 Total effects
•On-board sequencer offers 16 MIDI tracks + 16 audio tracks (24-bit, 48kHz recording quality)
•Sampling System – Instant sampling and resampling from any mode:
•Program, Combination or Sequencer.
•Sophisticated KARMA® technology generates infinitely variable performance-driven phrases, musical effects, and backing tracks to catalyze your creativity
•Expanded Drum Track for play-along grooves and inspiration
•Signature sounds created with guidance from world class musicians.
VIDEO: