Korg Announces Mega micro Giveaway Contest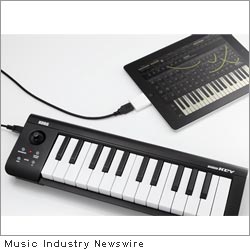 MELVILLE, N.Y. (MuseWire) – This year marks the tenth anniversary of the best-selling microKorg Synthesizer/Vocoder, which became the premier member of Korg's "micro" family of products. As part of the year-long celebration, Korg USA is giving away a different micro-series product every month from May 1 through Dec 31, 2012!
U.S. customers can enter the Mega micro contest by visiting the following URL and entering their information for a chance to win. www.Korg.com/megamicrogiveaway
The compact and portable microKorg Synthesizer / Vocoder was released in the summer of 2002. This virtual analog keyboard opened a new avenue for music-making. Combining mini-keys, battery power, a simple-to-use interface, and popular sounds, all at an attractive price, microKORG made the synthesizer available to every musician. Bass players, singers, guitarists, producers, DJs and horn players all flocked to add the professional sounds of the microKorg to their instrument arsenal.