Korg announces Kronos X Music Workstation, Boosting Memory and SSD over original KRONOS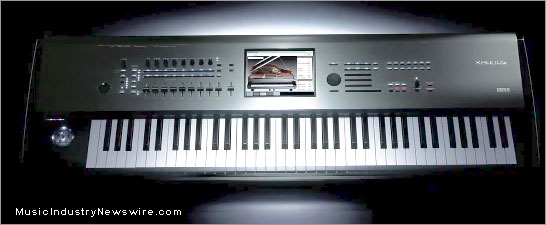 NASHVILLE,Tenn. (MuseWire) – Summer NAMM: Korg USA this week announced the arrival of the "Kronos X Music Workstation." Since the debut of the original KRONOS music workstation in early 2011, Korg has continued to release system updates and additional Sound Libraries. Now, the Kronos family has expanded with the new Kronos X, which features hardware technology enhancements, including a boost in the internal memory capacity and the size of its SSD, plus enhanced sampler functionality.
The Kronos X doubles the PCM RAM capacity to approximately 2GB and the SSD capacity to 62GB, enabling musicians to take full advantage of all the Kronos Sound Libraries. In addition, Kronos X contains Korg's EXs 10-13 expansion sample series of Kronos Sound Libraries pre-installed in its demo mode. Users can obtain full versions, plus additional Sound Libraries, by simply purchasing a license key from the Web Shop at www.korg.com/kronossoundlibraries.
Along with Kronos X, Korg announces Kronos OS v2.0, coming soon for all Kronos and Kronos X models. For models that do not already have OS v2.0 installed (visible during boot), users can download it for free from www.korg.com/Kronos, then easily install it via USB.
New to OS v2.0 are user Sample Banks for creating high-capacity, custom sample libraries. Players can load and play many gigabytes of their custom or converted samples at once, using the internal Kronos SSD. Improved disk and memory enable the creation of User Sample Bank subsets, as well as mixing and matching parts from different banks, without duplicating samples on disk. Programs, Wave Sequences, and Drum Kits maintain links to the User Sample Banks even when samples are moved on disk or loaded onto a different Kronos instrument, making it easy to share sounds with friends and collaborators. Players can also create their own samples or import Akai and SoundFont 2.0 libraries using new, improved conversion features.
Additional Kronos System Version 2.0 Highlights:
* A second internal SSD can be added to support massive sound library expansions, including Korg and third-party Sound Libraries
* USB Ethernet support enables high-speed data communication between Kronos and a computer
The Kronos X Music Workstation will be available Q3 2012, with U.S. street prices as follows: 61-key: $3199; 73-key: $3699; 88-key: $3999.
Additional product specs can be found at: www.korg.com.