IK Multimedia Gets Wicked Physical with MODO Bass Virtual Instrument
IK Multimedia this week announced their new physically modeled electric bass instrument "MODO BASS." Once you get past the "limitless sound, unmatched realism, total playability" hype, there is a lot to like for keyboard players who want to get their funk on!
According to IK, a veteran tech company in the sampled and virtual music instrument industry, "MODO BASS is a completely new type of ultra-realistic electric bass virtual instrument that uses modal synthesis technology to create sound in real time."
This means that instead of using traditional "sample-based" technology, MODO BASS recreates the entire process of playing the instrument and gives you an unprecedented level of customization options for a limitless palette of bass sound. This technology brings a completely new level of playability and realism to the world of virtual instruments, and will breathe life and realism into your bass tracks like never before.
According to the features sheet, each string's acoustic behavior is determined by its physical parameters, as well modeling the action of the player as a nonlinear physical interaction with certain areas on the string surface and the interaction of the string with fretboard, body and pick-ups of the instrument. Then using IK's cutting edge analog modeling expertise, the amp and effects rig of the electric bass is added to the sound chain.
Since MODO BASS synthesizes sound in real time, you can modify your instrument and playing approach to get completely unique sounds. In fact, there are so many customization options available that there's really no bass sound that you can't get — the configuration and tone possibilities are virtually limitless. Once you've selected the bass you want to use, it's time to get to work customizing your instrument to fit your music.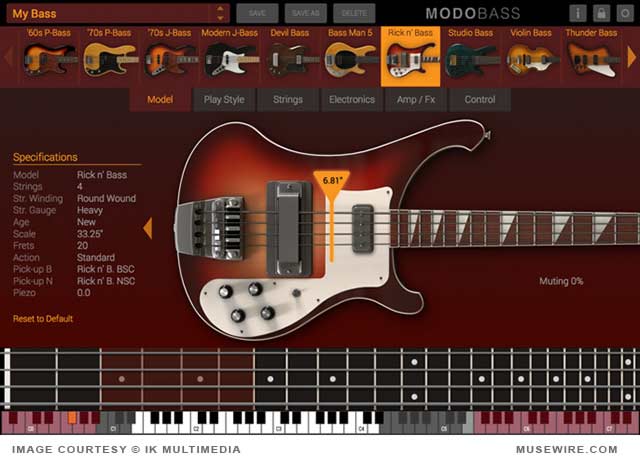 The electronics section is where you customize the pickups and wiring of the bass. This section lets you experiment in real time with different types of bass pickups, the position of each one (each bass can have up to 2 pickups, even if the bass model originally comes with just one), and you can tweak the frequency response parameters of each. There's even a piezo pickup control that lets you blend an under-bridge mounted piezo signal with your pickup signal.
MODO BASS will be available in November, 2016.
Learn more at: http://www.ikmultimedia.com/products/modobass/.
VIDEO (YouTube) trailer: