IK Multimedia Announces Syntronik J-60 new bonus content available with 1.2GB of new oscillator samples
IK Multimedia today announced that registered users of the Syntronik J-60 synth can download a free update from their User Area and enjoy 42 all-new instrument sounds and an additional 1.2GB of new oscillator samples. The J-60 is based on the Roland® Juno-60, one of the most popular polyphonic synths of all time, used by artists like The Cure, Howard Jones, Eurythmics, Billy Idol, INXS, Ultravox and many others.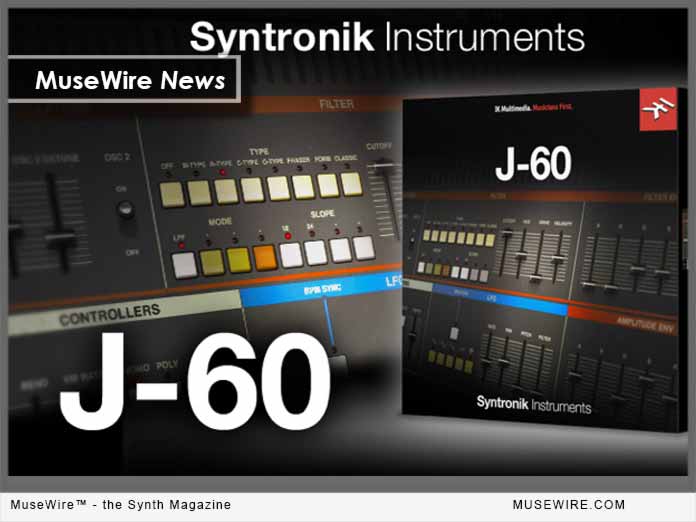 According to the company, "The new content focuses on pulse width modulation: both LFO-driven cyclical modulation of the pulse width and envelope-driven pulse width sweeps all provided at several different rates. Plus, there is also a new "Deep Pulse" instrument that provides a new square wave that has been meticulously sampled chromatically with many round robins for maximum analog sound accuracy."
These sampled oscillators are combined with the proprietary DRIFT™ algorithm for ultimate realism along with circuit-modeled filters and an unparalleled effects section including the Ensemble, a modeled chorus that recreates this critical aspect of the unique Juno-60 sound. These new instrument presets offer a significant expansion to the already impressive library included with the Syntronik J-60.
Learn more about the J-60 virtual instrument from IK Multimedia at: http://www.ikmultimedia.com/products/synj60/
VIDEO (YouTube):

This version of news item first appeared on MuseWire.com – © 2018 Christopher Simmons.