Hit Songs Deconstructed Releases its Q3 Hit Songwriting Trends in Pop Report: Reveals How Key Elements in Pop Songwriting Are Shifting
NEW YORK, N.Y. — Earlier this week Hit Songs Deconstructed (www.hitsongsdeconstructed.com) released its Hit Songwriting Trends in Pop: Q3-2011 Report which analyzes the key song elements present in top ten hits and reveals how hit Pop songwriting is shifting over time.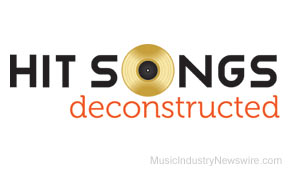 The report takes an in-depth look at song structure, lyrical themes, vocal gender, sub-genre influences, primary instrumentation and other key song elements, providing readers with ongoing analysis, commentary and movement graphs for trends shaping the Pop Genre since January 2010.
"To stay ahead of the curve in an exceptionally competitive industry, it's imperative to keep a watchful eye on trends and understand how today's hit songwriters are crafting their songs," explains David Penn, founder of Hit Songs Deconstructed.
Co-founder Yael Penn adds, "Every industry relies on analysts for reliable data they can leverage to make important business decisions. Hit Songs Deconstructed does this for the music industry."
On October 23, The Hollywood Reporter featured the Q2 – 2011 Hit Songwriting Trends in Pop Report, referring to some of the report's findings as "fascinating…."
Below are a few new findings from the Q3-2011 report:
* Top 10 hit Pop songs that feature a synth as the primary instrument saw a substantial drop in number from the previous quarter, decreasing from 79% to 59% of songs.
* While vocal gender evened out a bit during Q2, Q3 saw the gap widen once again with male lead vocals now comprising the majority of top 10 Pop hits.
* Love/Relationship themed songs finally staged a comeback in Q3 after seeing a steady decline in number during the last four quarters.
* First choruses are occurring on average 0:31 into top 10 hit Pop songs. Interestingly, four out of the five Hip Hop/Rap influenced Pop songs kicked off with the chorus as opposed to the verse.
* The most popular form (A-B-A-B-C-B: Verse/Chorus/Verse/Chorus/Bridge/Chorus) continues on its steady decline since the beginning of the year.
You can view the full detailed report at http://reports.hitsongsdeconstructed.com .
About Hit Songs Deconstructed:
Hit Songs Deconstructed is a unique and specialized subscription based website dedicated to furthering the craft of songwriters through in-depth analysis of proven hit songs and trends. Hit Song Deconstructed Reports take a detailed look into what made current top charting songs a hit and provides readers with insight into how these principals can be applied. The Hit Songs Deconstructed Special Reports focus on what's driving the Pop genre as a whole. Reports include The "Model" Hit Pop Song, Hit Songwriting Trends, Quarter in Review, New Hit Song Arrivals vs. De-Charted Hits, Song Title and Lyrical Analysis, and Sub-Genre Influences, to name a few.
More information: www.hitsongsdeconstructed.com .