Hello Music Partners with Thomas Lang Drumming Boot Camps to Launch Exclusive Master Series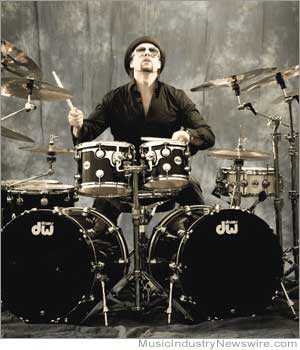 LOS ANGELES, Calif. (MuseWire) – Hello Music today announced its partnership with the Thomas Lang Drumming Boot Camps as part of the launch of an exclusive Master Series that will provide its expansive membership-based, independent artist community with the opportunity to get one-on-one lessons and experiences with music industry veterans by offering incredible access to producers, mixing engineers, musicians and songwriters among others. A variety of Master Series opportunities will be available daily as limited-time offers at hellomusic.com.
The first of many Master Series opportunities available are substantial discounts to the Thomas Lang Drumming Boot Camp in Grand Junction, CO on August 19th – 21st. For a significantly discounted rate, Hello Music members will have the opportunity to be personally guided by world-renowned drummer Thomas Lang throughout three intense, 8-hour days of hands-on drumming classes wherein Thomas will share his insights, demonstrate and work directly with students in an intense, one-on-one setting
"Music is a collaborative process that requires musicians to play, perform and improvise in person. As we become more disjointed by the Internet its imperative that young, independent artists have the opportunities to work with and learn from industry veterans in one-on-one settings," says Lang. "You can download music – you can't download a passion for music."
Hosted at the Doubletree Hotel in Grand Junction, Colorado the Thomas Lang Drumming Boot Camp is a traveling, multi-day, intensive educational drum camp that has been hosted in various international locations including: London, Vienna, Berlin, Los Angeles and New York among others.
Thomas Lang is one of the world's most highly respected drummers. He has been named, "The World's Best Drummer" by Rhythm magazine, "Best All Around Drummer" by DRUM! magazine and "Best Clinician" by Modern Drummer magazine. In addition, he has won numerous other awards for his playing, signature products, best selling books and DVDs.
Hello Music unveils new, limited-time opportunities for members each day. All opportunities are available to existing members upon logging into hellomusic.com. Detailed information on each opportunity is provided including cost, time available, product image, and more.
For additional information on the Thomas Lang Drumming Boot Camps, please visit www.muso-mart.com or www.thomaslangdrumcamp.com .
For additional information on the Hello Music community and to join for free, please visit hellomusic.com
TLDBC sponsors include: DW Drums, Meinl, Roland, Audix, Vic Firth, Gibraltar, HansenFutz and J.B. Hart Music Co.
For more information please visit: www.thomaslangdrumcamp.com to register for the Thomas Lang Drum Camps, please visit www.muso-mart.com .
Media Contact – Elizabeth Lang, Muso Entertainment, 323.243.4959 or via email at elizabethlang@rockarcadia.com .