Haken Audio Announces Software Update for Continuum and Release of Custom Stand
CHAMPAIGN, Ill. (MuseWire) – Haken Audio announced today that Version 4.07 firmware is now available for download for Continuum Fingerboards with built-in sounds. This release adds these new internal sounds: Slide Wind, Metal Bar, Pluck Tine, and a Feedback String. According to the creator, Lippold Haken, "These new sounds are all specifically designed to make use of the unique expressive possibilities of the Continuum fingerboard." The software update is free for Continuum owners.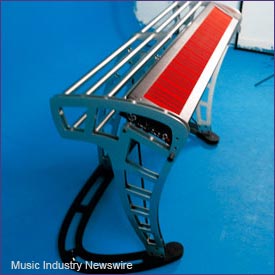 Additionally, long shown in development, the custom stand for the Continuum Fingerboard is now available for purchase. Created for Haken Audio by Sarah Dobbin of Fathom Labs with contributions from Continuum user Edmund Eagan of Twelfth Root, the Continuum Stand has been specifically designed for supporting the Continuum Fingerboard.
The Continuum Stand, full size version is $1870, and the version for the half-size model is $1760. (See photo, courtesy the Haken website.)
For more information on the stand, and additional images, visit:
http://www.hakenaudio.com/Continuum/html/stand/CSintro.html .
About The Continuum Fingerboard
Designed by Dr. Lippold Haken and manufactured by Haken Audio, the Continuum Fingerboard is a musical instrument that allows unprecedented realtime performance control. With a greater pitch range than a traditional 88 note Midi keyboard, the Continuum offers realtime continuous control in three dimensions for every finger that is placed on the playing surface.
Included internally is a custom designed synthesizer, specifically programmed to take advantage of the subtle and dramatic expressive musical possibilities of the Continuum. The Continuum is available in full-size (nearly 8 octaves) and half-size (nearly 4 octaves) versions.