Fan Funded Music: Established recording artists adjust to changes in the music industry through fan funding
Nashville, Tenn. (MuseWire) – With the music industry now firmly engaged in a digital revolution, independent artists have taken the online lead by connecting directly with fans for the funding of new music initiatives. The Jeffersons, an inspiring new music project of established recording artists Lisa Brokop and Paul Jefferson, have launched a partnership with revolutionary fan funding website www.SellaBand.com for the creation of their debut album.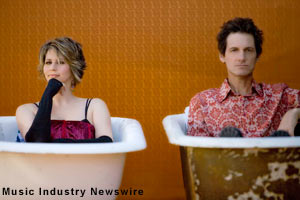 Seasoned singers, songwriters, and recording artists, Lisa and Paul have enjoyed considerable individual success over the past two decades, with radio and video hits, tours across North America, as well as recognition as songwriters with artists such as Keith Urban, Aaron Tippin, Reba McEntire, and Terri Clark recording their songs. Recently married and with a new baby, Lisa and Paul were inspired to combine their talents into a new musical creation – The Jeffersons. Their voices blend in a unique and inspiring way. A new sound…for a new generation.
Now, through Sellaband, fans have an opportunity to get in on the ground floor and join the The Jeffersons as they begin creating the music and raising the financing for their debut album. Fans who choose to "believe" not only become part of the team but also become eligible for a variety of benefits including being credited on the album and receiving a share of net revenues. Full details along with The Jeffersons' first demo recordings are at www.sellaband.com/thejeffersons.
"This idea has been in the works for some time. We are so happy to have this opportunity with SellaBand." said Lisa. Paul added, "This is a new chapter for us in so many ways. We can already feel the new energy building around us and it feels great!"
"SellaBand aims to be the #1 funding platform for independent artists. We are delighted to welcome The Jeffersons to our community and are thrilled to play an integral part on this new journey for Paul and Lisa," said Johan Vosmeijer, CEO of SellaBand. "It is great to see such gifted artists lead the way on what we think is a new future for the music industry."
About The Jeffersons
Vancouver, BC native, Lisa Brokop, burst onto the scene in the early 1990s, she has been a fixture on the country scene. With seven albums and an impressive resume of writing credits, Lisa has earned her place as one of Canada's most respected singers and songwriters. She has practically grown up in front of her fans and has garnered an incredible 15 nominations for the Canadian Country Music Association's Female Artist of the Year.
Born in San Francisco, Paul Jefferson followed his heart to Nashville where he soon made a name for himself with the hits "Check Please" and "I Might Just Make It" from his 1996 debut self-titled album. He has toured with artists such as Trisha Yearwood, Dwight Yoakam, and John Berry and is also an accomplished songwriter, having penned songs for Keith Urban, Buddy Jewell, and the #1 hit from Aaron Tippin, "That's As Close As I'll Get to Loving You."
About SellaBand
SellaBand is based in Amsterdam, the creative capital of Europe. Since its launch in August 2006, SellaBand has coordinated recording sessions for more than 30 artists or acts who had their albums funded by their fans. Over $2,500,000 has been invested in independent acts via www.sellaband.com.
With SellaBand, artists retain complete ownership of the works created and have the flexibility to determine which incentives they will offer their fans who fund them. SellaBand's fan funding engine also allows artists the freedom to enter into deals with any label, management company, or publisher and there are no advances to pay back. Artists maintain control over their career and have 100% freedom to create the music that they want to create. SellaBand can also be utlized by management companies, record labels, publishers, sponsors and media companies to fund projects for their own artists while also building the core fan base required to launch an artist or take them to the next stage of their career.
For more information about The Jeffersons, please contact:
Dean Brokop
General Manager, Ellbea Music
Telephone: 604-551-7494
Email: dean@lisabrokop.com
Web: www.thejeffersonsmusic.com
For more information about SellaBand, please contact:
Johan Vosmeijer
CEO, Sellaband
Telephone: 31-62-280-1294
Email: johan@sellaband.com
Web: www.sellaband.com .