Eventide Blackhole Reverb Plugin now NI NKS Compatible for use with MASCHINE and KOMPLETE KONTROL keyboards and software
Eventide has announced that its popular Blackhole reverb plug-in is now NKS-ready — reconfigured to support Native Instruments' Native Kontrol Standard extended plug-in format for use with MASCHINE and KOMPLETE KONTROL keyboards and software — as of April 18, 2018. This famed, massive reverberator first saw the light of day as an algorithm in the rackmount DSP4000 and remained a favorite in the rackmount H8000FW. For decades studio engineers considered Blackhole their "secret weapon."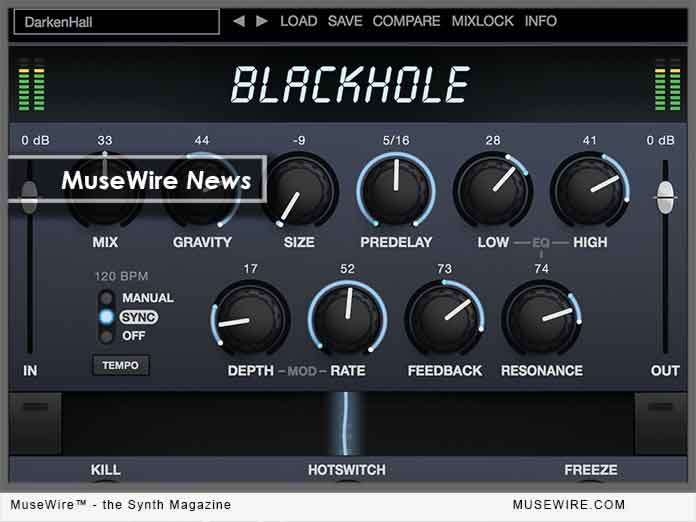 As reflected in its updated GUI (Graphical User Interface), Blackhole is part of Eventide's H9 Plug-In Series designed with live performance in mind. The Ribbon control can be mapped to any combination of parameters giving a performer a single control over a world of effects. Integration with the NKS platform makes the Ribbon an integral part of the performer's instrument.
Blackhole was designed to give you extensive control, allowing you to craft your own signature sounds. Included with Blackhole is a carefully curated set of 50 presets that serve as a launch pad for your explorations. These presets cover spaces as small as a room and as large as space itself.
According to the company, "Whereas most reverbs are constrained by the physics of the real world, Blackhole creates virtual spaces that could never exist in reality. It can turn a simple drum track into an otherworldly rhythm section. Capable of creating epic soundscapes, space-warping special effects and drones, Blackhole can cover spaces as small as a room and as large as space itself."
"We couldn't be more thrilled to have Eventide, a brand famous for their high-quality, creative FX, on the NKS platform and deeply integrated into our KOMPLETE KONTROL and MASCHINE eco-systems," says Native Instruments' Ray Chemo.
"We're delighted to add our 'special sauce' to Native Instruments' eco-system," enthuses Eventide Software Developer Tom Longabaugh, continuing: "It will be exciting to discover ways in which Blackhole will be used in both live performance and in music production by a community of artists who have yet to discover the universe of effects that we're known for."
The now-NKS-ready Blackhole is available — as an AAX/AU/VST plug-in for Mac OS X 10.7+ and Windows 7+ — at a promo price of $69.00 USD until May 31, 2018 (rising thereafter to an MSRP of $199.00 USD) from Eventide dealers and its website.
THE BULLET POINTS:
Incredibly easy to use with over 50 presets; many created by Eventide artists.
Ability to create extremely musical effects useful for highlighting key instruments.
Supernatural settings for abstract spatial effects and drones.
Subtle settings for ambient washes and track highlighting.
Unique "Gravity" control reverses the arrow of time by inverting the reverb's decay.
Kill Switch mutes the input so you only hear the reverb. This makes for some incredible effects when automated.
Mix Lock allows for scrolling through presets or settings while keeping the wet/dry mix constant.
Fully flexible mono and stereo options. Bring new realms of stereo imaging to mono instruments.
Innovative Ribbon and Hot Switch allow for changing any combination of parameters simultaneously.
Full support for the Native Instruments NKS Effects system.
Learn more at: https://www.eventideaudio.com/products/reverb/reverb/blackhole
PROMO VIDEO (YouTube):