Emotional Songs and Emotive Sounds – Larry John McNally
MuseWire COLUMN: Larry John McNally uses emotion like a paintbrush when creating songs. You may not know his name, but you've heard his work performed by Eagles, Bonnie Raitt, Don Henley, Aaron Neville, Joe Cocker, Rod Stewart, Jennifer Warnes, Atlantic Starr, Average White Band and more.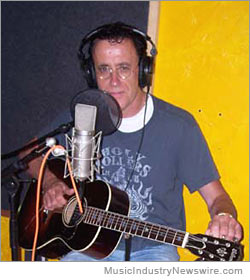 When a songwriter emphasizes emotional truth in his songs, it is exciting to see how many different artists record the work and in how many diverse genres and styles. Larry John McNally's songs have been recorded by Eagles, Bonnie Raitt, and Aaron Neville; Rod Stewart, Katy Sagal, and The Emotions; Don Henley, Mavis Staples, and Joe Cocker; Atlantic Starr, Susan Anton, and Average White Band; Bruce Willis, Jennifer Warnes, and Jack Mack & The Heart Attack.
Since around 1975, McNally has been writing songs that have an uncanny ability to give your heart a squeeze so that it sends more blood to the brain, where synapses can fire off little alarm bells. Listening to the tales he tells is like mainlining volumes of love poems, Dear John letters, eviction notices, marriage vows, matching tattoos, and initials carved into tree trunks.
In a recent album, "Folksinger," the songs are refined in their composition but raw in their nakedness. Like the best confessional tunes, the eleven tracks on this collection seem to be pieces of his life, your life, and the lives of a great many people you've known or brushed up against through the years.
One Gig, All Gigs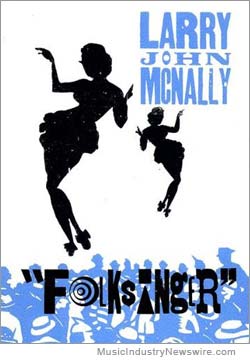 In the title track to "Folksinger," an entire life is summed up in one performance at one club. All of the downer elements of earning a living on the road seem to be encapsulated in this song, but with an attitude of respect mixed with world-weary resignation, wry humor, and wickedly funny observation. There's even a hint of possible redemption at one point:
I live for the nights when magic takes over the room
And there's no longer a wall
Between me and you
I'm no longer just a carnival barker
Half Colonel Parker
Getting by on scratch, man, pass the hat
Hey, does it have to cost me the shirt off my back
To be a folksinger
In "Faces You Loved," McNally enters into reverie. Sure, a number of other evocative singer-songwriters do that but he brings you along with him. It's uncanny the way his songs can open up to let you move right into the story and live there for a while. He lets you share your sentiments and sensations with his own, and the effect is lovely, bittersweet and therapeutic. It is a pleasure to go get lost in songs that can be as epic as Dostoevsky while also subtle as silk.
Wasn't there a room somewhere, a house, a street
An open window, where you used to dream
Something in your head you just had to prove
Funny how the things we ran away from once
We run back to, like…
Faces you loved, houses you lived in
Sacred places and things
As though your soul had wings
Stories That Move You
Another recent album, "Buddy Holly," presents more tales of pointed observation and telling detail that can make your eyes widen in recognition of a universal consciousness. Or, they can make your vision cloud over while tears well up and a lump forms in your throat.
When I first played the track called "New York, New York" (not the John Kander/Fred Ebb tune), I made some quick notes: 'very visual; like a documentary film where his sounds supply the pictures in your head; unusual length of six minutes or so.' Well, imagine my surprise when I played it again and discovered that this is twelve minutes and eighteen seconds long. In few songs besides some of Bob Dylan's has so much ground been covered with the listener surrendering all sense of the passage of time. On top of that, the song seems to combine the photo-realism of Weegee photographs, a Lou Reed attitude, and a war correspondent's dispatches from the frontlines.
On "Bethlehem," McNally effortlessly blends that city with the Big Apple while exploring some of the world reaction to "the newborn child." The result is quietly stunning. His "I'm Through With the Circus" is biting and caustic, albeit in a fairly refined manner. One of the slowest songs that could be called rock (or is it one of the most rock-themed slow songs?), this tune shows you why McNally's style has been termed "folk-Hendrix."
Near the end of the album is a haunting piece called "Few Came to See Chet Baker," another audio-movie, this time taking you inside over around and through the joyful sadness that was the life of the great jazz trumpet player. And yes, there are some muted trumpet lines on the track but played so delightfully that they seem organically connected to the prose-poem lyrics.
The Scream of Feeling
The people of McNally's songs experience life through intense feelings, yet they do so with hardly a complaint. When Larry John McNally sings these stories, you do not find voices raised in anger or anguish; everything tends to be discreet. The scream of feeling can be very quiet in his songs, much in the way the middle of the ocean is quiet while storm clouds gather ominously on the horizon. Characters in these songs endure, suffer, move on, and occasionally triumph in ways that can reveal possible new directions for your own life.
It can be difficult to play a lot of McNally's work at one time unless you are ready, willing and able to toss your soul unto a bonfire of human sentiment, including passion, humor, irony, love, loss, contentment, and sorrow. Which is to say, Larry John McNally's songs deliver big heaping slices of life right to your doorstep while at the same time coaxing many of life's joys and pains out of your chest and into the room where you have to confront them.
Have You Heard This One?
With so many good compositions to his credit, the breadth of settings, topics, and imagery can be daunting. It's quite impressive that the same guy created all of those introspective pieces as well as the goodtime celebration of "The Motown Song."
Because of his pithy interpretations of life, the impressive economy of language, and the ability to remain calm in the face of intense emotive pressure, it is tempting to describe McNally as a male Joni Mitchell. Don't know how he would feel being compared to one of the finest English-language songwriters, but even if he doesn't accept it, I still feel that phrase would serve as a decent introduction to anyone who has not paid much attention to his work before now.
Sound Effects
After the theme-park ride of his most recent recordings, it was an entertaining shock to let his instrumental album, "BQE," wash all over me. There is comfort in these tracks, if you trust McNally to take your inner ear to places you've never been. This is neo-folk music, but in some sort of alternate reality. Sonics, tones, reverberations, and even some spooky sounds are blended together to let your mind move to a new place while your toes curl. If you enjoy the productions of Daniel Lanois and Brian Eno, and you are partial to the playing of Pat Metheny and Jerry Douglas, you will love "BQE."
"Folksinger"
"Buddy Holly"
"BQE"
Written, Produced & Performed by Larry John McNally
www.larryjohnmcnally.com
VIDEO – Rod Stewart "The Motown Song"
http://www.youtube.com/watch?v=xGFh0j8nM78
Article is Copr. © 2011 by John Scott G; originally published on MusicIndustryNewswire-dot-com before the site was revamped as MuseWire.com in March 2015.
Buy "Folksinger" on Amazon:
CLICK HERE to purchase 'Folksinger' or listen to audio clips