EastWest Sounds Online announces Voices of the Empire, a cinematic and ethnic vocal tour de force, featuring the raw, primal vocals of Uyanga Bold. Produced by Doug Rogers and Nick Phoenix, Voices of the Empire is a must-have virtual instrument for composers and musicians looking for that epic vocal sound for their next project.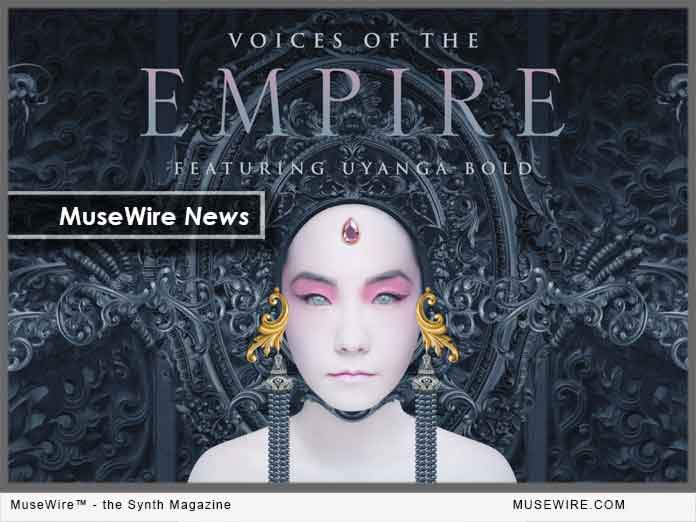 According to the company, "Uyanga Bold is a unique talent, melding the ethnic musical traditions of Bulgaria, Serbia, Mongolia, and beyond. It's East meets West like you've never heard before."
From the most awarded producers in the sounds industry, DOUG ROGERS and NICK PHOENIX, VOICES OF THE EMPIRE is available for purchase or as a free addition for all subscribers of ComposerCloud, EastWest's multiple award-winning subscription service that has revolutionized the virtual instrument industry.
Features of VOICES OF THE EMPIRE include:
Dozens of Mongolian, Bulgarian and Western-style, multi-sampled vocal instruments
Dozens of expressive phrases in every key
2 unique Mongolian legato vocal instruments
Traditional legato vocal instrument
Expressive vowel multi-sampled vocal instruments
VOICES OF THE EMPIRE features 84 instruments across a variety of categories, including:
Sustain contains a variety of vocal instrument types, including Melismas, Slurs, Sustain Vibratos, Non Vibratos and Up Downs.
Legato instruments playback true legato intervals when playing two connected notes for every interval up to an octave. Available in traditional and Mongolian styles.
Combo instruments combine multiple articulations into a single instrument that uses the Mod Wheel (CC1) or Velocity Sensitivity to determine which of the different articulations will playback.
Words contain performances of specific words mapped across a 2 octave range. Use the Mod Wheel (CC1) to start the word at the beginning or an alternative start time.
Phrases contain a variety of phrases for each root note, 254 phrases in total. They are sung in a variety of western and non-western styles, but are not specific to a particular musical scale/mode/key, as they are improvised.
Keyswitch instruments combine multiple articulations into a single instrument, and use keyswitches to switch between them. There are keyswitch instruments for Legatos, Melismas, Phrases, Sustains and Words.
Download the Manual for more information.
Pricing: $399 (or as part of 'Composer Cloud' for monthly subscription).
LEARN MORE AT: http://www.soundsonline.com/voices-of-the-empire
OVERVIEW VIDEO (YouTube):
Watch this Overview of Voices of the Empire with co-producer Nick Phoenix as he demonstrates the cinematic and haunting vocals of Uyanga Bold. This library includes Mongolian, Bulgarian, and Western-Style multi-sampled instruments, dozens of expressive phrases in every key, 2 unique Mongolian legato vocal instruments, a traditional legato vocal instrument, and expressive vowel multi-sampled instruments.
EastWest Voices of the Empire Overview