DrumCore 4 Virtual Celebrity Drummer Plugin Adds GUI Zooming for Best Fit with DAWs and Screens
Sonoma Wire Works recently announced release of an update to their DrumCore 4, the critically acclaimed AAX/VST3/AU plug-in with tempo-stretchable audio and MIDI drum loops of performances by celebrity drummers, plus multi-velocity samples of their drum kits in many styles. DrumCore's 4.2 update adds UI zooming, which helps DC4 fit better on laptops and smaller screens.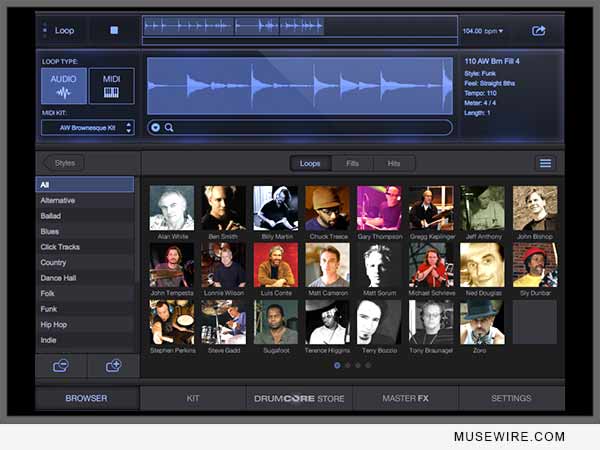 With this update, users can right-click anywhere to set the zoom factor of the user interface to between 50-100 percent.
Also notably, Version 4.2 also fixes a "server connection problem" that caused issues with registration, content downloading, content purchasing, and version update notifications in the Settings Panel. Therefore, users of DrumCore 4 (4.1 and earlier) must update using update links supplied by support@sonomawireworks.com (not DC4's Settings Panel). Other improvements are listed in the release notes.
DrumCore 4 is an upgrade of the award-winning DrumCore 3 plug-in drum instrument with stereo 24 bit audio loops and MIDI loops of inspiring performances by hit-proven drummers, plus multi-velocity drum kit samples across a multitude of styles. Now a 64-bit VST3/AAX/AU plug-in, DrumCore 4 works with most popular 64-bit recording software, and includes a convenient groove browser, song timeline, mixer, effects and more.
Choose to use royalty-free drum loops by celebrity drummers (provided as tempo-adjustable GrooveSets in a wide variety of styles), or create your own grooves with multi-velocity drum kits, which are MIDI-mapped and customizable, making DrumCore easy to use with external controllers. DrumCore 4 is the perfect tool for songwriters, composers, musicians and producers. Simply drag and drop grooves to tracks in most popular recording applications on Mac OS and Windows.
A Kit Editor lets you tune and tweak drum kits: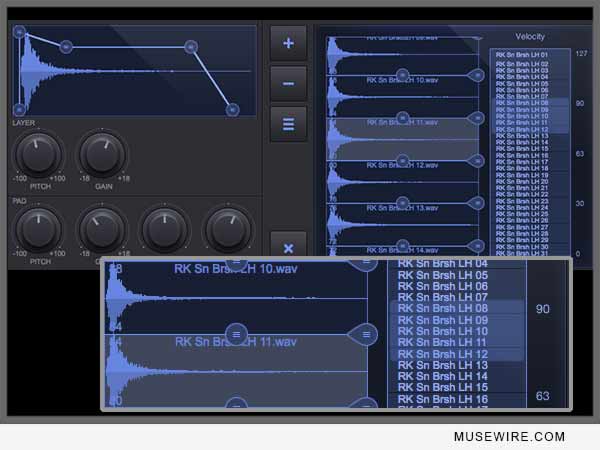 DrumCore 4 Lite Includes Content by These 13 Drummers
Alan White (Yes, Lennon)
Ben Smith (Heart, Taj Mahal, Peter Frampton)
Jeff Anthony (Sheryl Crow)
John Bishop (Bobby McFerrin, Mark Murphy, Ernie Watts)
Lonnie Wilson (Brooks and Dunn, Rascal Flatts, Faith Hill, Tim McGraw)
Luis Conte (Madonna, Shakira, Santana, Phil Collins)
Matt Sorum (Guns N Roses, Velvet Revolver, The Cult)
Michael Shrieve (Santana, The Rolling Stones, Steve Winwood)
Ned Douglas (No Doubt, Katie Perry, Dave Stewart, Simply Red)
Sly Dunbar (Bob Marley, Peter Tosh, Black Uhuru, Jimmy Cliff)
Terry Bozzio (Jeff Beck, Frank Zappa, Missing Persons)
Tony Braunagel (Bonnie Rait, Taj Mahal, Robert Cray)
Zoro (Lenny Kravitz, Bobby Brown, Sean Lennon)
Some content is included in DC4 Lite for each of these drummers, providing a wide variety of styles. Add-ons are available for most of these drummers and others in the DC4 store in the plug-in. See the Drummers Page and the Content Lists for more information.
Learn more, including pricing and complete features of different "editions" of DC4, along with audio examples, here:
https://www.sonomawireworks.com/drumcore/
PRODUCT UPDATE SPECIFICS:
4.2.0 adds UI zooming! Right click anywhere to set the zoom factor between 50-100%. DC4 fits better on laptops and smaller screens.
Fixed loading/blacklisting issues in mac VST3 plugin.
Fixed a server connection problem for 4.1 and earlier.
-Supported OS
•MacOS 10.8 (Mountain Lion)
•MacOS 10.9 (Mavericks)
•MacOS 10.10 (Yosemite)
•MacOS 10.11 (El Capitan)
•MacOS 10.12 (Sierra)
•Windows 7 SP1 x64
•Windows 8/8.1 x64
•Windows 10 x64
•Windows 10.1 x64
-Supported Hosts (64-bit only)
•ProTools 11.3.2, 12.6.1 (Mac/Win)
•Cubase 7.5 – 9.x (Mac/Win)
•Logic X
•GarageBand X
•Studio One 2-3 (Mac/Win)
•Digital Performer 8.x – 9.x
•Sonar X3
•Other Hosts (TBD)
-Changes
•Add UI zoom factor
•Load broadcast WAV files in drum kit editor
•Updated included iLok License Manager to v3.1.6
•Fixed Cubase 9 mac blacklisting VST3 plugin
•Fixed crash in StudioOne loading VST3 plugin
-Known Issues
•Changing tempo in plugin unavailable. Use DAW to change tempo.
•Tempo not set in DC4 when loading a saved session in Sonar X3. Press PLAY in Sonar's transport to fix.
•SONAR sees DC4 as an instrument, but the multi-out feature not working.
VIDEO:
Overview video (courtesy ILIO), on YouTube: (drum sounds in the background, although not front and center in this video, are created with DC4; for audio demos visit the link above on the Sonoma website! — CS):