Dante Wins Best Pro Audio Technology of the Year at PALME 2011
PORTLAND, Ore. (MuseWire) – The Best Pro Audio Technology of the Year Award was been awarded to Audinate's digital networking technology Dante(TM) at this year's PALME Middle East exhibition. The trade show and conference is the region's only trade event dedicated to professional lighting, audio, music, entertainment, audio-visual and systems integration solutions.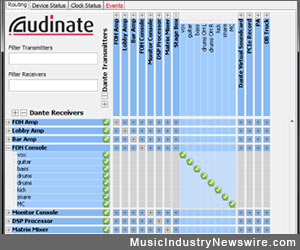 "As there are a lot of great other technologies in the audio industry, it is quite an honor to be recognized for the advancements of our digital media networking solution," comments Audinate's CEO Lee Ellison. "We believe that our recognition is a result of the many OEM partners who have embraced Dante for their products as the networking solution of choice for today's networks and as they move to AVB."
Audinate delivers a no-hassle, self-configuring, true plug-and-play digital audio network that uses standard internet protocols. Audinate's Dante system offers a market leading solution today, while future-proofing implementations by providing a migration path to upgrade to new standards such as the IEEE Audio Video Bridging ("AVB").
During the conference, Lee was part of the inaugural Building Automation Conference that took place on April 28. The conference offered building professionals an unparalleled opportunity to learn from industry experts, gather new information and discover the latest technical advances. Lee's presentation was titled "The developing IEEE 802.1 Audio Video Bridging (AVB) standard: How it will affect the AV industry."
About Audinate:
Audinate revolutionizes the way that AV systems are connected by transporting high-quality media over standard IT networks. Using Audinate's patented networking solution, digital media networking just got easy. Audinate's solution has been licensed by customers across the AV industry and can be found in installations and live sound applications globally. Audinate is a Promoter Member of the AVnu Alliance(TM). Audinate offices are located in the USA, United Kingdom and Australia.