Damien Wilson Named CEO of RODE Microphones and Freedman Electronics Group
RØDE Microphones' Sales & Marketing Director Damien Wilson has been promoted to Chief Executive Officer (CEO) of The Freedman Electronics Group, home to pro audio brands RØDE, Aphex, Event Electronics and SoundField.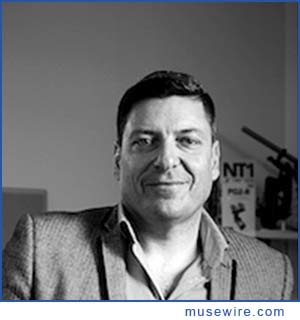 Damien will take over the everyday management of the Group's business, giving Founder and Managing Director Peter Freedman AM more opportunity to embrace his passions within the companies, including product conception and development, manufacturing innovation, brand acquisition, and personal representation for the group internationally. Furthermore, Peter will deepen his advocacy for Australian manufacturing and export. Of course, with his customary attention to detail, he will remain abreast of all things within the Group.
Prior to RØDE, Damien had been Creative Director at boutique advertising agencies The Shop and Peer Group, specialising in below-the-line marketing for alcohol and tobacco brands. He joined the Freedman Electronics/RØDE team in 2007, starting as Marketing Manager. Within a year, he was made RØDE Global Sales & Marketing Director, and acted as General Manager of RØDE Microphones, LLC (in the USA) from 2008 till 2013, where he helped steer the company through the fallout from the 2008 financial crisis. The pioneering $1 Mic campaigns, online marketing and editorialised social strategies have since been emulated by the rest of the industry.
In recent years, Damien has also become involved in product design and development, and intimate with every aspect of RØDE's industrial design, production, sourcing, dispatch and global presence, both in supply chains and sales channels. His knowledge of the company's operation is front-to-back.
"Damien is the perfect person to help me guide the company through a very exciting time in our 50-year history," says Peter Freedman. "He's extremely talented and a proven RØDE warrior – dedicated, creative, solution-oriented, exceptionally hard-working and an excellent communicator with team members, customers and stakeholders.
"In November, The Freedman Electronics Group recorded its biggest ever month in business, and with fantastic new product offerings from RØDE, Event, Aphex and SoundField all on the horizon, it will be a period of great change and, we predict, even larger growth. I can think of no better person to guide the various brands and departments through these great opportunities than Damien."
The new CEO relishes the challenge. "I've had an incredible time at RØDE over the past nine years," Wilson says, "developing new markets, making terrific friends around the world and absorbing the lessons of business at every step from Peter, who has been a real mentor. This challenge is the right move at the right time. I love RØDE and the pro audio industry – which remains full of blue sky potential – and look forward to building further upon our world class team and capability in all brands and departments. Ultimately, we want to keep creating incredible products that enable our customers' creativity. It's a terrific opportunity."
About RØDE Microphones:
RØDE Microphones (www.rode.com) designs and manufactures high-quality microphones and related accessories for studio, live and location use. Its products are designed and primarily manufactured in Sydney, Australia and exported to over 111 countries globally.