Cantabile 4 Electronic Music Performer Platform and VST Host Announced
NSW, Australia /MUSEWIRE – Music Industry Newswire/ — Topten Software has recently announced Cantabile 4, the Electronic Music Performer Platform, is out of BETA and now available. Notable enhancements are primarily for Cantible Performer. Cantabile is a powerful and flexible VST host designed for live performing stage musicians who want to perform better.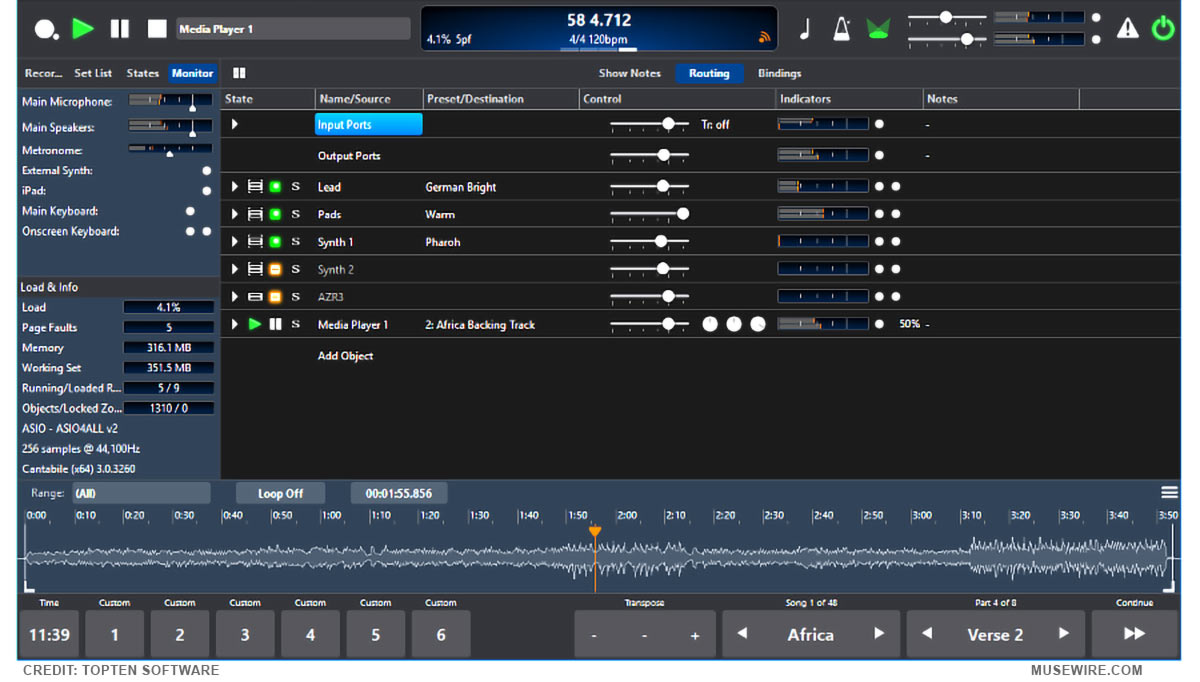 Cantabile's audio and MIDI routing capabilities let you create dynamically changing setups. The audio engine ensures there are no stuck notes and no audio glitches as routes change. If you've tried Cantabile in the past you'll be amazed at what's new in Cantabile. From the new audio engine to the stunning new high-res user-interface – everything has been re-imagined, re-designed and re-engineered.
New features include: "binding conditions," "countdown timer," "improved binding delays," "exclude song from preload," "MIDI note numbers for on-screen keyboard," and "import/export controller bar layouts."
Cantabile lets you create racks of instruments and effects that can be re-used across songs. Got a particular piano and reverb effect you like to use? Set them up in a rack and re-use that same rack across as many songs as you like. Racks support multiple states so your piano rack might have two states – one for bright and one for mellow.
Cantabile is available in three editions – Lite, Solo and Performer.
Cantabile Lite continues to be completely free and there's no upgrade fee for Cantabile Solo and Cantabile Performer. As long as your update subscription is current your existing license will continue to work.
Learn more at: https://www.cantabilesoftware.com/