Cakewalk Updates Sonar DAW to 8.5
COLUMN: This week Cakewalk announced the latest update to their venerable DAW platform, SONAR. While it's been updated annually with full incremental versions, sometimes to the criticism by users (e.g., "why not fix all issues with current version before launching a new one?"), Cakewalk's team have chosen this year to do a .5 upgrade, since there is not enough new to warrant going to version 9. This is laudable, but is there enough new for existing users to pay an upgrade fee?
According to the company: "SONAR 8.5 Producer gives you what you need for recording, composing, editing, mixing, and mastering. Get innovations that matter, from exclusive features to ignite creativity and perfect your tracks, to groundbreaking technologies that always keep you in control, all backed by the industry's leading 64-bit audio quality. And SONAR 8.5 Producer delivers the go-to production tools you want with the best collection of virtual instruments, mixing, and mastering effects found in any DAW.
With version 8.5, SONAR continues to innovate on all fronts. New beat creating and arrangement tools, a new drum instrument loaded with stellar kits, enhanced audio quantizing, new multi-stage effect plug-ins, and more combine together to make SONAR the most complete, most professional, and best sounding DAW on any platform."
All well and good, but hype aside, what do you get?
In 8.5, the drum track toolkit, Session Drummer is now at version 3, and has an improved drumkit POV interface, dedicated page for fine-tuning kits, mix and match kits capability, and drag-and-drop support for building kits from wav or ogg files. Also notable is the inclusion of 10 high quality kits from Sonic Reality, with coupon for a free download of one of the highly regarded Ocean Way Drums kit. Also, 2 kits from Steven Slate Drums. If you don't already have something like BFD, or Superior 2, or if you already use Session Drummer extensively, the new kits might be the tipping point for getting the upgrade all by itself.
Exclusive to Sonar Producer Edition (PE), is the new PX-64 Percussion Strip, which is (according to Cakewalk), "is a seven-stage processor designed specifically for shaping drum and percussion sounds. Like the VX-64 Vocal Strip, the PX-64 Percussion Strip employs Cakewalk's exclusive tube saturation algorithms with unique filtering and auto-leveling circuitry technologies. Combining transient shaping, compression, expansion, equalization, delay, and tube saturation in one convenient plug-in, the PX-64 Percussion Strip includes 70 go-to presets along with click & drag reordering of processing stage routing, making it fast and easy to enhance any drum or percussion track in seconds."
Also in PE 8.5, is the new VX-64 Vocal Strip, which will be of most interest to music producers who work with singers and vocal recording of any kind. According to Cakewalk, the VX-64 Vocal Strip "is a seven-stage processor designed for sculpting incredible sounding vocal tracks. Each of the VX-64's stages have been fine-tuned to be vocal-specific, taking the work out of loading an entire chain of vocal processors. The VX-64 features a new Cakewalk technology that employs phase-coherent, multi-band saturation to avoid unwanted distortion; unique filtering to avoid artifacts at extreme high and low frequencies; and an auto-leveling circuit that prevents the tube saturation from sounding too harsh when high gain transients are processed by it. VX-64 also employs a new de-essing algorithm designed with Cakewalk's LP-64 linear phase effect filtering technology to remove sibilance without creating any frequency smearing. The VX-64 includes 64 go-to presets and click & drag reordering of processing stage routing, making it fast and easy to get high quality vocals in seconds."
But wait, there's more! Enter the Matrix (sorry).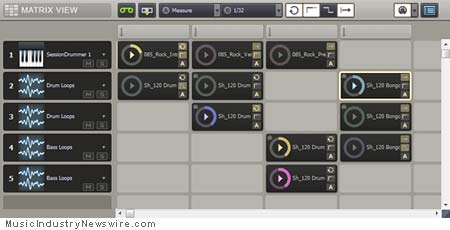 Also for PE 8.5, a new "Matrix View" (see photo), which at first glance looks a little like a mix of Ableton Live meets Cakewalk's Project 5. The company description follows.
Matrix View – with simple and flexible cell-based, non-linear audio and MIDI arranging and triggering, the Matrix offers new ways to experiment with arrangements or creating remixes of existing songs, or quickly laying down beds of tracks for new songs in any genre. The Matrix is also a perfect tool for beat-juggling and triggering one-shots and backing tracks live.
The Matrix view is easy to use, simply drag-and-drop any type of audio or MIDI clip/file/pattern from the Track view, Media Brower or desktop into empty cell, then click individual cells or columns of cells to turn on and off playback. The Matrix provides a comfortable, trigger-anything looping environment using four trigger modes, multiple play styles, and advanced MIDI controls. Click the Capture button to simultaneously record your Matrix performance as an arrangement of audio and MIDI tracks in SONAR's Track View.
Features:
•Cell-based view offering non-linear arrangement and live triggering.
•Sync to SONAR Transport / Track View.
•One-step capture of Matrix "performances" to Track View for more precise editing and mixing.
•Drag-drop any audio (multiple files at once) and MIDI content from the Track View or the Media Browser into the Matrix.
•Four triggering modes with measure, beat, 1/8, 1/16, 1/32, 1/64 note resolutions.
•Play Styles: Global and Per-Cell modes for looping and latching (set cells to trigger from the beginning, or offset from SONAR Now Time).
•Flexible Routing: each row routes to a track, multiple rows can be routed to the same track, per row mute and exclusive solo.
•Completely MIDI controllable.
AudioSnap 2.0
A new version of AudioSnap now has an easier to use toolbar for all options like tempo, timing, filter, and render mode. Simpler transient marker appearance reduces visual clutter. New tempo detection algorithm auto-detects the tempo of all audio in SONAR and the Clip Tempo Map feature allows for easy manual tempo mapping of non-rhythmic, non-constant, or atypical audio.
Step Sequencer 2.0
Version 8.5 takes Sonar's step sequencer "up another notch," with new flam feature, auto populate feature, redesigned controller pane, enhance per-step parameter controls, and all 1.0 features retained. An interesting new twist is the "per step probability" feature, which "provides control over the probability of how often a step will be triggered. Use it to create automatic variations (make some steps only play occasionally) to keep repetitive patterns sounding fresh."
Other stuff
An updated, integrated arpeggiator with hundreds of patterns, but enhanced "humanizing" features like swing for less robotic sounding repetitions. Roland V-Vocal is now included with Sonar Studio Edition 8.5 (previously only included with PE). An updated media browser helps keep track of loops, groove clips, and sequencer patterns.
Also, according to the company, they have made some additional new features, in addition to being Windows 7 ready.
During SONAR 8.5 development, Cakewalk engineers have added what we are calling a collection of "featurettes" that we are sure SONAR users will appreciate, since many of them came directly from user feedback, including:
•Convenient Freeze and Archive buttons on each track.
•Updated Insert Send Assistant, with matching track gain/pan while creating sends.
•Solo Button on all effects plug-in windows, to quickly solo and focus on the track being processed.
•New Track View grid lines options to present grid lines behind or in front of clips.
•New option to automatically lock scrolling during playback when initiating an edit.
•The Now Time cursor can be dragged to a new position during playback.
•DC Offset meter in the Cakewalk Analyst plug-in.
•New FX -SONAR 8.5 now includes the Project5 "Half-Rack" Tempo-Sync'd Effects, including the Alias Factor Bit Decimator, Classic Phaser, Compressor/Gate, HF Exciter, Mod Filter, Chorus/Flanger, Para-Q, StudioVerb II, and Tempo Delay.
•Installation has been simplified with an easy one-click install option that accepts all default settings and locations and installs the entire SONAR application, as well as plug-ins and content data.
And the bottom line is . . .
Upgrades for Studio Edition range from $79 to $249, depending on whether you get a download version, boxed version, or choose some of the optional add-ons (found in the Cakewalk Store online). Similarly the Producer Edition upgrades range from $99, to $449.
For example, the Sonar 8.5 Producer "Elite Piano Edition" is $179(US), and includes Sonar 8.5 PE download, full version of 4Front TruePianos, Sonar 8.5 DVDs, user guide. The "Elite Reverb Edition" with IK Multimedia Classik Studio Reverb is $199. The "Elite Guitar Edition" with full version of Guitar Rig 4 Pro, is also $199. The "Elite Notation Edition" with Notion3, is $229. The "Elite Restoration Edition" with iZotope RX, is $299. The basic boxed version by mail, with instant download, is $119 plus shipping and tax.
The download of 8.5 PE is about 2GB, and is a little slow (as of 9:30am PDT on Sept. 17) coming off the Amazon cloud servers. There is already a 8.5.1 patch to download at the same time, along with the Ocean Way drums coupon PDF. With the various "Elite" add-on editions, you might also have to download the application(s), except for those pending release (i.e., Guitar Rig 4 is not quite shipping yet).