Butch Vig Drums, with sounds produced by the rock legend, is the first in a run of collaborations with major artists for Native's Play Series instruments
/MUSEWIRE – MUSIC NEWS/ — Native Instruments today released Butch Vig Drums – a collaboration with renowned drummer and producer Butch Vig, best known as co-founding member of the alternative rock band Garbage and the producer of the seminal albums including Nirvana's "Nevermind," Smashing Pumpkins' "Siamese Dream," and Green Day's "21st Century Breakdown."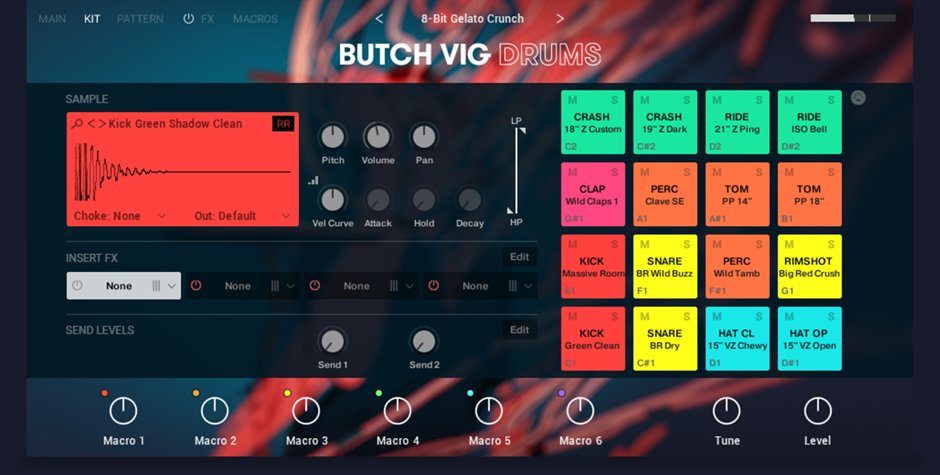 It is the first in a brand new line of artist-created Play Series instruments, bringing the signature sounds of world-famous music producers together into intuitive and inspiring instruments with great-sounding presets and real-time control.
The sounds of Butch Vig Drums were recorded at United Recording's iconic Studio A in Hollywood, and then further processed through a bespoke selection of analogue and digital preamps, compressors, stompboxes and more at Vig's home studio "GrungeIsDead." Expect hard-hitting drums, grooves, and FX presets created by one of rock music's most influential producers, with hands-on control for easily programmed drum tracks that work in a variety of styles.
Butch Vig Drums includes 21 individual drum kits, each with 16 one-shots created using Butch Vig's distinctive approach to percussive sound design. Each kit also comes with 16 preset MIDI patterns, which can be triggered using a MIDI controller or edited within any DAW using drag and drop technology. All sounds can also be further processed using a range of powerful Kontakt insert and send effects.
Early adopters can take advantage of special intro pricing until October 1, 2020, and get Butch Vig Drums for $49 instead of $69.
More information
More information about BUTCH VIG DRUMS can be found on the Native Instruments website – https://www.native-instruments.com/en/products/komplete/play-series/butch-vig-drums/