Boom and Sizzle: For 808DAY 2017 Roland Brings Trio of New Synth and Sampler Products
For #808DAY 2017, Roland Corp. unveiled a new iteration of its classic drum box – the TR-808 Rhythm Composer – called the TR-08 Rhythm Composer as part of its ongoing "Boutique Series" line-up. Additionally, a new analog synth recreation of the SH-101, and a portable "Linear Wave Sampler."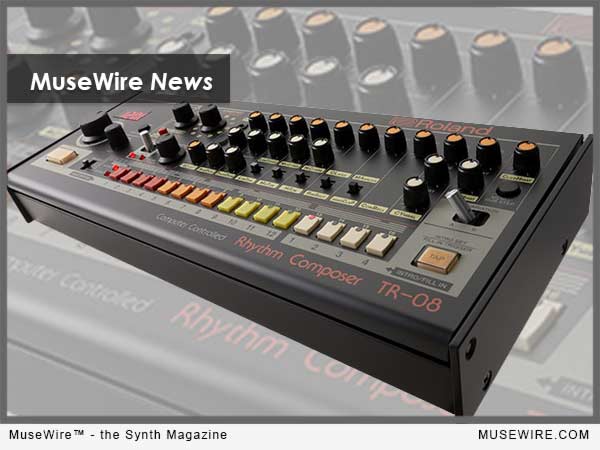 It's well known that Roland's venerable drum machines, particularly the TR-808 and others have been widely cloned, and re-imagined in both hardware and software over the past 30 years since its inception in 1980.
According to the company, "The TR-08 is an obsessively detailed and faithful replica of the legendary TR-808—easily the most famous and influential drum machine ever made. After creating a monumental shift in the sound of music, the '808' has continued to shape and define entire genres. Beloved by musicians and producers the world over, it's one of the most revered and sought-after electronic musical instruments of all time. The TR-08 brings the look, sound, and feel of the original 808—with stunning accuracy—to the Roland Boutique format. It blends attention to detail and respect for legacy with modern convenience and reliability."
NEW ROLAND TR-08 SPECS:
Ultra-compact recreation of the legendary TR-808 drum machine
Retains the sound, character, and user interface of the original TR-808
Hands-on control including tone, level, tuning, and decay
Added Compressor, Gain, Tune, and Pan for selected instruments
Programmable via classic Step and Tap write modes
Sequencer has 16 steps with 16 sub-steps for detailed patterns and rolls
Continue playing beats even while switching between write modes
LED display for easier navigation and fine control of tempo and shuffle
Ten separate outputs via USB audio
Dedicated, track-selectable trigger output for controlling external instruments
High-quality construction with metal front panel
Highly portable for mobile music making
Includes DK-01 Boutique Dock for multiple-angle viewing
Battery-operated (4 x AA) or USB powered
Built-in powered mini-speaker for instant enjoyment
Compatible with optional Roland Boutique accessories
Learn more at: https://www.roland.com/us/products/tr-08/
Roland also introduced an accompanying promo video for the launch on YouTube — ROLAND: We recorded a live performance at Mathew Jonson's Freedom Engine Studios, Berlin with the new Roland Boutique TR-08 Rhythm Composer and SH-01A Synthesizer.
NEW SH-01A SYNTHESIZER:
According to Roland, the new SH-01A is "a meticulous reproduction of the iconic Roland SH-101, one of the most popular classic synthesizers of all time. Our Analog Circuit Behavior (ACB) technology reproduces the SH-101's legendary sounds by faithfully recreating the actual behavior of the original analog circuits, right down to the fine details and odd quirks that have endeared the synth to musicians and producers for decades."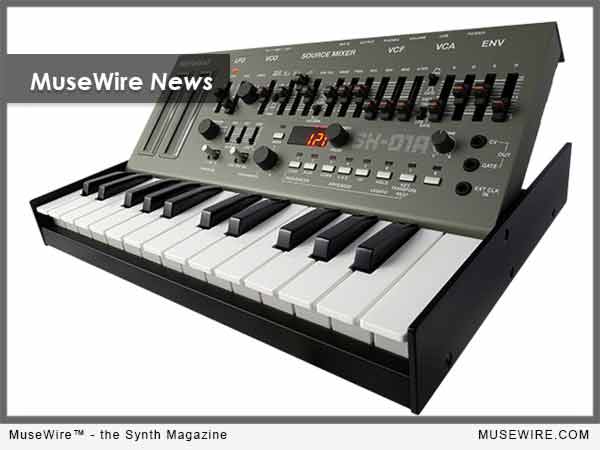 The SH-01A builds on the great sounds and creative immediacy of the original, now in the popular Roland Boutique format—offering exciting new polyphonic capabilities, inspiring new performance features, and a level of authenticity that could only come from Roland.
SH-O1A SPECS:
Sounds of the classic SH-101 synthesizer via ACB tech, including bass, lead, noise, and sound effects
New Unison, Chord, and four-voice Polyphonic modes expand on the original's iconic sound palette
Built-in sequencer with 64 patterns available to save and recall
Easy performance arpeggiator with three playback modes, note hold, and three-way transpose switch
CV/Gate output for controlling modular or vintage gear
Multiple sync options including internal and external MIDI, MIDI via USB, LFO clock, and trigger input
64 writeable preset patches for increased performance capabilities
Selectable advanced LFO with new waveforms and extended range of clock rate
Sends and receives MIDI control change messages via traditional MIDI jacks or USB
High-quality construction with metal front panel
Highly portable for mobile music making
Battery-operated (4 x AA) or USB powered
Compatible with the K-25m Keyboard Unit and other optional Roland Boutique accessories
Learn more about the new SH-01A at: https://www.roland.com/us/products/sh-01a/
And there's more:
SP-404A -Linear Wave Sampler
Designed for live use, the SP-404A Linear Wave Sampler expands the sounds of the Roland AIRA TR-8 Rhythm Performer for a powerful combination of sample and percussive synthesis. The fast, hands-on approach of the acclaimed SP-series performance samplers is a perfect fit for the impressive rhythmic effects and iconic step-sequencer of the Roland AIRA TR-8.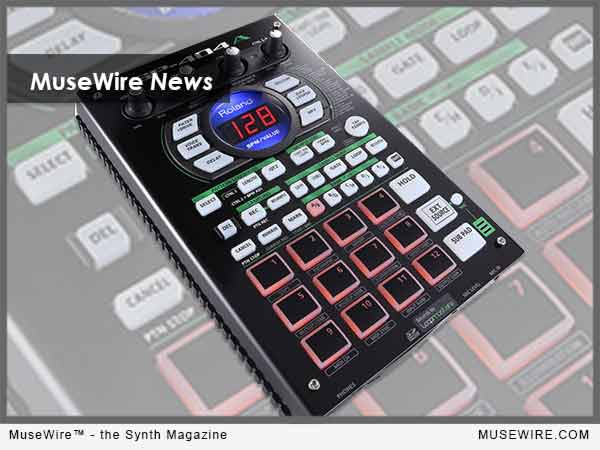 All of the functions and features of the popular SP-404SX are contained in the SP-404A, including its distinctive 16-bit linear sampling, 29 onboard DSP effects, smooth FX switching, and 12 professional performance pads. Plus, a new library of sounds curated by sample-industry leader Loopmasters are provided via the included SD card.
Learn more at: https://www.roland.com/us/products/sp-404a/.

This version of news is Copr. © 2017 MuseWire.com – Christopher Simmons.