Book Review: 'The Rolling Stone Years' by Baron Wolman
MuseWire COLUMN: When you hear the word 'image' you may think of a pretty picture or the manufactured persona of someone who is famous for being famous. But if you say 'Baron Wolman image,' suddenly you're talking about beauty, truth, and iconographic permanence.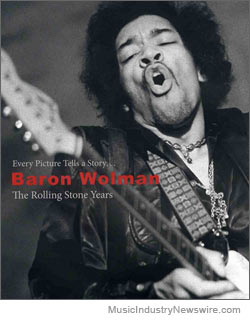 Photography books are a special breed, with special requirements. You want large-scale presentations of fascinating subjects. You want them well-printed on thick paper, and in a sturdy binding so you can return to the book time and time again to put yourself into the splendid images, perhaps often sharing these moments with others.
All of that, I am happy to say, is delivered with Baron Wolman's "The Rolling Stone Years." Here are beautiful prints of musicians in poses that reflect their personalities, their desires, and their dreams. And what a terrific list of people:
Jimi. Janis. Miles. Mick. And a whole bunch of amazingly photogenic (at least in front of Wolman's lens) artists who are as just significant as those who can be identified using only a single name.
I would be willing to bet that there have rarely been such perfectly timed portraits of James Brown, The Who, Mike Bloomfield, Tom Morello, Jeff Beck, Little Richard, Joni Mitchell, Taj Mahal, Johnny Winter, Creedence Clearwater Revival, Bootsy Collins, Duane Allman, Gregg Allman, Steve Winwod, Kris Kristofferson, Joan Baez, Jerry Lee Lewis, Dolly Parton, Keith Richards, Rod Stewart, and on and on. And these are not "publicity shots." These are mystical frozen instants of time when the person, the place, the emotion, and the spirit of the epoch have all merged. It is something that is rare enough in life, and rarer still in front of a photographer's lens.
Oooh and Ahhh
Every time I open the book, there are pictures that make me catch my breath. It is difficult to be objective when confronted by what has been caught on film by Wolman and presented in this big (10-1/4 x 12-1/4″) and impressive volume. The "oooh and ahhh" factor is very high with this book.
Not only is the list of subjects quite long, it goes beyond the "names you'll recognize." There are also stunning sections on Woodstock (the original one) as well as a six-page section devoted to Groupies.
(Got your attention now, I'll bet.)
Insight in Sight
In the Prologue written by art director Tony Lane, he notes that Wolman is diametrically opposite from those photographers whose images display "fear discernible in the eye of the hapless subject." He goes on to say:
In Baron's photos there is acceptance and often delight showing in the twinkle of an eye, a gentle smirk or an enchanting smile, and never the fear often generated by certain uncomfortable demands of contemporary publicity and branding….Whether it is in a studio portrait, a backstage document or an on-stage performance shot, Baron's subjects always seem to embody the essence of themselves.
Writer Jerry Hopkins, in a four-page essay that serves as the book's Introduction, talks about some of the experiences he shared with Wolman, including "…being welcomed into the groupie world; and touring with The Rolling Stones the year Tina Turner, who had just dumped Ike, and B.B. King were the opening acts. It was, as it's said, a crappy job, but someone had to do it."
The Method
"When I picked up my first camera and looked at the world through its viewfinder, I discovered form within chaos," Wolman states. While his prose is entertaining and often contains observational gems like that one, it doesn't read like it was composed but has the feeling of being dictated, which he reveals is the case on page 175.
Still, there are many excellent points in the text, as when he explains that he "was photographing the music, not really hearing it." He notes that "you try to shoot the process of the musician making the music, try to isolate a peak moment of the music being made, try to communicate the ecstasy of somebody playing, singing, performing." He achieves this in shot after shot and it is a delight to behold.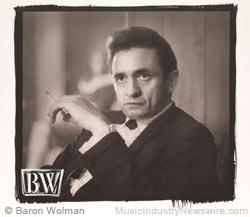 You'll have your own personal favorites, but I like returning to the visages of Frank Zappa peeking out of a cave (page 167) and riding a bulldozer (pages 42-43), Bob Dylan lost in the power of an electric guitar chord (page 166), Pete Townshend seeming to levitate (page 163), Johnny Cash looking like he's daring the world to intrude (page 63), Grace Slick staring straight at you with a look that can be interpreted in oh-so-many-different ways, from cosmic to carnal (page 146).
Wolman shot in both black-and-white and color. Everything in the book is superb, but I have a fondness for the b/w frames. Perhaps Wolman does, too, as he states "Light is the key element to black and white photography, much more so than with color — the light and the shadows, the degrees of gray and black."
His method for putting a subject at ease is logical and time-tested, and he freely divulges it. He also explains his technique for replying to a probing inquiry about one of the rock stars in such a way that the questioner thinks there was an answer when in reality nothing was revealed.
Modest and self-deprecating, Wolman admits he's a "good, competent photographer" but claims that the fame of his subjects makes him seem better. But on page 154 is his portrait of Lotti Golden, an artist who is unknown to me but who appears interesting, intriguing, and important because of Wolman's great photograph.
Gone Are the Days
Like many people, Wolman sees the advent of MTV as the tipping point for quite a lot in the music industry, including how the talent gets photographed. Musicians would see music videos and think "'Oooh, we want to look like this and we want to look like that.' MTV changed everything. . . now there is very little honest portraiture of the musicians themselves, everything is stylized."
Or perhaps there was another turning point:
After Woodstock the music industry came to understand the economic possibilities of the mega concert. When they saw all those people gathered to hear music the corporados started drooling dollar signs.
Fortunately, Wolman was on the scene when it counted and we now have his photography as testimony to his artistry. It was a proud pursuit and a ton of work, although he obviously had a great time along the way. In bold type under a charming photo of a tee-shirt-clad Pete Townshend at the piano, it reads "Rock music, fashion, lovely young women, and gritty street photojournalism. It's a wonderful life…"
You will have a great time, too, not just with the eye-candy photos but also with the stories about Jim Morrison's "package," Carlos Santana's drug trip, Jerry Garcia's missing digit, Bill Cosby stealing Wolman's girlfriend, and Janis Joplin coming to his home for what he called a "Performance for One."
There are also a number of lovely quotes from the stars he photographed, including Miles Davis telling him, "Listen carefully to my music; I play like I box. You can 'hear' the jabs, the feints, the crosscuts, the uppercuts. You can imagine that I'm boxing when I'm playing." That's a quote so good that it appears twice, on pages 108 and 131. (There are a number of repeats in the book.)
Visuals Beyond Visuals
You know what? I now have new favorites, such as the ethereal and cinematic image of a couple of flower children/adults on page 152 and a stunning tableau on page 141 featuring saxophonist Sonny Rollins and his own perfectly-cast shadow. Or perhaps I'm now drawn to B.B. King on page 90, as he plays Lucille in what appears to be a trance-like state. Since there are nearly two dozen shots of Janis, a dozen of Jimi, and multiples of many others, you'll have plenty of choices of your own.
Find a comfortable seat near a good light. Open this book to any of the large photos. Immerse yourself in another time, another place, and another aspect of the creative rendering of history.
Book Summary:
"The Rolling Stone Years" by Baron Wolman
Vision On (Omnibus Press), Hardcover, 176 pages, ISBN: 9781847727404, $37.95, £24.95.
www.omnibuspress.com
www.baronrocks.com
Article is Copr. © 2011 by John Scott G, and originally published on MusicIndustryNewswire-dot-com before the site was revamped as MuseWire.com in March 2015 – all rights reserved. Disclosure: neither the author or this site or its publisher have been compensated in any way for mention of this book.