Book Review: 'Spoken Word' by Jacob Smith
MuseWire COLUMN: You may think of spoken word recordings as esoteric or antiquated, but in Jacob Smith's new book they have a different purpose: to illuminate the roots of today's society.
When NASA launched the Voyager missions during 1977, the two spacecraft contained gold-coated phonograph records and music from around the globe. Among the recordings: Glenn Gould playing J.S. Bach, Igor Stravinsky conducting a selection from his "Rite of Spring," and Chuck Berry performing his composition, "Johnny B. Goode." But spoken word recordings were also sent out into deep space, including greetings in sixty languages.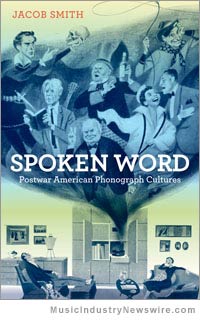 That is the beginning of Jacob Smith's book, "Spoken Word," a nice blend of well-researched facts and intriguing interpretation that offers perspective on a great many contemporary situations; not just the music industry, but also education, communication, literature, sex, comedy, and political commentary.
In his twelve-page Introduction, author Smith rather neatly handles a brief history of recording in prose that lets you feel like you have just laid out thousands of pieces of an audio-visual jigsaw puzzle and happily discovered they are miraculously all sorted by color. I say audio-visual because, of necessity, the topic ranges much further than the spoken word recordings of the book's title. All media are considered in this volume.
Smith, currently an Assistant Professor of Radio/Television/Film at Northwestern University's School of Communication, obviously has a love of the topic and appears to have excellent taste in recordings:
The records made by groups such as the Firesign Theatre commented on emerging forms of television programming reception and featured a rock aesthetic that utilized the possibilities of the multitrack recording studio to create dense, fantastic sonic spaces and encourage repeated listening.
Get 'em While They're Young
In the opening chapter, "Turntable Jr.," Smith shows many instances of how record company marketing of children's spoken word recordings aimed for "the substitution of the phonograph for the mother's voice and a tradition of oral nursery rhymes." Some of this section is humorous, as in his term "brat-wax" to describe the genre of children's recordings, but much of it is deadly serious. The ongoing march of merchandising was all part of "the passage to a culture of mass consumption" and it is blithely presented but ominous:
Whereas watching television was often thought to make children into passive, media-addicted "telebugeyes," the phonograph was seen by some critics as a more interactive form of children's media entertainment.
Fools Rush In
Time and time again, Smith shows how the powers-that-be often tried to take spoken word recordings, as well as broadcasting in general, along a path that was misguided, to say the least:
…initial excitement about the educational potential of radio was inspired in part by the conviction that, given adequate airtime, the inherent superiority of classical music would stem the growing popularity of vernacular forms of music, such as jazz.
Talent for Spotting Talent
The book contains a nifty section about Alan Livingston, the man who signed Frank Sinatra and The Beatles to Capitol Records while an executive there. Livingston had another distinction: he was the creator of Bozo the Clown.
There is a fascinating section on Livingston's childhood listening habits, including his manipulating the speed of disks on the turntable using his fingers (yup, he may well have been the first scratcher) and the drilling or punching of an off-center hole in records so they would play fast-slow-fast-slow-fast-slow in what he called "peculiar noises." This is followed by an explanation of the Sonovox, which let you transfer recorded sounds through your own larynx. Sonic innovators like Trent Reznor and Brian Eno would love this part of the book.
Hi-Fi Midcult
In the chapter titled "Hi-Fi Midcult," the discussion turns to the middlebrow tastes that were being addressed in recordings and television programming starting in the 1950s. Many of the examples are entertaining, as in the college pastime of uncovering sexual imagery in Dylan Thomas' recordings of his own poetry, and the tale of that venerable poet attending a frenetic performance of Johnnie Ray in a Boston nightclub. Still, there were a large number of excellent contributions to culture as a whole. As an example, Norman Granz' Verve Records released a number of spoken-word records of high value, including those by Jack Kerouac, Evelyn Waugh, Dorothy Parker, Alice B. Toklas, and Mort Sahl.
It is Smith's contention that one of the last century's greatest singer-songwriters was a direct descendent of the very successful Dylan Thomas spoken word recordings:
The "peculiar hybrid" of poet and pop star heard on Thomas' records reemerged a decade after Thomas' death in the form of a young singer-songwriter from Hibbing, Minnesota. That singer, while in the process of constructing a new persona, first considered calling himself Robert Allen, then Robert Allyn, and finally, after encountering poems by Dylan Thomas, settled on Bob Dylan.
33-1/3 Sexual Revolutions per Minute
Ahh, the sex recording chapter. While always quite proper in his prose, Smith has a bit of fun in this chapter. As do we, come to think of it. A lot of ground is covered in his appropriately-worded but eyebrow-raising descriptions of stag party monologues, innuendo-filled comedy routines, coital conversation and instruction, and all-out go-for-it shock tracks. Smith writes about the aural pleasure depicted by "the smacking of kisses, sighs, moans, and heavy breathing" in what has been called "porno-performativity."
Titles discussed here include "Erotica: The Rhythm of Love," "The Pleasures of Love," "The Sensuous Woman," "The Sensuous Black Man, and "Sin-Sational!" On Rusty Warren's "Banned in Boston" album is a track called "Pay As You See TV," which clearly predicts pay television channels.
Finally
While it was disappointing to not discover discussions or even mentions of Orson Welles' "The War of the Worlds" or any of Ken Nordine's "Word Jazz" albums, which I consider some of the finest examples of spoken word recordings, the book is consistently interesting and valuable. It will guide you to view the work of everyone from Andy Kaufman to Sacha Baron Cohen, from Lenny Bruce to Mystery Science Theater 3000, and a great many others.
There are 722 reference notes, a comprehensive index, and 85 citations for further reading.
Book Summary
"Spoken Word: Postwar American Phonograph Cultures" by Jacob Smith
University of California Press, Paperback, 276 pages, ISBN: 9780520267046, $27.50; Hardcover, 276 pages, ISBN: 9780520267039, $65.00; Adobe PDF E-Book, ISBN: 9780520948358, $27.50; ePUB Format, ISBN: 9780520948358, $27.50.
www.ucpress.edu
Article is Copr. © 2011 by John Scott G and originally published on MusicIndustryNewswire-dot-com before the site was revamped as MuseWire.com in March 2015.
» CLICK HERE TO BUY THIS BOOK ON AMAZON.COM