Book Review: SOURCE: Music of the Avant-Garde, 1966-1973
REVIEW: Noisemakers unite! Calling all anti-composers and radical music theorists! That was the idea of a group of wildly unpredictable academics and stars of the experimental music world back in "the sixties." Cage, Oliveros, Neuhaus, Reich, Budd, Foss and dozens more appear in this collection of pieces originally published in the eleven unusual (and now highly-prized) issues of SOURCE magazine.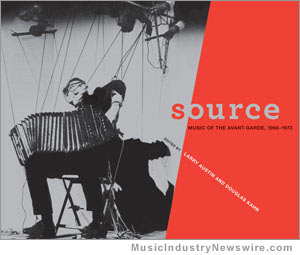 If an electronic circuit generates audio in an empty auditorium, does it make a sound? And can someone sell tickets to the next performance? Perhaps that's a bit unfair because the experimentalists who contributed to SOURCE magazine in the late '60s and early '70s did not seem to care about the size of the audience. Or even if the audience survived one of their shows.
Here is the complete Philip Corner "score" printed in the magazine and faithfully reproduced in the book:
One anti-personnel type-CBU bomb will be thrown into the audience.
Apparently, the composer encountered several logistical difficulties in getting the piece performed on a regular basis. Or performed at all. Ironically, Mr. Corner has a bio on The Living Composers Project page, where the score has undergone a slight modification: "An anti-personnel CBU-Type cluster bomb unit will be thrown into the audience (performance consists of announcing the cancellation of the performance)."
Still a wonderful piece, of course, but not quite as, well, explosive. Although the new version is a bit more likely to obtain grant money or lead to bookings for that all-important college lecture tour.
Consider the Source
Founding editor Larry Austin began SOURCE magazine with two of his students, Stanley Lunetta and Dary John Mizelle, while he was teaching at the University of California, Davis. With the publication unaffiliated with UC, a spirit of independence ruled their world. And for "independence" you might substitute any or all of these words: creativity, questioning, revolution, insurgency, anarchy, humor, satire, anger, and experimentation.
Part of their approach is summed up by Ben Johnston in an essay from Issue #7, where he describes what the SOURCE artists are fighting against: "Conventional concert and opera audiences, led by performers and by writers about music, usually gravitate toward comfortable, familiar music, even at the cost of boredom."
While the magazine was large in format at 11×14 inches, the book is downsized to 10×8 inches. Hey, we're still in the Bush recession. And while the book offers no accompanying recordings on disc, flash drive or links, that oversight was not true for most of the magazine's life. Issues 4-11 were published with recordings of some pieces on 10-inch vinyl. Not having instant access to the recordings is a drawback, but some are available online.
Sampling the Sounds
For anyone who has ever questioned or pushed back against the boundaries of "music" or "composition" or "performance," this book will be quite exciting, and will lead you to search for examples of the various works described in the text. For example, since I participated in one of Max Neuhaus' pieces called "Public Supply," naturally that was one for which I looked to find some recordings.
"Public Supply" was a music event in which anyone could phone into a radio station where Neuhaus manipulated the sounds, sometimes disguising/mixing/blending the tones, but often allowing silliness to come through ("How do you like my banana?" asks one caller). Sample the organized noise online here: http://www.medienkunstnetz.de/works/public-supply-i/audio/2/
Searching for other examples, I found a BBC documentary dealing with Harry Partch, a composer who invented his own form of music and built his own instruments for the realization of his vision. You can see it, starting with part 1 (of 6) here: http://www.youtube.com/watch?v=4cKnTj2cyNQ.
Online you will find numerous films, videos, and audio excerpts of work by artists in the book. Reading SOURCE compelled me to seek out and play a whole bunch of pieces, including some by John Cage, Steve Reich, Harold Budd, Terry Riley, Lukas Foss, Pauline Oliveros, Gordon Mumma, Anthony Braxton, and Nam June Paik. If SOURCE does nothing else but expand some peoples' listening habits, it will be a resounding success. Pun intended.
A word of warning: some of the work is a bit odd. Delightfully so, I would say, but odd nonetheless. In an example of the adage "If You Destroy It, They Will Come," you can find a YouTube video of a work by conceptual artist and composer Anna Lockwood in which an upright piano is burned in a public square. This is probably not what you want your kids to see as you encourage them to keep practicing their scales.
Handmade
The otherworldly nature of the magazine resulted in some unusual manufacturing problems. For "Fur Music," a conceptual piece by Nelson Howe, swatches of synthetic fur were cut and pasted into the production run of Issue No. 9.
A work entitled MAP, by the superb musician/producer Jon Hassell, invited readers to remove a playback head from a tape recorder and pass it back and forth across a square piece of magnetic audiotape that was inserted into the pages of Issue No. 5.
If these are examples of things that make you smile, you will love SOURCE; if these are examples of things that make you throw your hands up in the air and wail about the decline of Western civilization, you will hate SOURCE.
From the Sublime to the Ridiculous
More than occasionally, the whimsical nature of some of this stuff gets distracting. Among the many photos and illustrations throughout the book is a reproduction of an ad for the "First Festival of Live-Electronic Music," held in 1967. Okay, first, the style of the poster is a rather poor knock-off of the brilliant designs done by Mouse, Alton Kelley, Rick Griffin and others doing rock posters for the Avalon Ballroom, the Matrix and the Fillmore. Second, the hand-lettering is problematic, especially considering the misspelling of "Electonic" in the poster's headline. And third, there is the somewhat embarrassing acronym emblazoned across the top of the piece: FFLEM.
Every now and then you encounter a priceless sentence in the musical directions. For example, in John Mizelle's instructions for his "Radial Energy I" is this stage direction:
Following the initial performance of arbitrary total duration, a six-year silence period begins, , ,
If that input is followed, my bet is that there are few audiences who have heard the rest of the piece.
In the instructions for Dick Higgins' "The Thousand Symphonies" is the following:
The notations are made by machine-gunning music paper with the standard ensemble indicated on it. The fragments are gathered together, without regard to whether they are torn, shattered, shredded or merely punctured, and the conductor attaches them to unshot pieces of paper. . .
My suspicion is that the piece reads better than it sounds. (And it makes me want to click on Spotify and play the Swingin' Medallions' "Double Shot of my Baby's Love" or Junior Walker and the All Stars' "Shotgun.")
Listen in New Ways
Still, the book presents a great deal of work that is calculated to urge listeners to change perceptions, expectations, and even ways of listening. And isn't that one of the most exciting things about new music?
Where Are They Now?
Some of the figures in SOURCE are legendary (John Cage), while some are still a vibrant part of the contemporary music scene (Steve Reich). Many, however, remain known only in academic circles. Meanwhile, it appears that the co-editors are still spreading the word: Larry Austin is Emeritus Professor of Music at the University of North Texas. Douglas Kahn is a Research Professor at the National Institute for Experimental Arts, University of New South Wales, Sydney.
Book Summary:
"Source: Music of the Avant-Garde, 1966-1973."
Edited by Larry Austin and Douglas Kahn
University of California Press, 396 pages, ISBN: 9780520267459, $34.95 paperback (also $70.00 hardbound, ISBN: 9780520257481).
www.ucpress.edu