Book Review: Experimentalism Otherwise
REVIEW: Music of the avant-garde is for those who are open to outrage, shock, conceptualized art, and boundary-pushing ideas. If you fit in that category, you will enjoy these tales of pioneers wrestling with the 1960s triumphs of their tragedies. Or perhaps it's the other way around.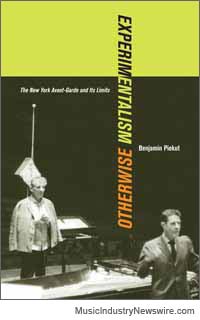 Avant-garde music, by its very nature, flies in the face of expectations. It is often shocking, satiric, dizzying, disheveled, confrontational and controversial. Yet it can contain great beauty as well as profound truth. The establishment will almost always shy away while grudgingly allowing some small shards of it to turn up in the halls of culture (often to be battered and belittled critically and snickered at by those whose vested interests are under assault).
Benjamin Piekut's book picks you up and tosses you smack dab in the middle of several of the nineteen sixties' biggest avant-garde music brouhahas. Piekut gives you the sights, sounds and emotional outbursts behind such grudge matches as John Cage vs. the Leonard Bernstein-led New York Philharmonic, Henry Flynt vs. Karlheinz Stockhausen, and Charlotte Moorman (and her bare breasts) vs. John Cage and many silly reactionaries in the police department, district attorney's office, and court system.
When Orchestras Attack
John Cage was a titan of experimental music. He was so big at the time that another musical titan, conductor and composer Leonard Bernstein, had Cage's "Atlas Eclipticalis" as one of the works on a New York Philharmonic concert for a Sunday evening in February, 1964.
Yes, a work of microtonality in eighty-six parts; an anti-melodic composition in which instrument pitch was determined by a star map; and a piece in which each instrument of the orchestra was fitted with a Radio Shack contact microphone fed into a 50-channel mixer to be amplified and blasted into Philharmonic Hall.
So far, so good, right? Ah, but it gets better.
"Atlas Eclipticalis" was on the program following one movement of Vivaldi's "The Four Seasons" and all of Tchaikovsky's Sixth Symphony. So naturally the audience would be receptive to a work that explored the outer reaches and inner depths of sound and was conducted by a mechanical clock built by architect Paul Williams. (Oh, did I forget to tell you about the mechanical clock? Sorry, but there's a lot going on in this opening chapter.)
Cage said of his work at the time, "I am going toward violence rather than tenderness, hell rather than heaven, ugly rather than beautiful, impure rather than pure…." Members of the Philharmonic had other things to say about the work, and their performance of it moved Cage to categorize them as "criminals."
Even if the rest of the book was ho-hum, I would recommend it for this 44-page chapter that is full of ideas, counter arguments, ego and personality clashes, and wry descriptions of the reactions of apoplectic people in suits-and-ties.
Demolish Serious Culture
In this chapter can be seen the ups, downs, ins and outs of organizing cultural and social-political protests. That the target was often something as anti-establishment as serialist and musique concrète pioneer Karlheinz Stockhausen makes the protest effort somewhat surrealistic, but reading about the anger of the protesters and the changing alliances between many of them is quite entertaining.
The head fomenter of protest was a man named Henry Flynt, who had a number of objections to a number of things, including the very idea of an audience for music. As Piekut writes, "Flynt perceived the persistence of the traditional components of art or performance, such as an audience, conventional media or forms, and the ritual of a public concert, to be a harmful residual expression of social obligations, intellectual snobbery, and plain corniness." That he was also a performer made this view a tad ironic.
Piekut describes "Acoustic Hillbilly Jive," a solo violin work by Flynt, as containing "abstract noise explorations. . . avant-rural sound," and "glissandi on all the strings, producing a chorus of shrieking overtones." Don't know if I'd care to play it when bringing a date back to the house but I'd sure love to be in a concert hall when something like that was laid on the tuxedo-clad audience.
Jazz, Free-Jazz, and Totally 'Out-There' Jazz
Chapter 3 starts with composer and trumpeter Bill Dixon organizing a four-night "October Revolution in Jazz" at the Cellar Café, featuring Pharoah Sanders, Albert Ayler, Sun Ra, Paul Motian, Jimmy Giuffre and many others who were playing exploratory music. Aside from that successful venture, the free-jazz performers literally had few other places to play and this led to the cantankerous creation of the Jazz Composers Guild.
While it is intriguing to read about the interaction of those above-mentioned musicians, plus Carla Bley, Paul Bley, Archie Shepp, Michael Mantler and others, there were social, political, racial and gender divisions built into the scene. As Piekut writes, "The Jazz Composers Guild began with a disagreement, continued with dissension, and ended in dispute, anger, and disappointment."
Murder by Cello
Once called "the Jeanne d'Arc of new music" by modern composer (and Frank Zappa favorite) Edgar Varese, Charlotte Moorman had studied at Julliard and was a member of the American Symphony Orchestra under the leadership of Leopold Stokowski.
Enjoying success playing the traditional repertoire of the cello eventually became boring to her so she sought out contemporary music. And I mean contemporary. She bypassed any potential neo-classicists by collaborating with or performing works by such 20th century icons as Stockhausen, Cage, Nam June Paik and Yoko Ono.
Her work with Paik created the most media attention. Several confrontations and outrageous presentations are delineated in the book, including her arrest for performing Paik's "Opera Sextronique" while topless (you'd think the authorities would just have said "Thank you" and moved on to the Elks Club social). Another section details a production of Stockhausen's "Originale," which involved Allan Ginsberg, Max Neuhaus, and Allan Kaprow (the inventor of the happening). In a wonderfully reserved style, Piekut noted that "Birds, dogs, fish, and a chimpanzee were also involved."
Much of the chapter discussed Moorman's work on Cage's 26′ 1.1499″ for a String Player. Here are just a few choice observations by Piekut: "The duo's theatricality also included Moorman's striking or kicking Paik… making telephone calls to John Cage and President Nixon… using a blender to chop up dollar bills… and ending the performance by eating a red rose." I left out the part about the World War II-era mine, but you get an idea of the visual nature of the presentation.
Iggy
When James Osterberg (Iggy Pop to you and me) described his band's early music, he spoke in a way that seemed very much in line with Cage's statement about "violence" and "hell" being his aim. The Stooges' music, Pop said, was "Torture, it basically started out as torture. And then went from there."
The Epilogue of the book attempts to show how the experimentalism all got caught up in the bloodstream of Iggy and The Stooges and somehow seeped and/or exploded onto other parts of popular culture. Not completely due to rock 'n' roll, of course, but helped by it. The descriptions of Stooges shows are serious and funny at the same time.
Name Checked
In addition to the main participants in the five encounters between society and the experimentalists (and between the "out there" personalities themselves), a great many others make appearances in the book, including Amiri Baraka (LeRoi Jones), The Beatles, Tony Conrad, Bo Diddley, Morton Feldman, Iannis Xenakis, Buckminster Fuller, Gyorgy Ligeti, Charles Ives, Philip Glass, Glenn Branca, Henry Cow, Laurie Anderson, Sonic Youth, and Andy Warhol, to name just a few.
Scholarly Work
A word of warning: this book is not always an easy read. Along with Piekut's PhD in historical musicology from Columbia University comes a scholarly approach to writing. I have great respect for his insights while bemoaning the construction of certain of his sentences. Like this one: "The fundamental ontological shift that marks experimentalism as an achievement is that from representationalism to performativity." Or this one: "The ethical field is transformed through problematization; through this process, one might clarify the forces that have contributed to one's subjectivity, inhabit that subjectivity differently, redirect those forces toward different ends, resist overtly the power regimes that have been revealed, or find new goals and possibilities for elaborating the self."
But in the main, the word-pictures he paints can be striking, and his interpretations of the motives and goals of many giants of the avant-garde are invaluable. It helps that his background is diverse, with his ongoing research into experimentalism in the USA, jazz after 1950, improvisation, and music technologies, but his main advantage is his obvious love for the personalities who decided to push the boundaries of music, art, gender, societal restrictions, and politics.
Oh, one more point about the research: the book concludes with 22 pages of cited works and 750 footnotes. Sure, there is a suspicion that the book started out as a thesis paper, but the information is relevant, the stories are entertaining, and the reporting of the culture clashes is downright wonderful to read.
"Experimentalism Otherwise: The New York Avant-Garde and its Limits"
by Benjamin Piekut

University of California Press, Paperback, 296 pages, ISBN: 9780520268517, $24.95; Hardcover, 296 pages, ISBN: 9780520268500, $65.00; Kindle $14.97
www.ucpress.edu
VIDEO: Charlotte Moorman performs with Nam June Paik's "TV Cello"
Article is Copr. © 2011 by John Scott G – all rights reserved. Originally published on MusicIndustryNewswire.com.