Bob Moog Foundation Announces impOSCar2 Controller Raffle
ASHEVILLE, N.C. (MuseWire) – A raffle to benefit the Bob Moog Foundation begins today. Two lucky winners will each receive the new impOSCar2 Controller from Touch Digital Controllers and an entire suite of five virtual instruments from GForce software—a prize package valued at nearly $2,500. The raffle will continue until all 500 tickets have been sold. Because the BMF will be awarding two complete packages, each entry has a 1 in 250 chance of winning. Tickets are $20 each, or you can improve your odds by buying six for $100.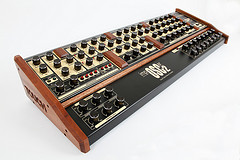 Raffle tickets are available from the Bob Moog Foundation's Web store at www.moogfoundation.org/shop/ . Be sure to enter before all 500 tickets have sold out. Two winners chosen by a random-number generator will be announced once all 500 tickets are sold. The winner will be announced within 24 hours after that time. Raffle participants should check the Foundation's website and social media outlets to learn when all 500 tickets have been sold and who the two winners are. The winners will be contacted by email.
The new impOSCar2 Controller provides a physical user interface for both the standalone and plug-in versions of GForce Software's acclaimed impOSCar2 soft synth. The combination of software and hardware offers the sound and functionality of one of the most sought-after analog/digital hybrid synthesizers ever made—Oxford Synthesizer Company's OSCar—brought up to date with automation, effects, 16-note polyphony, and tons of patch storage.
As a tribute to the memory of Bob Moog, Touch Digital Controllers donated not one, but two impOSCar2 Controllers to the BMF. One is produced in a hand-finished natural mahogany and the other in ebony black on oak. These beautifully made controllers deliver plenty of visual and tactile feedback to make programming impOSCar2 a pleasure, just like programming the original OSCar but with total recall. With 101 high-resolution knobs and buttons, every parameter is available from the controller's front panel to remotely operate the software. In addition to its dedicated impOSCar functionality, the controller can be configured to control any software instrument that supports MIDI Learn.
"The impOSCar2 Controller is our first product, and we are proud of what we have been able to achieve with this handcrafted music instrument," said Richard Lawson and Kent Spong of Touch Digital Controllers ( http://www.touchdigitalcontrollers.com ). "As synthesists, and as a manufacturer, we have been deeply inspired by the one man who pioneered the whole thing: Bob Moog."
Released in July, GForce's impOSCar2 breathes new life into the popular previous version, first launched in 2004. New features include more comprehensive modulation routing, an improved arpeggiator, ring modulation, panning mono and poly unison modes, and more than 1,000 signature patches. Add nine filter types, six portamento modes, and a programmable additive synthesis grid, and you have one powerful soft synth.
Want more? The BMF's raffle winner will also receive licenses for M-Tron Pro, Minimonsta, Oddity, and Virtual String Machine, which realistically emulate the Mellotron, Minimoog, ARP Odyssey, and numerous polyphonic string synthesizers, while adding dozens of innovative touches. In addition, GForce Software ( www.gforcesoftware.com ) has included the ChamberTron and OptiTron Expansion Packs for M-Tron Pro.
BMF Executive Director Michelle Moog-Koussa said, "Through the ImpOSCar2 Controller, Richard and Kent bring their love of vintage synthesizers into the design and ethos of this very special piece of handcrafted hardware. Bob's goal was always to give musicians the highest level of expressivity, and his interface design was a big part of that. The construction of the ImpOSCar2 Controller echoes that commitment to musicians. Our many thanks to Richard, Kent, and the team at GForce Software for sharing their life's work with us. Their support is a tribute to Bob Moog's legacy and to the work of the Bob Moog Foundation."
The Bob Moog Foundation (www.moogfoundation.org) honors the legacy of synthesizer pioneer Dr. Bob Moog through its mission of igniting the innovative and creative spirit at the intersection of music, science, and history. Its projects include Dr. Bob's Sound School, which brings electronic musical instruments into the schools to teach children science through music; the Archive Preservation Initiative, an effort to preserve and protect the inventor's extensive and historic archive; and the future Moogseum, an innovative educational, historic, and cultural facility that will bring Bob Moog's spirit alive to ignite innovation and creativity in children and adults. It will be located in Asheville, N.C., in the years ahead, pending necessary funding. The Bob Moog Foundation is an independent, donor-driven 501(c)(3) non-profit organization and is not formally affiliated with Moog Music, Inc.
VIDEO: