Bjooks has announced an updated version of their widely-applauded music machines book, PUSH TURN MOVE
Denmark /Music Industry Newswire/ — Bjooks has announced an updated version of their widely-applauded music machines book, "PUSH TURN MOVE." The updated edition for 2021 – a visual feast for both music creators and enthusiasts – features dozens of instruments, artist interviews, essays, and descriptive diagrams, and a Foreword by electronic music pioneer Jean-Michel Jarre.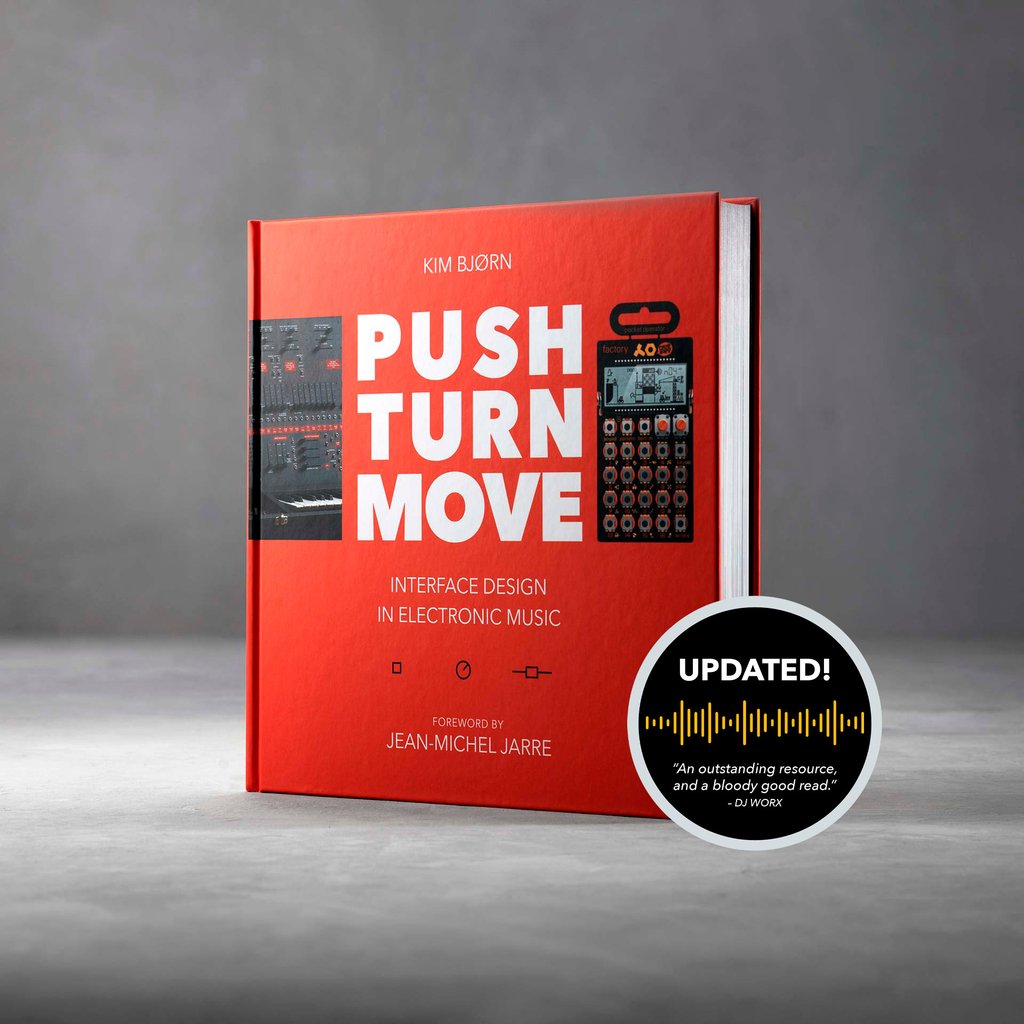 Originally published in 2017, the first edition of PUSH TURN MOVE has sold across more than 50 countries around the world. It has served as the ultimate reference for those looking to learn more about how electronic music is made, through the eyes of its creators, toolmakers, and innovators.
PUSH TURN MOVE was the book that started it all for Bjooks, and it is truly a labor of love. At the time it was released around four years ago, Kim had no idea that it would take on a life of its own, or that it would be read by so many electronic music fans around the world. Since its original release, there have been many new innovations in the electronic music industry, so it was time for an update.
The new 2021 updated edition of PUSH TURN MOVE:
Improved printing technique resulting in even more crisp and colorful images. Printed on environmentally-friendly paper – FSC – from responsible sources. For Bjooks-collectors especially: Updated spine which aligns the title with the other titles.
The book was very much up-to-date when it was first published in late 2017. However, products and people change, so therefore, some company names, and positions have been updated, while in other instances it is clearly marked when the interview was done. Also, tech advancements like Augmented Reality and Polyphonic Aftertouch are up-to-date.
New interview:
New interview with the founder of Artiphon about the Artiphon Orba
The following instruments have been added – or updated:
Novation Launchpad X
Haken Continuum Slim64 and ContinuuMini
Moog's newer semi-modulars since the Mother-32 are mentioned
Verbos Electronics Multi-Envelope
Ableton Live (version 11)
Elektron Octatrack
Make Noise Strega
ASM Hydrasynth
Novation Circuit Tracks (new – replaced Circuit)
Mutable Instruments Beads (added to the Clouds-story)
KORG Gadget
Polyend Tracker
KORG SQ-64
Native Instruments Mascine+
Modal Electronics COBALT8 and MODAL apps
Joué Play (updated to new version)
Sensel Morph
Yaeltex MIDI controllers
Special Waves Mine S (new commercial version)
VCV Rack
Cherry Audio Voltage Modular
KORG Nu:Tekt NTS-1
Sensorpoint Jambé percussion instrument
Artiphon Orba
Neova MIDI ring
Genki Wave ring (updated version)
KORG Gadget VR (Virtual Reality version)
TribeXR – VR DJ learning environment
Mi.mu gloves (updated to current commercial version)
The updated edition will be available at selected 'synth stores' (online and IRL), and direct from the publisher for US$69.95 plus shipping: https://bjooks.com/products/push-turn-move-the-book
###
This version of news is Copr. © 2021 by Christopher Simmons (MuseWire.com).