Best Irish Band 2009: 50 Acts Enter Cross-Atlantic Irish Battle of the Bands
LAS VEGAS, Nev. (MuseWire) – Be gosh and begorra! 50 bands have taken their battle to YouTube to claim the title of "Best Irish Band 2009." Organizers of this online battle of the bands competition – Strangford Lough Brewing Company (SLBC) and Diablo's, of the Light Management Group (LMG) – have been overwhelmed by entries for their prize offering flights, accommodation and a gig in Las Vegas.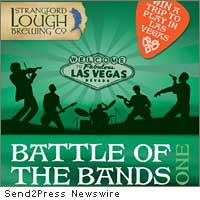 However, it is now even more exciting as fans of participating bands are not the only people registering to vote in this competition. The organizers have now introduced a new twist to the prize! One lucky voter will win two flights, from anywhere in North America to Las Vegas to celebrate St. Patrick's Day with the winning band!
Each video entry can be viewed on www.youtube.com/irishbotb . Voting begins on Monday 23rd November 2009 on http://www.slbc.ie with all voting email addresses going into a lucky draw for the two tickets to fly to Las Vegas and watch the band perform.
"The diversity of the video entries has been incredible," said Grace Mercer, Competition Organizer. "Bands have entered from across North America, Ireland and the UK with some famous names in there and even a multi-talented group who appeared on America's Got Talent who play violins and Irish dance at the same time!"
Everyone has their favorite act and we are very pleased to announce that it is finally time to place your vote. Voting lines are open for one week only from Monday 23rd November until 30th November 2009, with the top five finalists being announced on 1st December 2009.
Strangford Lough Brewing Company (SLBC) and Diablo's, of the Light Management Group (LMG), are supporting this Battle of the Bands competition with a difference!
The competition coincides with the launch of SLBC beers in the USA, St. Patrick's Best and Legbiter. "We are proud to promote this event celebrating Irish music and Irish American heritage," said Tony Davies, Managing Director of SLBC.
Steven Drehle, the General Manager for Diablo's at the Monte Carlo Resort and Casino said "Diablo's is known for its great range of drinks and partnering with the new Irish Beer sensation is a pleasure for us. Diablo's is a great venue for any band to play, it literally is on the strip!"
More information: http://www.slbc.ie .