Behringer Eurorack Module (Delicious) BRAINS with 20 Synthesis Engines is Now Shipping
/MUSEWIRE – Music Industry Newswire / — Behringer's new BRAINS eurorack module, a high-resolution multi-engine oscillator module for Eurorack with 20 synthesis engines, 96 kHz sound quality and OLED oscilloscope is now shipping. The Behringer BRAINS is an amazingly versatile digital sound source for creating percussion sounds, leads and basses, as well as drones and soundscapes.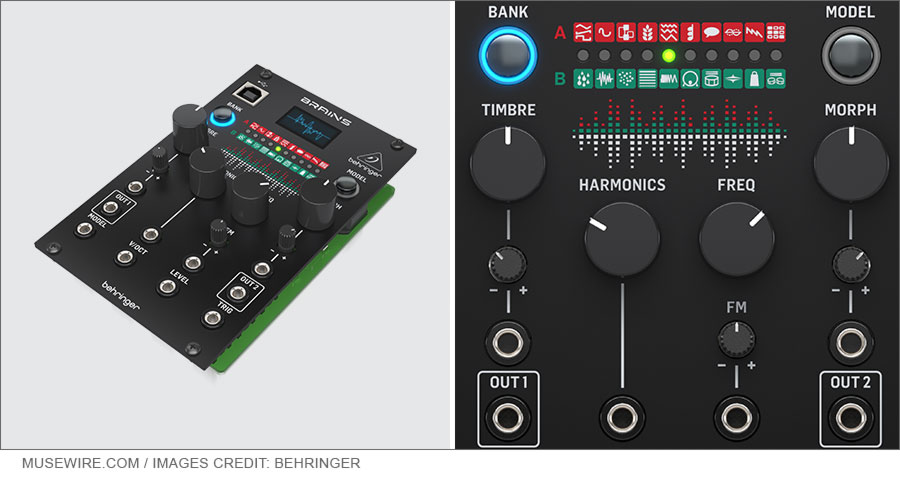 With 20 digital oscillator modes, including many different control engines, you've got a wealth of different sounds and timbres to create some wild and out-of-this-world patches using chords, harmonic oscillation, particle noise, analog bass drum, snare, hi hat and even speech. If having 20 digital oscillator modes wasn't cool enough, BRAINS has an integrated and inspiring OLED display so you can visualize and adjust waveforms exactly the way you want them to be. Plus, having a screen with dancing waveforms on your synth is just plain awesome.
Set any of BRAINS' 20 synth or percussion and noise engines such as Virtual Analog, Waveshaper, FM, Grains, Rain, Noise, Dust, Modal Strings, Bass, Snare or Hi Hat to generate dark pulsating beats, bright and spicy tones, ripping leads, lush chords or ethereal pads to really breathe life into your music.
Along with its incredibly tweakable synth modules, BRAINS also comes with a slew of 3.5 mm input jacks to pipe in control voltages that expand the capabilities of BRAINS. Two separate audio outputs are also available for both your main sound and a dynamic variant which can be routed to other modules to create even more interesting and often wide stereo sounds.
VIDEO: Behringer official preview video (June 2021):
Power
| | |
| --- | --- |
| Power supply | Eurorack |
| Current draw | 130 mA (+12 V), 10 mA (-12 V) |
Physical
| | |
| --- | --- |
| Dimensions | 129 x 81 x 45 mm (5.0 x 3.2 x 1.8″) |
| Rack units |  16 HP |
| Weight | 0.16 kg (0.35 lbs) |
US Price: $149.99
LEARN MORE AT: https://www.behringer.com/product?modelCode=P0E6H
###
This news item is Copr. © Christopher Simmons and first appeared on MuseWire.com