Audinate Partners with Inter-M – South Korean Manufacturer of Pro Audio Licenses Dante
PORTLAND, Ore. (MuseWire) – Audinate announced today that Inter-M, South Korea's largest PA and installed sound manufacturer, has agreed to collaborate to produce a line of products that will feature Dante, Audinate's patented media networking technology. Audinate is the creator of Dante, the most advanced audio networking solution that is built using standards based IP over Ethernet.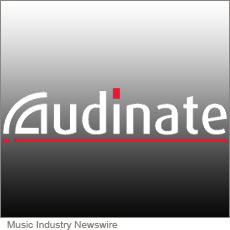 Inter-M has been building quality commercial sound and professional audio products with a single-mindedness of purpose: "We Make It Easy" for its products to be designed and installed into systems. Known for their P.A Systems, S.R Systems, Consoles, Speakers, CCTV Systems, Wireless System, Microphones and DVR, Inter-M products are featured throughout Korea in Stadiums, Performing Arts Centers, office buildings and Houses of Worship. Inter-M is a publically listed company on the Korean Stock Exchange (KOSDAQ)
"Inter-M is a great brand in Korea and is expanding rapidly around the world." said Lee Ellison CEO for Audinate. "Inter-M has an aggressive plan to connect their wide variety of products into an integrated system using Dante."
"We believe having Dante in our systems gives us a definite competitive advantage" stated Wonho Lee, Director if R&D at Inter-M. "We selected Dante because it provides us with an audio over IP solution today, and Audinate is the only company that can offer a viable transition path to AVB for the future."
Inter-M plans using Dante end-to-end throughout their systems, from Dante-enabled paging microphones, through mixers and distribution units, to Dante-enabled powered speakers.
About Audinate
Audinate revolutionizes the way that AV systems are connected by transporting high-quality media over standard IT networks. Using Audinate's patented Dante networking solution, digital media networking just got easy. Audinate's solution has been licensed by customers across the AV industry and can be found in installations and live sound applications globally. Audinate is a Promoter Member of the AVnu Alliance. Audinate offices are located in US, United Kingdom and Australia. Dante is a trademark of Audinate Pty Ltd.