Audinate Dante Virtual Soundcard Now Available On-line
PORTLAND, Ore. (MuseWire) – Audinate announced today that its innovative Dante Virtual Soundcard is now available to purchase on-line. Dante Virtual Soundcard acts like a physical sound card or audio interface, including the ability to play and record audio using any Windows audio application with standard ASIO multichannel audio support, or any Core Audio Mac application. This includes popular applications such as Cubase, Nuendo and Logic, and additionally for Mac, more general audio applications such as iTunes.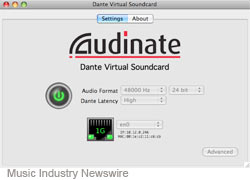 The Dante Virtual Soundcard may be purchased as a seven day, 30 day, or permanent license which can be downloaded directly from Audinate's website. The Dante Virtual Soundcard is a software solution which turns a PC or Mac into a Dante enabled device which uses the Ethernet port on the computer to communicate with a network of other Dante enabled devices. No special hardware is required; you simply install Dante Virtual Soundcard on a conventional PC or laptop. As long as you have another hardware Dante device in your network to act as clock master, the Dante Virtual Soundcard can enable the PC or Mac to be a source or a destination on the network,
The Dante Virtual Sounds offers the flexibility, ease-of-use and ability to record and playback up to 64×64 channels from a standard computer without the need for an expensive hardware soundcard. Dante Virtual Soundcard can be used for recording live events, house of worship discourses, conference room meetings, corporate events, courtroom minutes, government proceedings and more.
"When we first launched the Dante Virtual Soundcard, customers were amazed that they could provide the same level of quality of a hardware sound card, but all in software," stated John McMahon, Worldwide VP Sales and Support at Audinate. "Since the Dante Virtual Soundcard is connected by IP over Ethernet, customers have the flexibility associated with networks.'
Dante Virtual Soundcard is available for purchase as a permanent license or for or use as a rental licenses for tours using a weekly or monthly rental. To purchase a license, simply login at the Audinate website, click on Products > Dante Virtual Soundcard > Buy On-line and follow the easy steps. For user's convenience, a three tiered pricing structure has been set up to. The cost of a seven-day license will be $6.95 USD, a one month license at $14.95 USD and a permanent license at $149.95 USD. Audinate will also offer a one-time "Try It For Free" option that will allow users to try the application for 14 days at no cost.
About Audinate
Audinate revolutionizes the way that AV systems are connected by transporting high-quality media over standard IT networks. Using Audinate's patented networking solution, digital media networking just got easy. Audinate's solution has been licensed by customers across the AV industry and can be found in installations and live sound applications globally. Audinate is a Promoter Member of the AVnu Alliance™. Audinate offices are located in US and Australia.
More information: http://www.audinate.com/ .
Editor's Note: I currently use the DVS on a Mac Pro 8-core, running Logic, connected to my Yamaha 02R96v2. I will be posting a review of the product along with the Dante soundcard for Yamaha mixers, here on MuseWire, very soon. The DVS does work with Snow Leopard OSX and Logic 9. — Christopher Simmons.